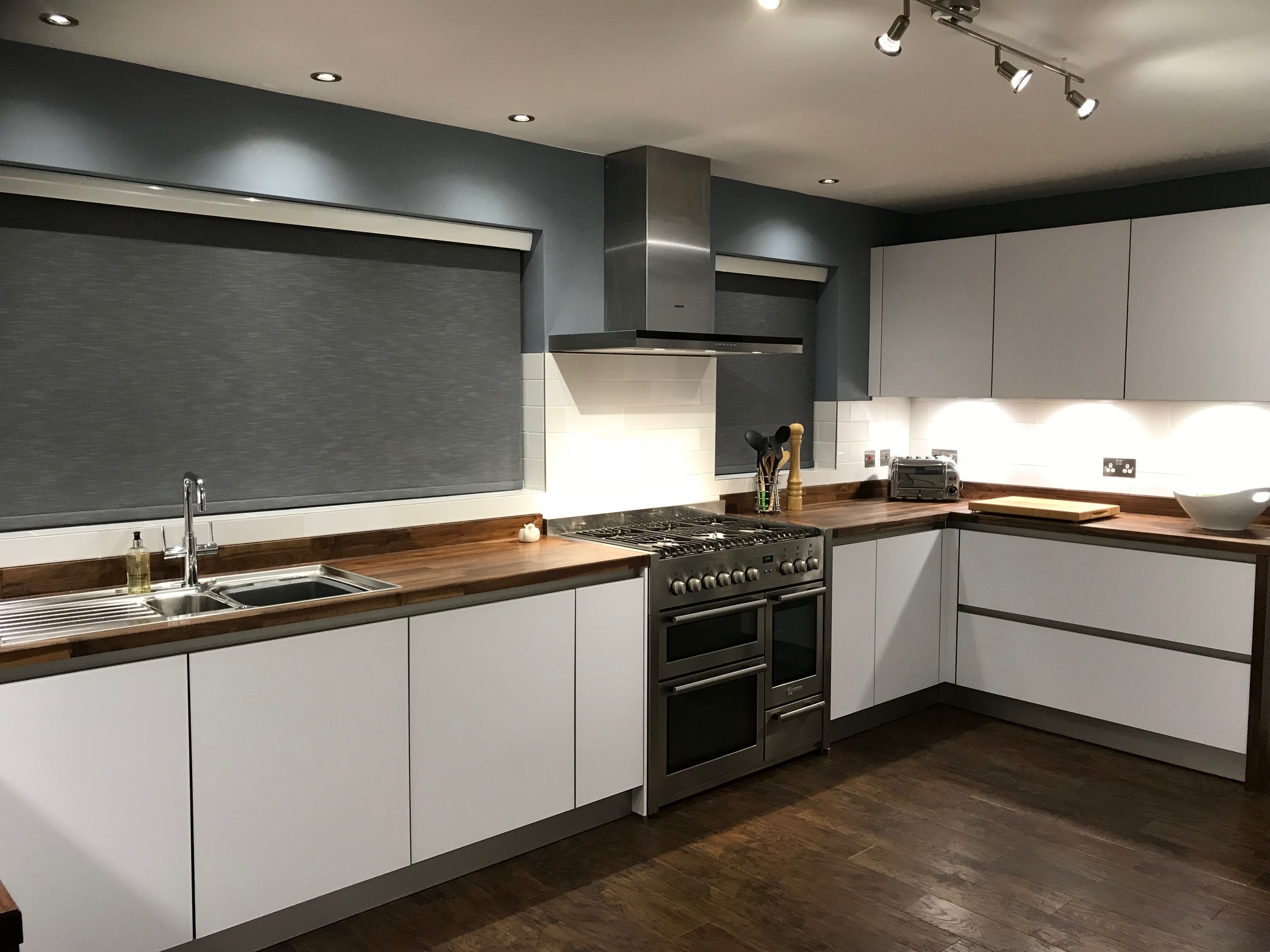 This recent installation was completed using Schuller Next 125 Glassline Kitchen in NX902 Polar White Satin for our customers in Eccleston, a Borough of Chorley in Lancashire, England.
As the sketch of plan and photos below show, the open plan nature of this kitchen helps to keep the room easy to move around and clutter free. With the main food preparation and cooking zones centrally focused in a U-shaped run across the main wall the room is kept open and flowing.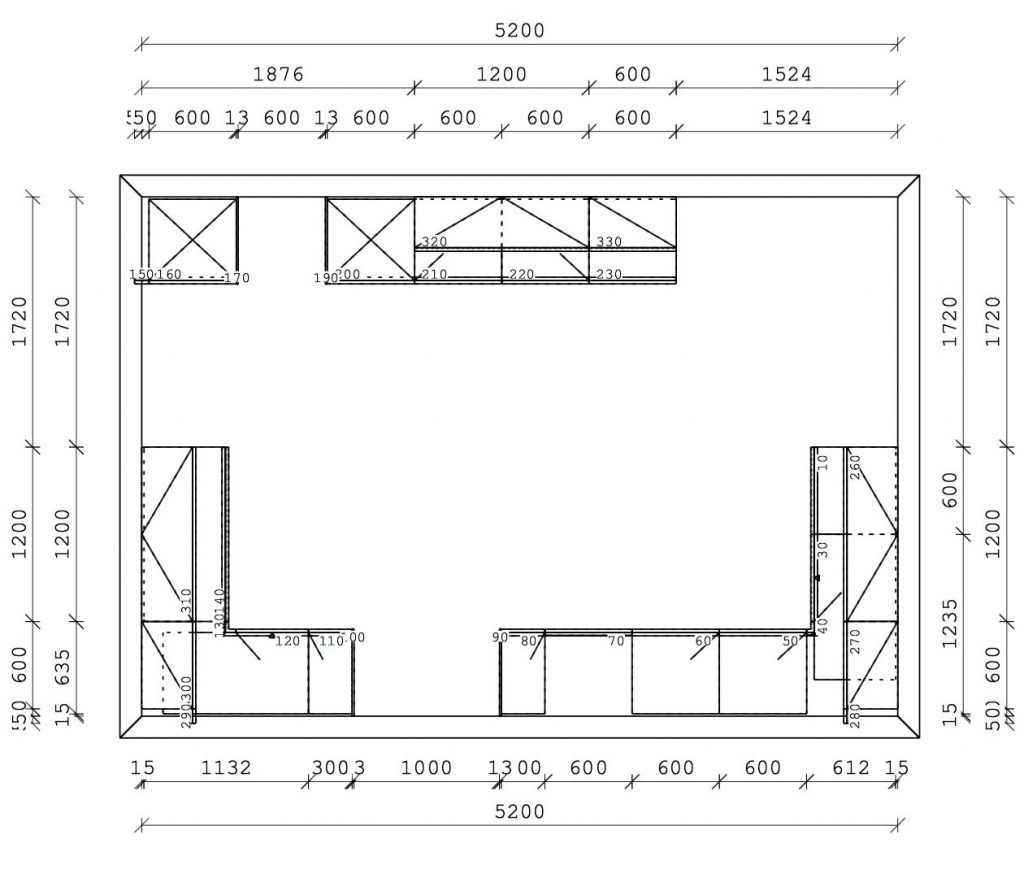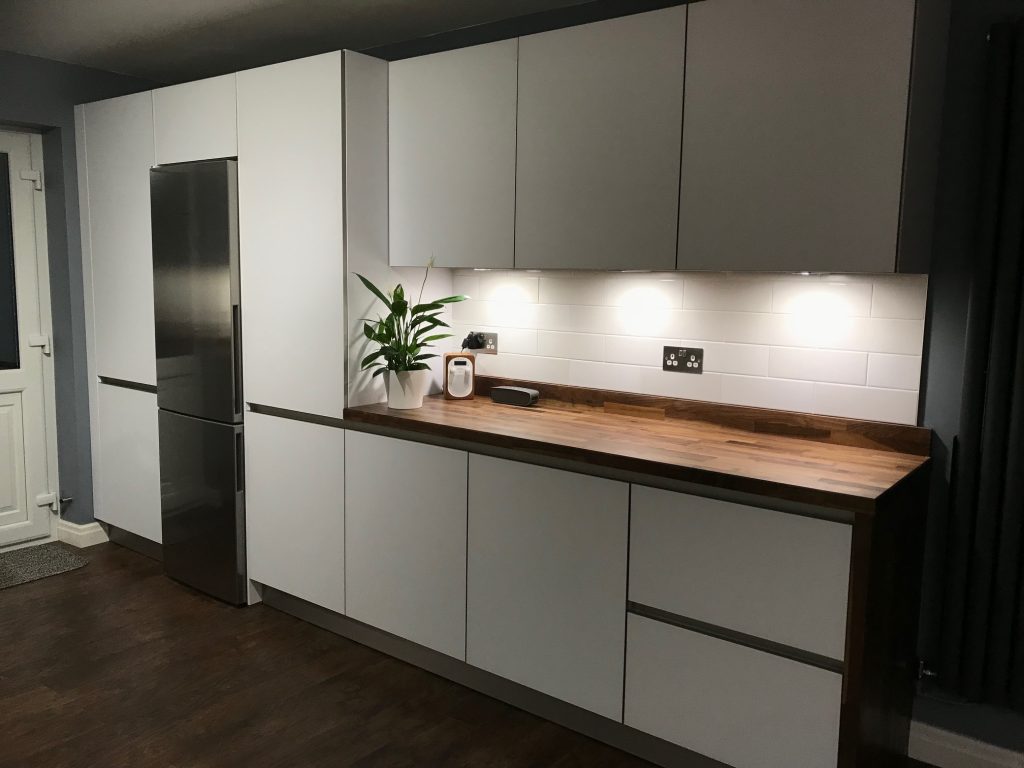 As the customer already had their own larder fridge freezer which they wanted to retain in the new Next 125 Glassline Kitchen we designed it so that the wall units and the tall bank were arranged in such a way that it would still allow easy access to the fridge but with a low profile into the kitchen so that the otherwise bulky larder fridge did not encroach too much on the rest of the room or look out of place next to the rest of the units on this wall. As such, only the recess of the larder fridge grip handle protrudes from the recess.
Although photographed at night (as shown, with the blinds down) this kitchen layout offers great natural light during the day and with the mix of white and wood tones the desired outcome of a warm and inviting room was achieved.
Next 125 Glassline Kitchens are a premium offering that have an actual glass cover to protect the colour choice underneath and whilst being easy to clean glass is a material renowned for its sleek and modern look. Time and again it is used within home décor for an instant touch of class and elegance, and so it follows that a Next 125 Glassline Kitchen makes a stunning option for a modern kitchen design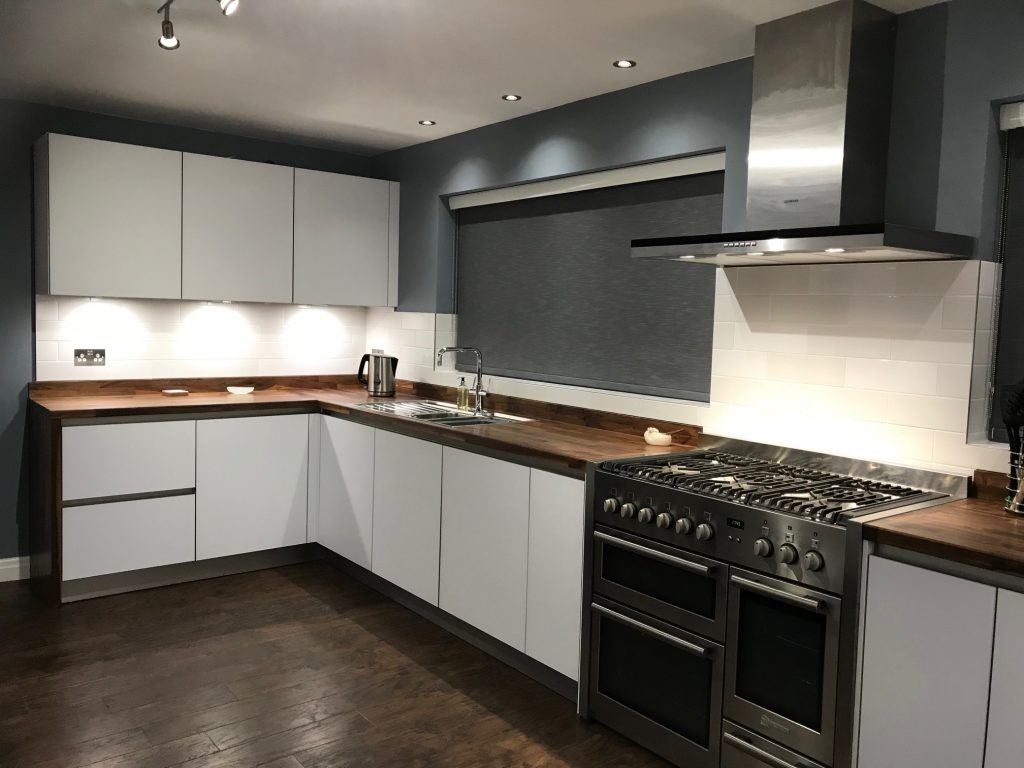 With a mix of drawer packs and traditional cupboards in this Next 125 Glassline design there is plenty of storage on offer.
No matter what configuration of storage you require, be it drawers, pull outs, traditional cupboards or otherwise, with a Next 125 kitchen you get the same exacting colour throughout and as shown here the NX902 Glassline Polar White Satin door front is a great choice.
Finished with oak butchers block work surfaces, which along with the wooden floor balance the Polar White Satin door fronts perfectly the end style is a careful balance modern and natural tones.
We are the UK's leading supplier of German made Next 125 Glassline & Schuller Kitchens and a Master Siemens Partner. We have a showroom in Greater Manchester, and a Free Home Design Visit service covering areas such as Liverpool, Manchester, Chester and more so please get in touch to order a brochure or speak to our Design Team.