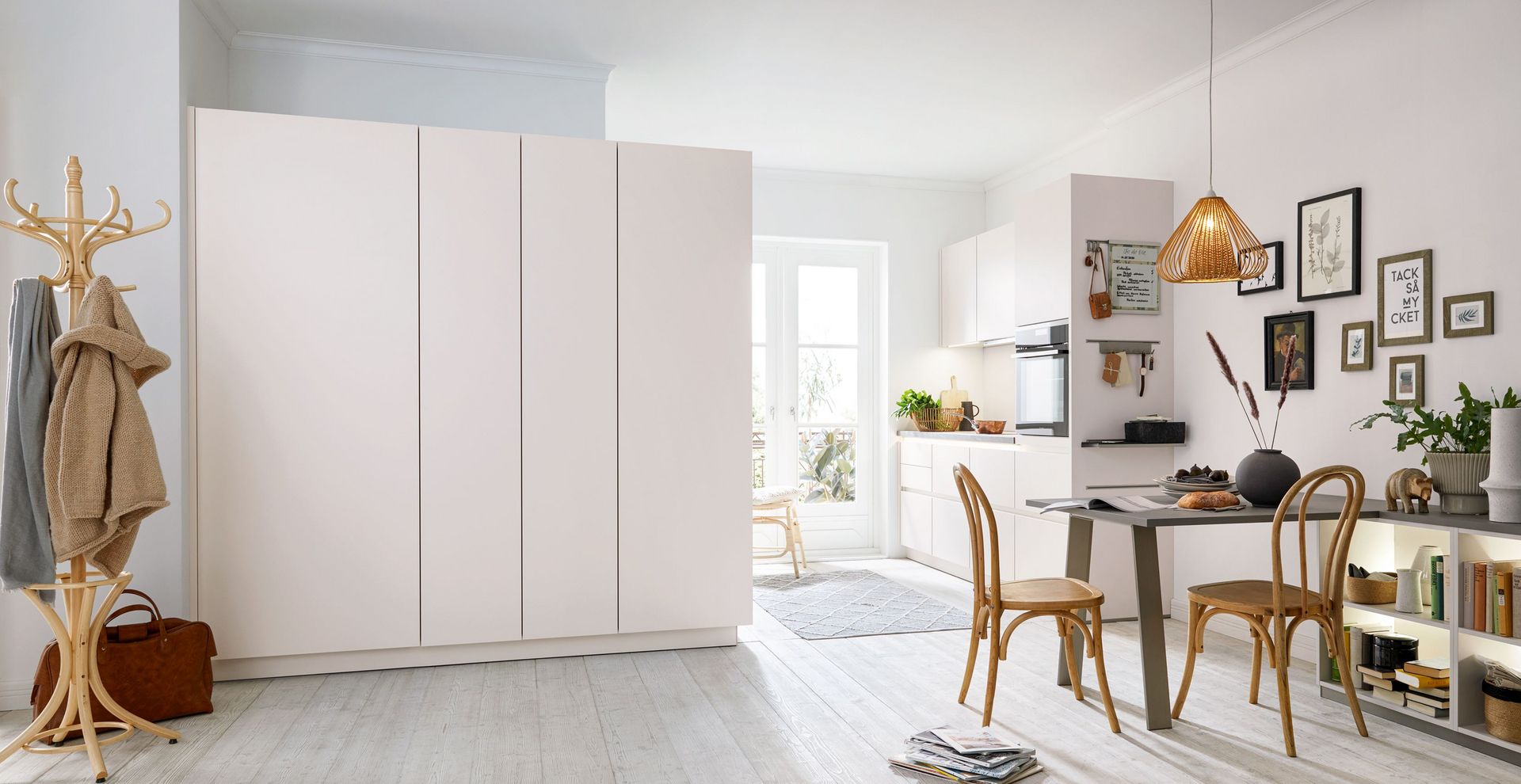 Here is Schuller Nova Seashell White (K095), a perfect illustration of what can be achieved using Schuller German kitchens for a small kitchen design.
We all love looking at impressive, open plan modern German kitchens but if you are looking for some inspiration on what can be achieved with a smaller footprint, then look no further.
below left: Storage does not always need to be hidden behind doors and drawers. Sometimes, plainly visible and decorative storage such as this Orgawall used as a practical helper for everyday odds and ends, keys and other items within easy reach of the table, is the perfect solution.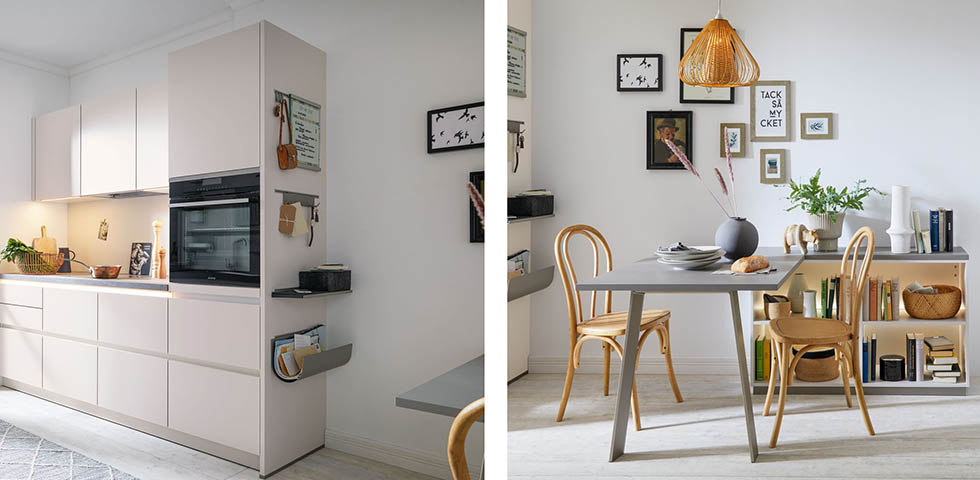 above right: This innovative space saving informal dining solution is perfect for smaller footprint kitchens and together with the open shelving storage behind (also Schuller) both can be colour matched for interior harmony.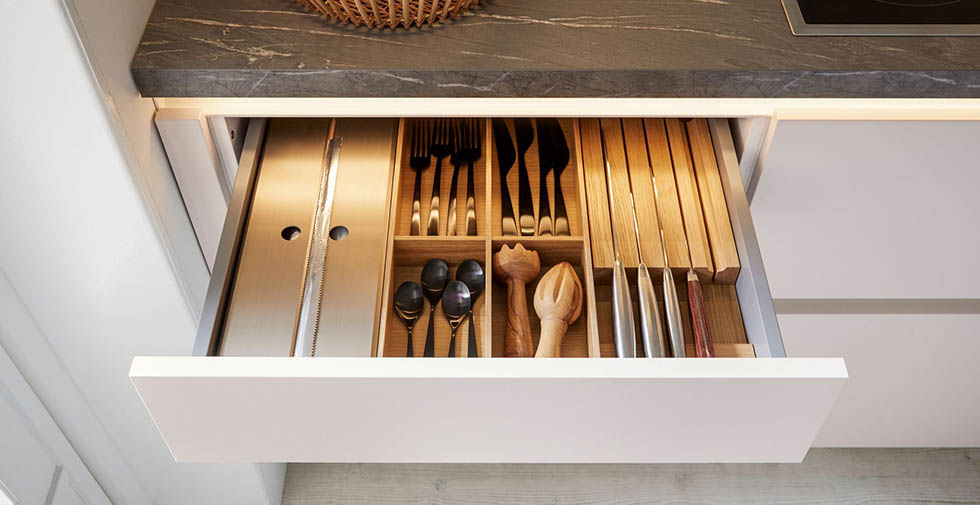 above:  The Schuller handless drawers are made to deliver the highest degree of ergonomic efficiency and beauty. Form and function combine effortlessly, assisted by drawer inserts for maximum organisation whilst LED lighting strips bathe the contents and the recess below the worktop, in a soft warm glow
below: Taking clever storage further which is essential in a smaller kitchen design, these larder bins have pullouts, normal shelving and shelving adorning the doors, which are an often overlooked space for storage.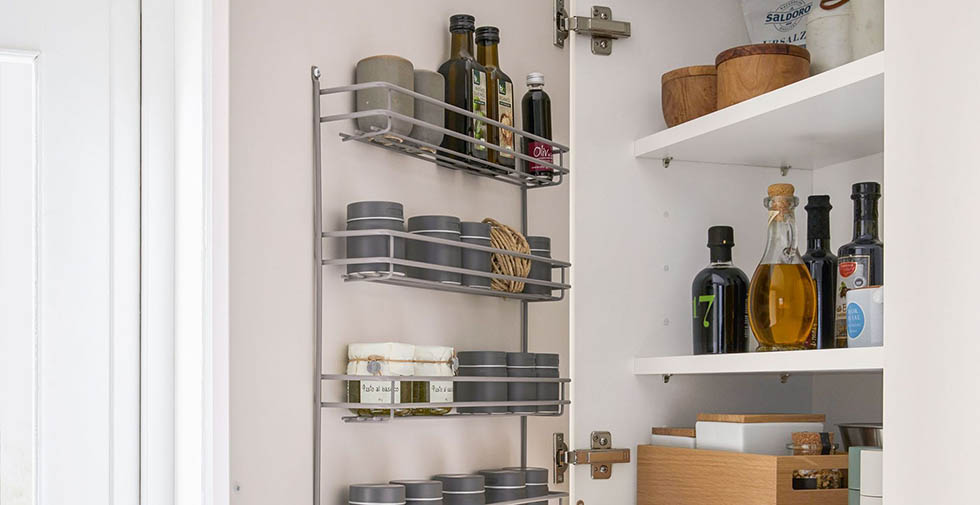 above:  This innovative and unusual design feature showcases what can be achieved in open plan studio apartments to create a better organised interior space.
Whilst Schuller tall units surround the wall, a hidden door (disguised as a cupboard door) opens up into a small larder unit behind. With old building conversions into flats, this is a more cost effective solution than tearing down the walls to an old water closet or larder, especially if the walls are load bearing.
Small kitchens don't need to feel cluttered and this example, using Schuller Nova Seashell White (K095), is a perfect illustration of what can be achieved with a modern (converted) studio apartment, were space is definitely at a premium.
Ready to Talk to a Designer?
Being one of the largest Schuller kitchens specialists in the UK and being an AEG Appliance Partner we are also able to offer near trade prices for AEG appliances when purchased with your Schuller or Next 125 kitchen design project.
If you want to talk more about Schuller Nova Seashell White, you can speak to a designer today.