Welcome to
Schuller Kitchens


Schuller German kitchens for less
FREE DESIGN SERVICE in Manchester
Chester, Warrington & Liverpool
St Helens, Preston & more
find out more
FREE AEG OVEN
With New Orders

Of our fully fitted NEXT125 kitchens
from the UK's leading Schuller & Next Supplier

find out more
Home Design
Book a home design visit now
Free Brochure
Request a FREE Brochure
Showroom Visit
Book a showroom visit now
Online Quote
Request an online quote now
Welcome to Schuller Kitchens UK
– the Leading UK Supplier of Schuller and Next125.  Made in Germany
At Schuller UK you will find the latest styles from the leading German Made brand of Schuller including the designer flagship Next125 kitchens
Whether you are looking for the ultra modern or perhaps tones and textures such as ceramic, metal or stone reproductions, or the synonymous German stlyings of Gloss and Handle-less and more recently Matt textures or perhaps a fusion of one of more we have the designers and the furniture to make your next kitchen a luxurious designer one, but without the designer price tag.
Schuller kitchens are an increasingly popular brand of kitchen and are currently the 5th biggest kitchen company in Europe.
With a fantastic array of styles and colour choices on hand to suit an almost endless range of personal styling preferences the beauty about Schuller is that there are so many factory available accessories, worktops, lighting solutions and many many more features such as decorative panels, functional panelling and more.
Furthermore, because they are all from one supplier, namely Schuller your colour choices will match.

next125 design principles – precision, elegance, creativity, reduction, functionality, emotion and technology.
If you want something even more designer than the Schuller Collection let us introduce you to Next125 Kitchens. Over 1,500 employees manufacture in excess of 118,000 Next125 designer kitchens every year from the Herrieden facility in Franconia with every single one individually tailored to the customer's exacting requirements.
Made in Germany and environmentally sound Next125 and Schuller are active internationally and fast becoming the go to German kitchen brand for modern home owners, architects and executive home property developers alike.
Always open to new ideas. Always a step ahead. Always in search of the optimum. Always ready for another leap into the future. Always in the sense of the Bauhaus philosophy Next125 brings the designs of tomorrow, for the prices of today.
"The democratization of design – well shaped and attractively priced."
Have a look at the latest from Next125 Designer Kitchens at the 2018 Eurocucina event in Milan.
Click the photo below or the heading above to see more..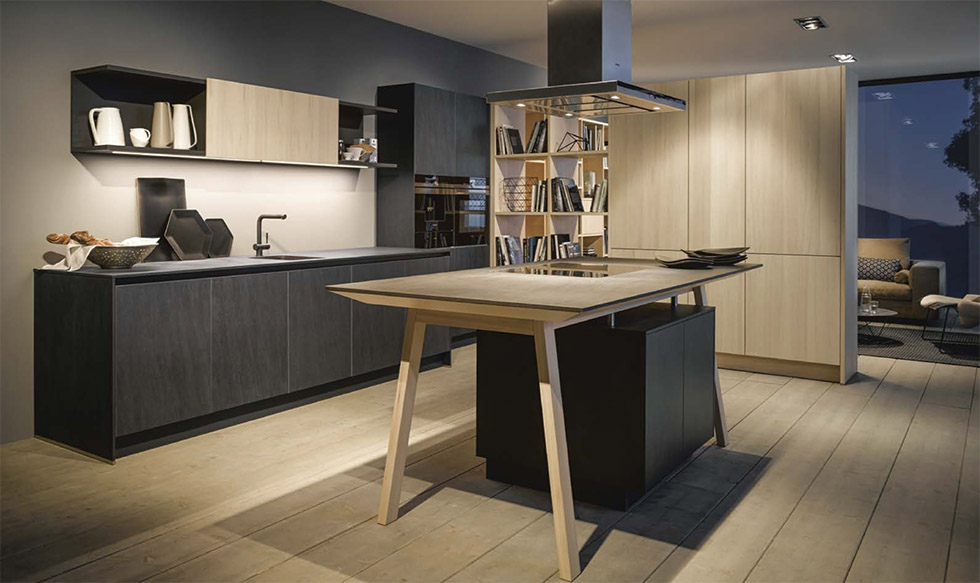 Free Home Design Service available throughout the UK.
Why not speak to an SCHULLER GERMAN Kitchens Designer right now?
NEW CHEADLE MANCHESTER SHOWROOM NOW OPEN


With showrooms in St Helens and Cheadle, Manchester they are perfect for customers looking for Schuller German Kitchens in Manchester, Warrington, Chester, Liverpool, Preston, Blackburn and throught the North West but our FREE Home Design Service includes London
Your kitchen is a big part of your home and as such, we treat all of our modern kitchen design projects with the highest levels of care, attention to detail and professionalism.
As the UK leadings Schuller supplier we offer leading edge designs and a full installation service.
Our role is to offer an inspiring and supportive design consultation  for our clients so as to achieve the fullest potential from all our projects and ensure that the kitchen we realize for you in the design drawings is transformed into reality with the minimum of fuss.
Schuller german made kitchens offer impressive levels of engineered quality, as you would  expect from a German kitchen and we pride ourselves on our impressive track record of satisfied customers so please feel free to browse our portfolio of customer projects for inspiration.