German Quality
German engineered products are world renowned for their quality and German kitchens from Schuller are no different.
Our Schuller kitchens are built to the highest standards and feature all the latest technologies you would expect (and should expect) from your kitchen – soft close drawers and doors, clever storage solutions, superior materials and finishes.
German Made – Quality Assured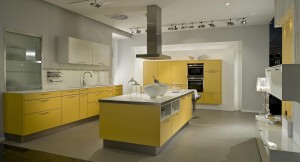 German Quality – Unlike here in the UK in Germany when someone moves home more often than not they take their kitchen with them.
Imagine trying to dismantle and move a flat pack or screwed together kitchen, if possible at all, and imagine how when re-assembled how poor it would appear. German kitchens are individual pieces of furniture, which can withstand daily and prolonged usage, both retaining its stunning appearance and functionality.
Whether or not you will ever have to move your kitchen is immaterial, without such attention to quality and detail, your kitchen will never match your expectations so don't settle for inferior home interior furniture when you can have the German kitchen of your dreams, for less than you think.
Every kitchen is pre-built to your order in the factory, every unit is individually packaged, so every unit arrives complete.
Not in over a 100 pieces which arrive in several boxes, which requires a skilled joiner to build and if you are fortunate to have an exceptional tradesman it may look reasonable, never perfect.
Manufacture of almost any product, especially one that is designed for perfection, should always be performed in a purpose built manufacturing facility with precision machinery and not on a customers kitchen floor:
Our Schuller Kitchens include all pre-assembled pieces of furniture, plinth, back panels, gloss ends etc which are are cut edged and constructed by precision machinery with no tolerance for error. This insures that your finished kitchen surpasses your expectations.
With our German Kitchens our drawers are built to withstand 50kg loads
This allows you to use the drawers as you wish: a full dinner service, as many pots and pans that will fit, large cutlery services, recipe books etc…
Whatever you chose to store, feel confident that German Kitchens by Schuller drawer packs will not embarrass or let you down.
Kitchen storage solutions and pull-outs
All products have leading edge performance in design, function and quality and are designed to last the life-time of the kitchen.
Everything Works Beautifully (As it should)
German Kitchens by the specialist