Schuller Kitchens – Available Door Styles
We are the UK's leading authorised UK dealer for the Schuller. Designed in the UK and made in Germany. If you want to see all of the available door styles from you can click Schuller Gallery. Below is a more in-depth product page for each door style.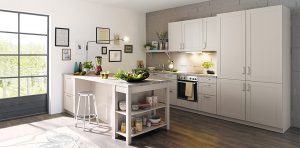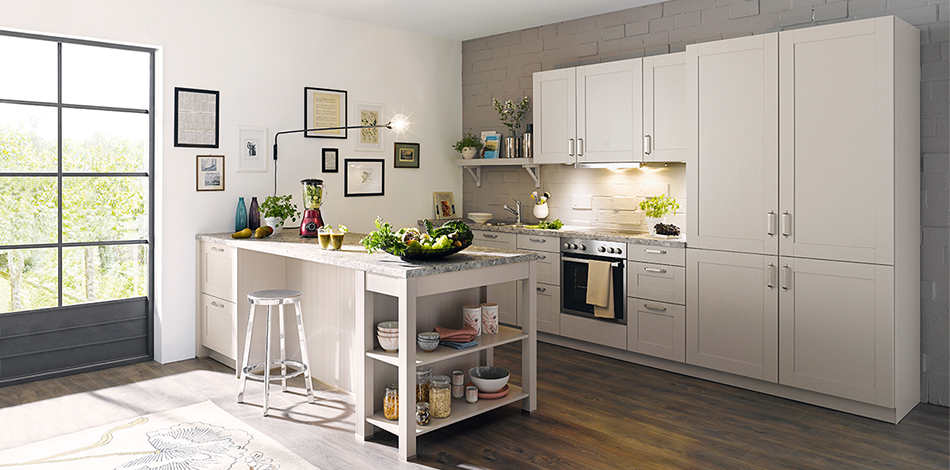 Schuller Casa L213 Sand grey silk gloss shown here with K045 Lazio basalt reproduction worktops is part of a growing trend for modern german kitchens with classic and traditional style door fronts.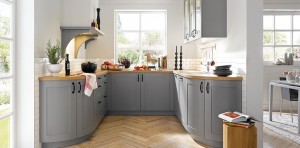 Schuller Casa L278 Agate Grey Silk Gloss is shown here with K505 Natural Knotty
Oak reproduction worktops. Casa is available in 7 others colours and curved doors to add to its classic charm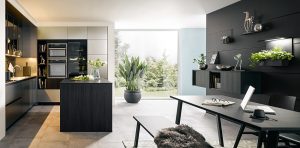 Schuller Corona P247 Stainless Steel is a new and very on-trend door style shown here with a mix of K883 Textured Spruce Onyx Black Effect and Systemo Fenix worktops in K187F Fenix Onyx Black Fine Matt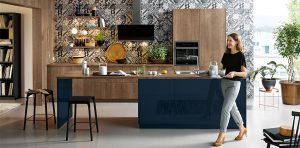 Schuller Cremona K793 Old Oak Provence with synchronised pore effect is mixed with a L235 Stone Grey Satin and K790 Old Oak Barrique effect worktops to create a wonderful mix of textured surfaces.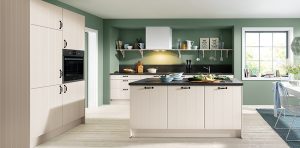 Schuller Domus L213 Sand Grey Silk Gloss shown here with contrasting K189 Lava black textured worktop is a classic panelled door style for modern appeal. Available in several other Silk Gloss colours.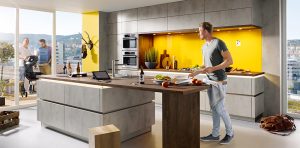 Schuller Elba K023 Concrete Quartz Grey shown here with K795 Oak Heartwood Cognac worktop. Elba comes in three other concrete colours and a Ceramic Steel Grey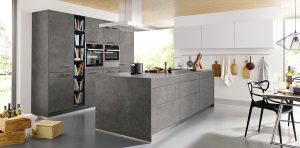 Schuller Elba K087 Ceramic Steel Grey is one of four textured Elba door styles including Concrete. Shown here with matching Ceramic Steel Grey worktops and end panels for a very architectural look.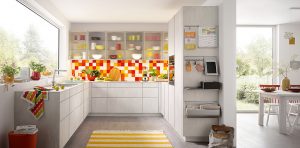 Schuller Elba K025 Concrete White Grey shown here with matching Concrete White Grey worktops and decorative panelling is the lightest shade of the Elba Concrete textured door finishes.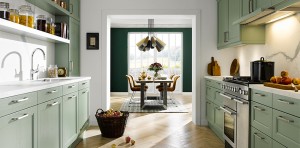 Schuller Finca F463 Ash Sage Green is one of 7 colours from this door style range. Shown here with Systemo Ceramic C2160 Marble Carrara worktops Finca is a modern classic in the making.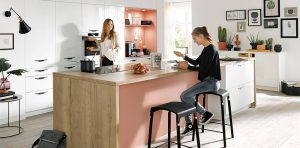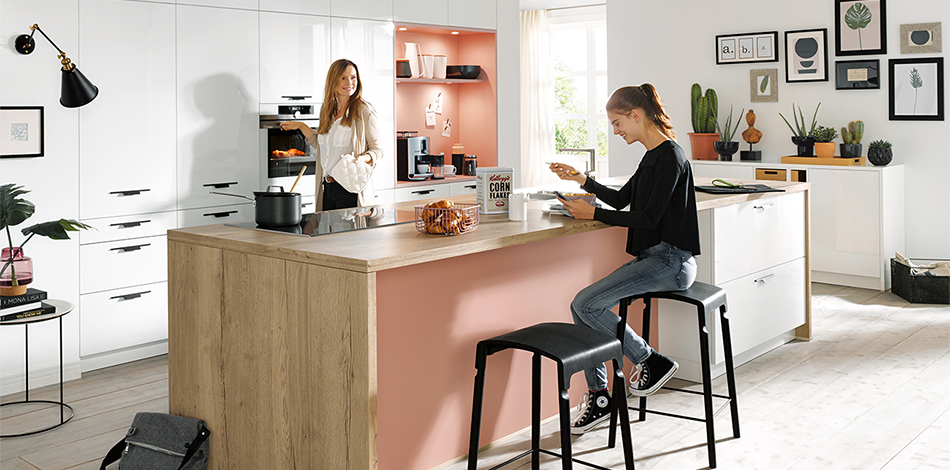 Schuller Fino L091U Crystal Gloss is shown here with K650 Old Oak Provence worktop and an Open shelf unit in L385 Pastel Rosé. Fino also comes in Magnolia, Brilliant White, Black and more..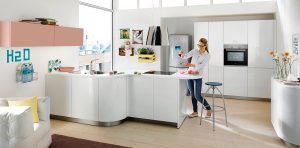 Schuller Gala L091 Crystal White High Gloss shown here with a very small hint of L385 Pastel Rosé Satin is a formidable whit gloss handle-less german kitchen. Also available in curved doors and several other colours.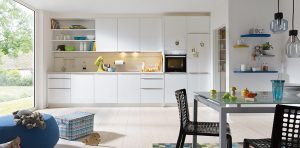 Schuller Gala L091 Crystal White High Gloss shown here Concrete White worktops is any example of the very popular Gala door in its linear option. Also available with curved doors and several other colours.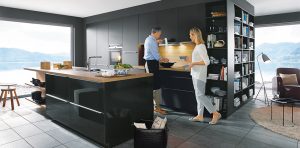 Schuller Glasline G191 Gloss Lava Black shown here with K500 Ellmau Oak worktops and back splash is a door front made with real glass. Also available in Matt White and Matt Lava Black the real glass protects the sumptuous colour underneath.
Schuller Lima K855 Norway Maple shown here as a solid colour colour choice is the German answer to a growing trend for Nordic Wood textured kitchen styles. Lima is also available in Knotty Oak (K505)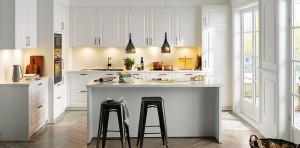 Schuller Riva L1005 White Satin, shown here with Systemo quartz Q1230 Marble Victoria White worktop is a modern German take on the classic English Shaker and is available in over 20 colours which can be mixed and matched.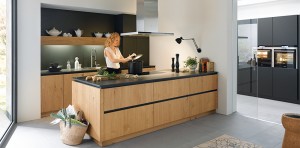 Schuller Rocca F734 Natural Knotty Oak (Brushed) shown here as a mix with Satin Lacquer L190 Lava Black door fronts and worktop is a darker take of the on-trend Nordic inspired textured kitchen. Also available in Light F728 Knotty Oak.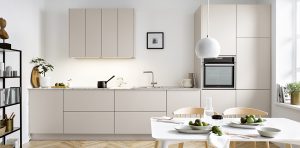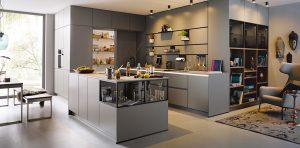 Schuller Siena L277M Agate Grey Matt Velvet is a very on trend handle-less kitchen with one of the richest shades of grey available. Agate Grey, one of 8 Velvet Matt doors is shown here as a solid colour choice and matching worktops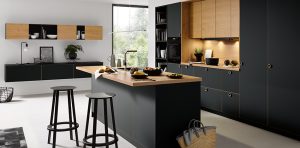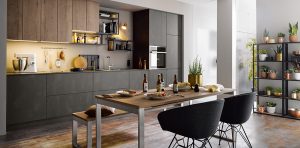 Schuller Targa L587 Steel Dark Effect is shown in a mix with K793 Old Oak Barrique and matching L587 Steel Dark worktop. Also available in Steel Bronze L592 the Targa door style is an on trend and architecturally inspired style with urban chic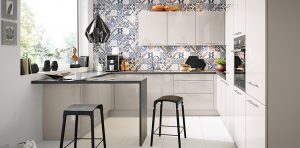 Schuller Uni P211 Sand Grey High Gloss shown here with K043 Castell Oak Anthracite worktop is a rich and glossy sand grey finish for the Uni door. Available in several other high gloss finishes.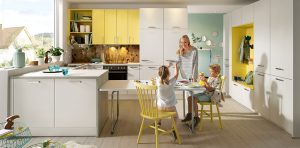 Schuller Uni P122 Crystal Grey Matt shown here in a mix with L330 Pastel Yellow Satin and finished with K025 Concrete White Grey worktop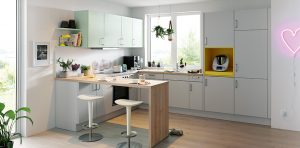 Schuller P122 Crystal Grey Matt is shown here with K810 Castell Beech worktop and a mix of L215 Pastel Green Satin doors to a small over counter run.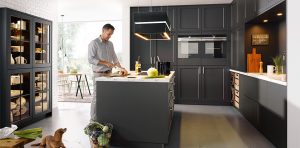 Schuller Vienna L190 Lava Black Satin is a great example of the modern German answer to a Classic Shaker kitchen.