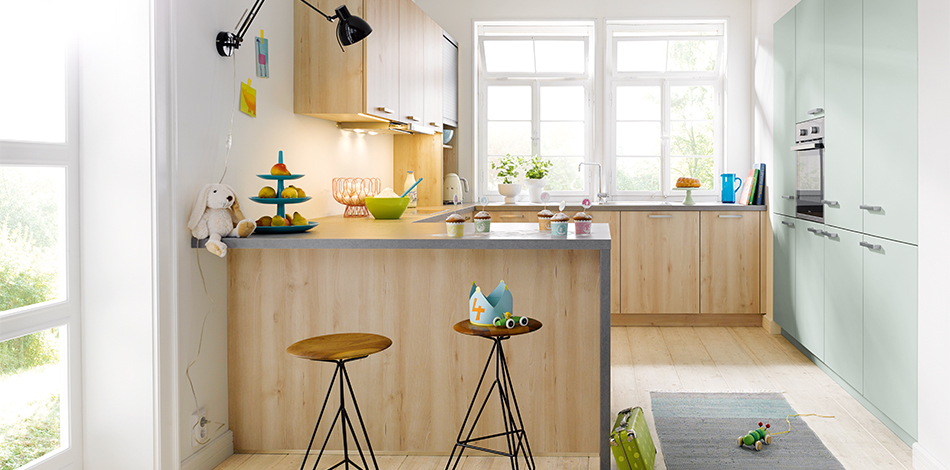 Schuller Bari Castell Beech effect is a stunning example of natural wood effect doors to spruce up your kitchen with a more natural looking touch and feel.
Shown here with contrasting concrete & anthracite style worktop to provide a balance of light and dark textures, Bari is a versatile door front that can adapt to most tastes and preferences .
Front finish: Laminate K810 Schuller Bari Castell beech imitation & satin lacquer L365 Glacier blue satin
System: 78 cm
Handle: 452
Worktop: K028 Concrete anthracite effect
Picture details:
– Tall unit for bottle crate storage or whicker baskets
– Handy unit with roller shutter, perfect to de-clutter
– C-MOVE for wall units for phone and/or power options

With Bari from Schuller there are many kitchen ideas that can come to life. With natural looking effect doors offering a mix of subtle tones and wood textures you can use a solid door front from Bari or mix and match with a whole host of other door fronts.
In terms of popularity amongst our customers, Schuller Bari Castell in Beech (K810), shown here, the next popular door is the Bari Natural Knotty Oak (K505) which offers a slightly darker tone and is perfect for use with many colours, including the ubiquitous white gloss handless Schuller Alea.

Available Door Front finishes:
– Bari K810 Castell Beech effect (shown)
– Bari K505 Natural Knotty Oak effect
– Bari K855 Norway Maple effect
– Bari K515 Limed Pine effect
German Made – Quality Assured
As you would and indeed should expect from your new german made kitchen, Schuller kitchens are built to the highest possible standards. A combination of very high-quality workmanship and engineered manufacturing guarantee the kitchen's high durability and lifetime.
With Schuller you get the german made furniture you want which features all the latest technologies such as durable soft close drawers and doors, clever storage solutions, drawer packs able to contain over 50kg, superior materials, finishes and much much more.
Every Schuller kitchen is pre-made and assembled to your to your exact order. Every unit is then individually packed so that each unit arrives complete to reduce fitting times and associated issues.