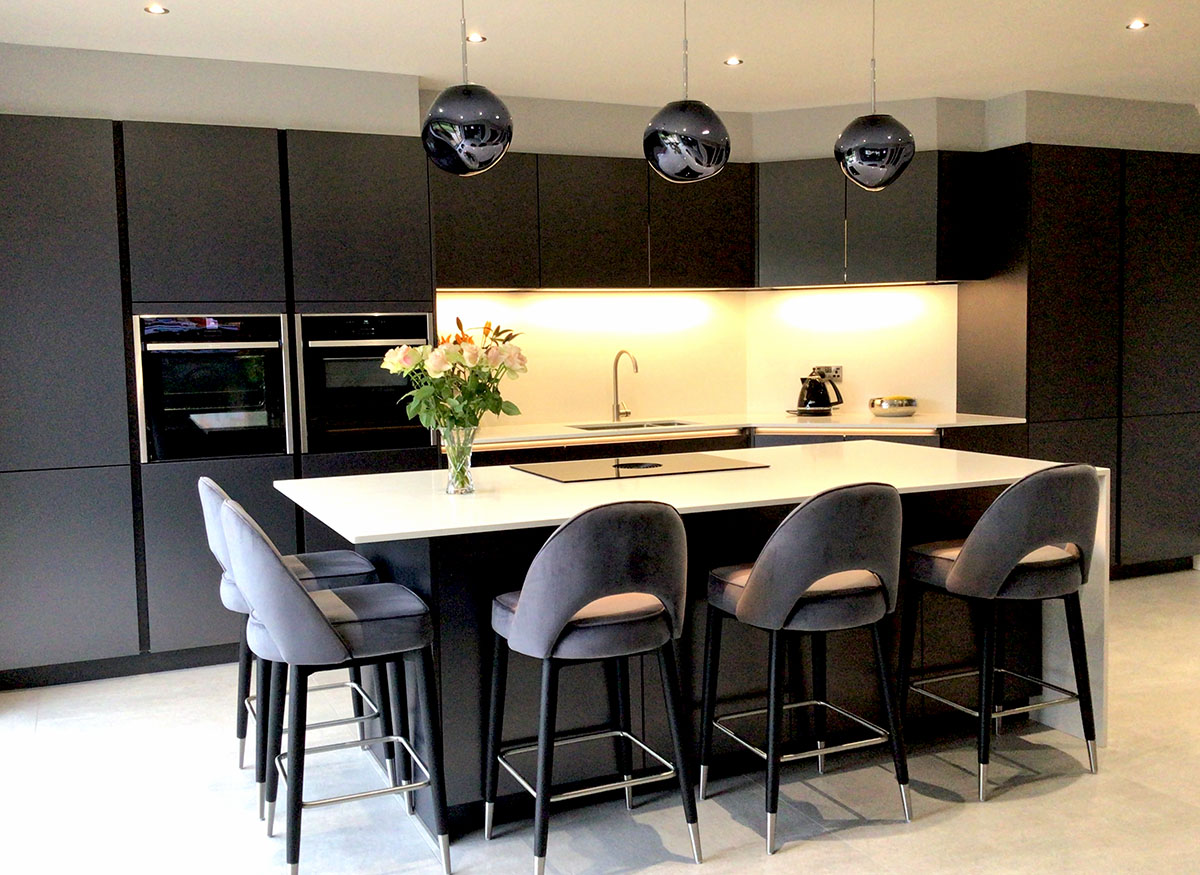 This is Schuller Cortina Titanium Metallic, a new door style for a very sophisticated and elegant use of metallics that we used for this customer kitchen project in Warrington.
Metallic inspired door fronts have been a steadily growing trend for the last 4 years and whilst some may prefer a more industrial feel, we feel Cortina Titanium Metallic and its sister colour choice, Cortina Stainless Steel Metallic are perfect for those who prefer a softer and warmer aesthetic and a somewhat more subtle use of metallics in their german kitchen design.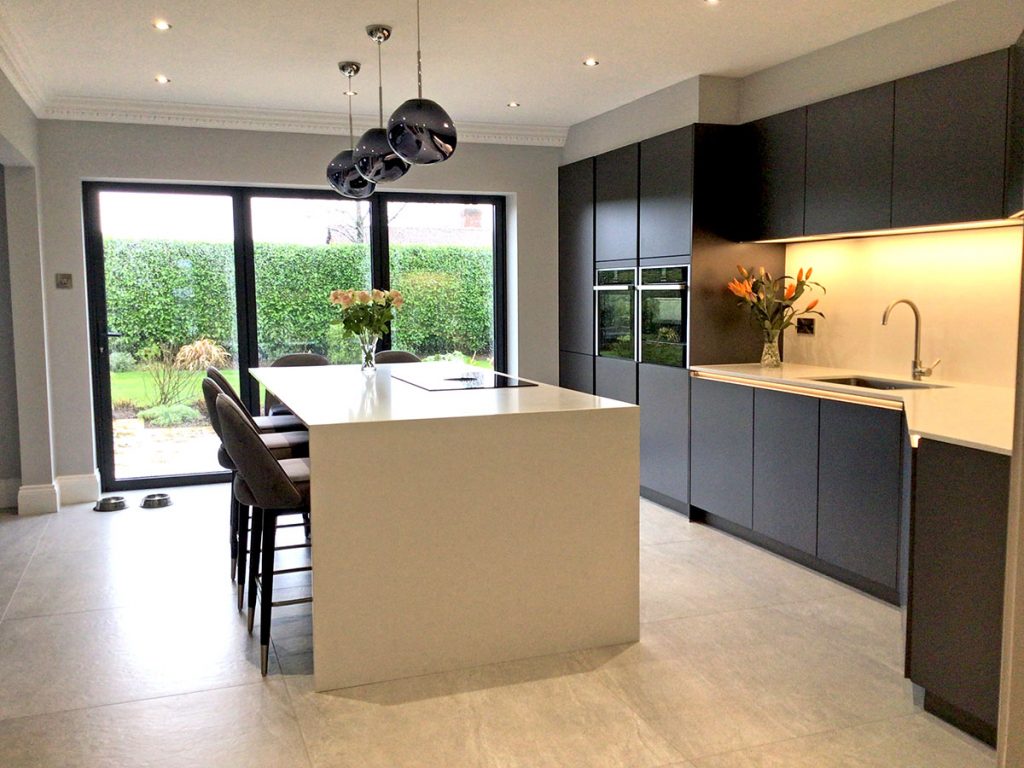 above: The image above shows the angular layout of the main run (to the right of the image). Whilst the Schuller cabinetry is easily aligned in this manner the hard part was getting the exacting and precise measurements right for the worktop.
The main run of Schuller Cortina Titanium Metallic cabinets also features under counter LED strip lighting, Schuller shelf lighting and twin single ovens. For above counter cabinets, Schuller bi-folds were used with internal lighting which make for a cleaner profile.
below: The island features a fantastic BORA Basic Hyper glass ceramic cooktop with integrated cooktop extractor. This BORA 'Recirculation' extraction does away with the need for overhead extraction and helps create a more unbroken sight line as you can see. Instead, the funky and contemporary pendant lights light up the kitchen like three wondrous orbs, instead of a bulky overhead hood extraction fixture.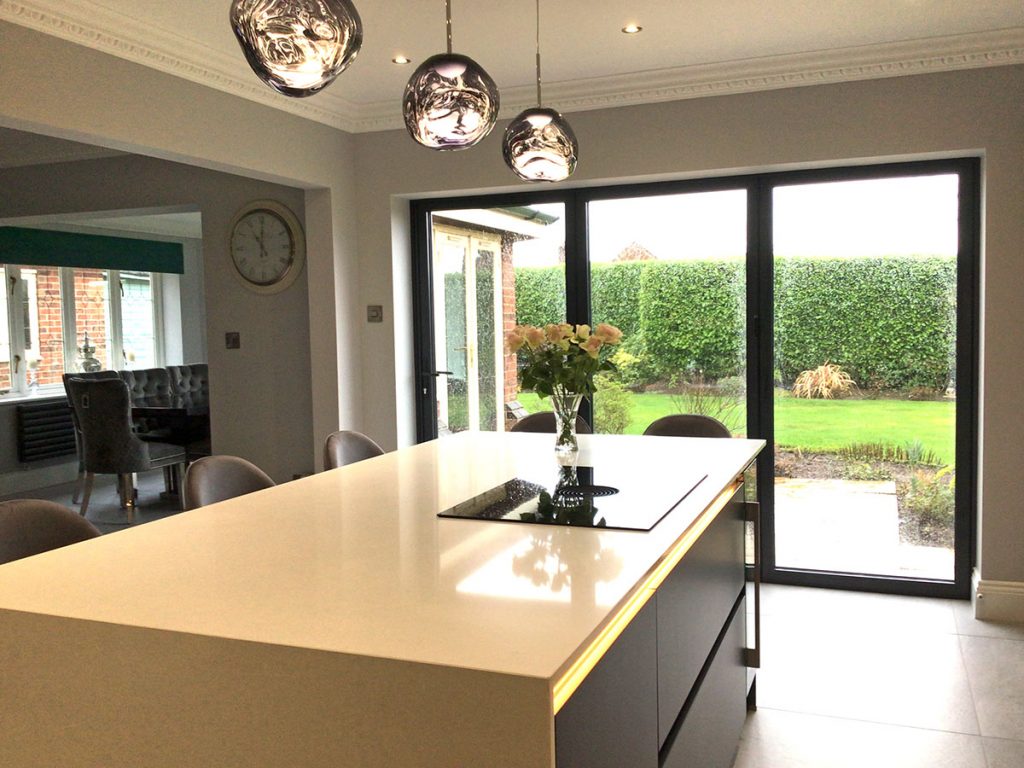 below: Clever storage. The deep drawer packs from Schuller are equipped with elegant natural oak inserts, which not only allow for unmatched levels of access to their contents, but they can be arranged and organised to your specific requirements.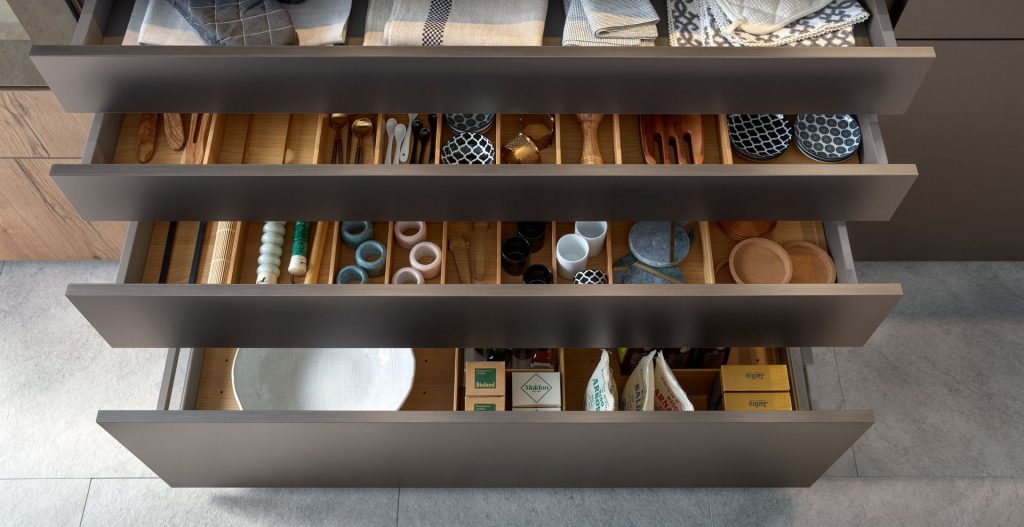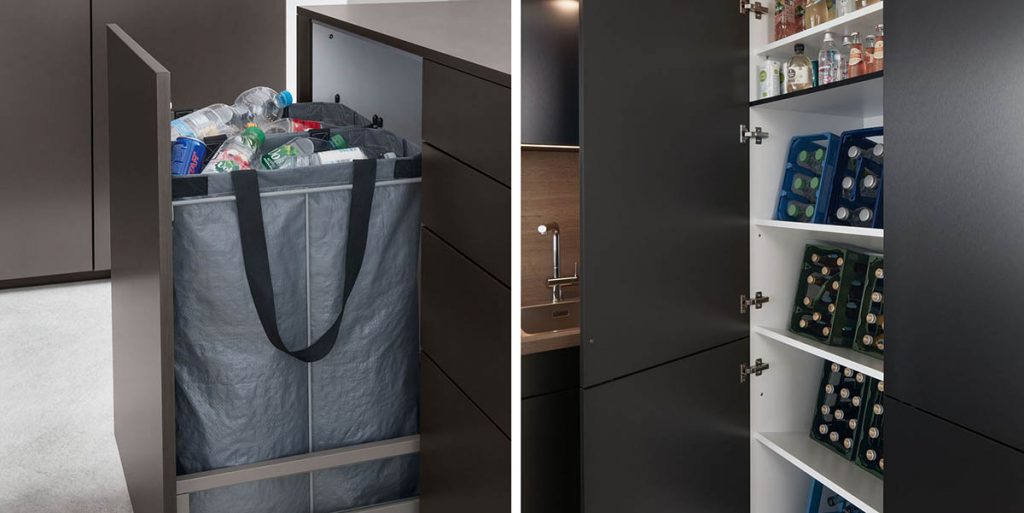 above left: In addition to configuring cabinets and drawers for specific tasks or storage requirements, Schuller offer a range of supporting accessories to aid each intended purpose, for example, canvas sacks (with handles) so that your recycling efforts are made easy come collection day.
above right: Angled storage can also be arranged to offer more unique storage solutions. Here, for example are sloped shelves to allow for small bottle/drink crates to be stored for both ease of use and easy removal come recycling/collection.
New Schuller Cortina door choices include Cortina Titanium Metallic and its sister colour choice, Cortina Stainless Steel Metallic.
Both feature a hard-wearing, metallic coloured front with PVC-free surface produced by applying a high-quality PET foil onto an MDF substrate which was then lacquered in the production process.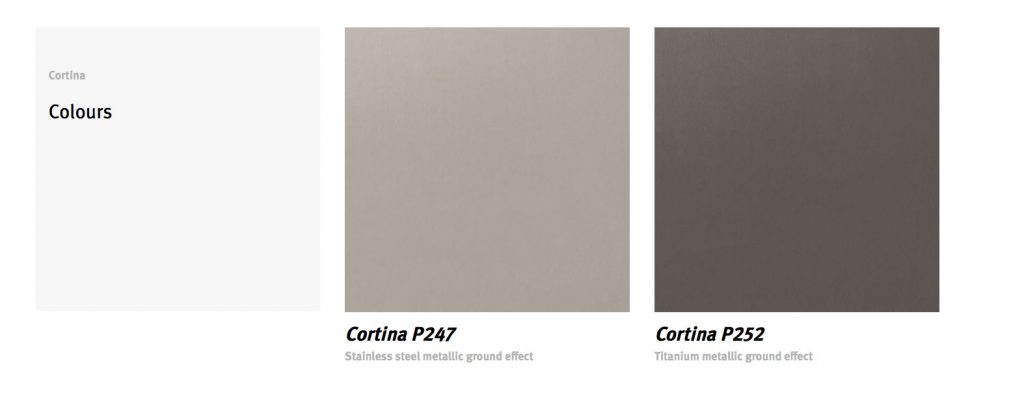 Being a AEG Appliance Partner we are also able to offer near trade prices for AEG appliances when purchased with our furniture, as part of your next kitchen design project
If you want to talk more about Schuller Cortina Titanium Metallic, or indeed any other style or customer project, you can speak to our designers today!