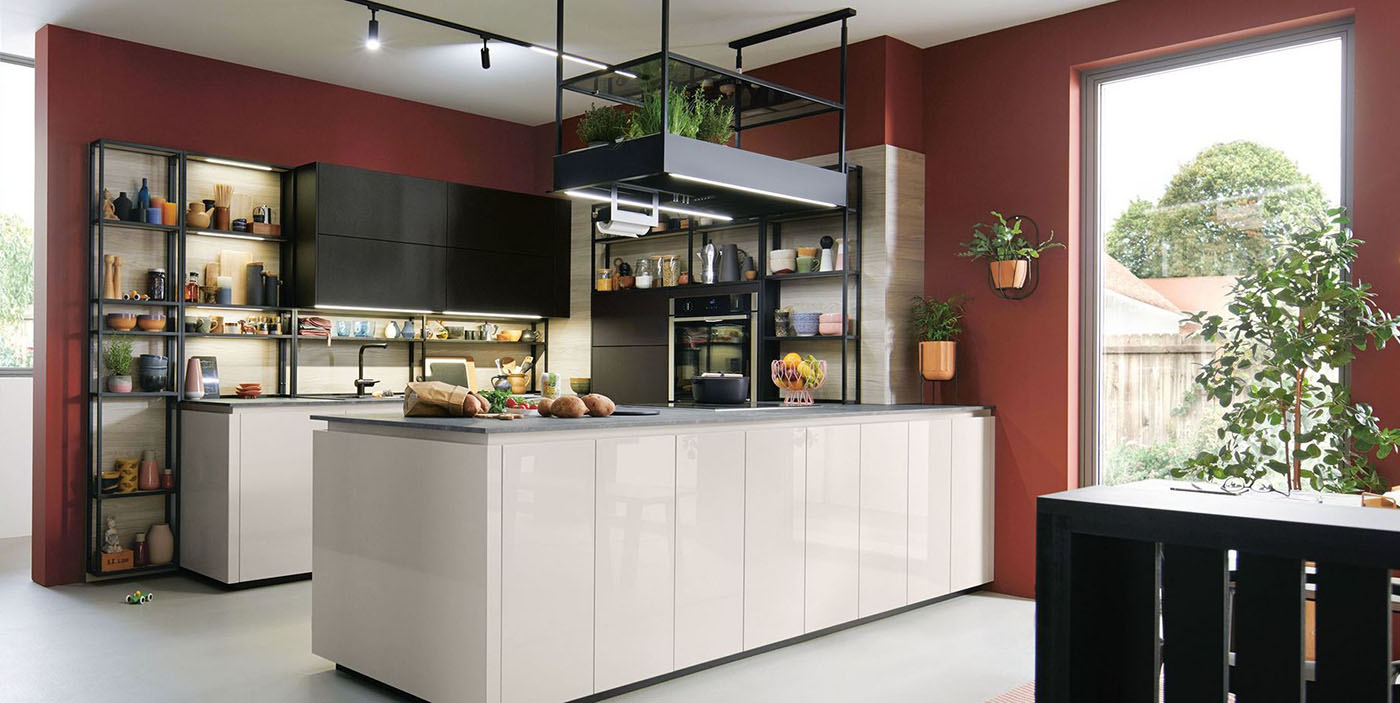 Shown here is Schuller Fino Seashell White Gloss & Oak Onyx Black. New for 2022 this monochrome pairing of white gloss and black gloss, (the go to colours of the german kitchen generation) is a delight for the senses and made perfect with the expanded use of Schuller Fino into the living space.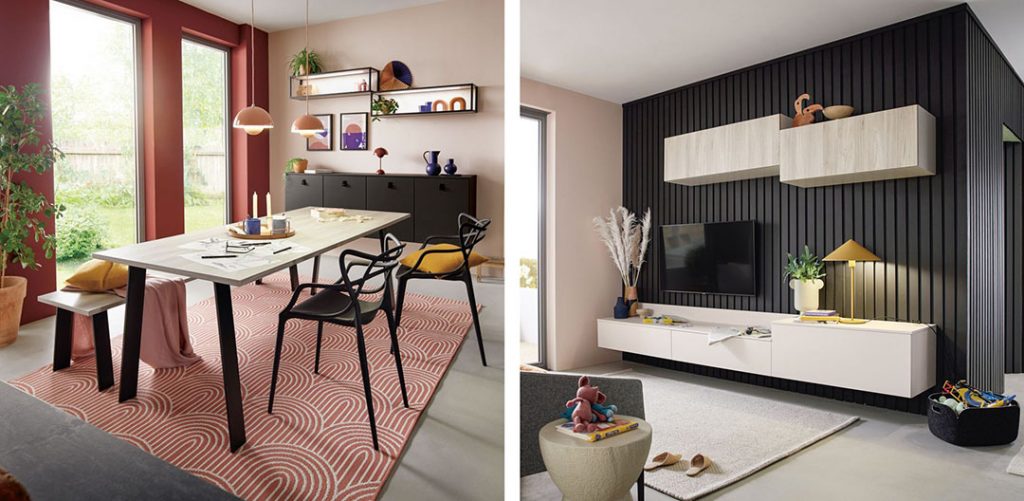 above left: The above image shows the continued use of Schuller Fino (in Onyx) to the floating shelving at the read wall with the open, variable Frame Rack shelves above. The Schuller variable Frame Rack shelves are highly configurable and can be optioned with lighting to showcase the contents, if so desired.
As with all of the storage solutions from Schuller, they can be highly customised to your preferences and unique needs with multiple configuration options.
above right: The open Living Space shown here also makes use of the Schuller Fino Seashell White door style (in Seashell White)  which has been used for the floating wall storage at low and high heights, sandwiching the TV.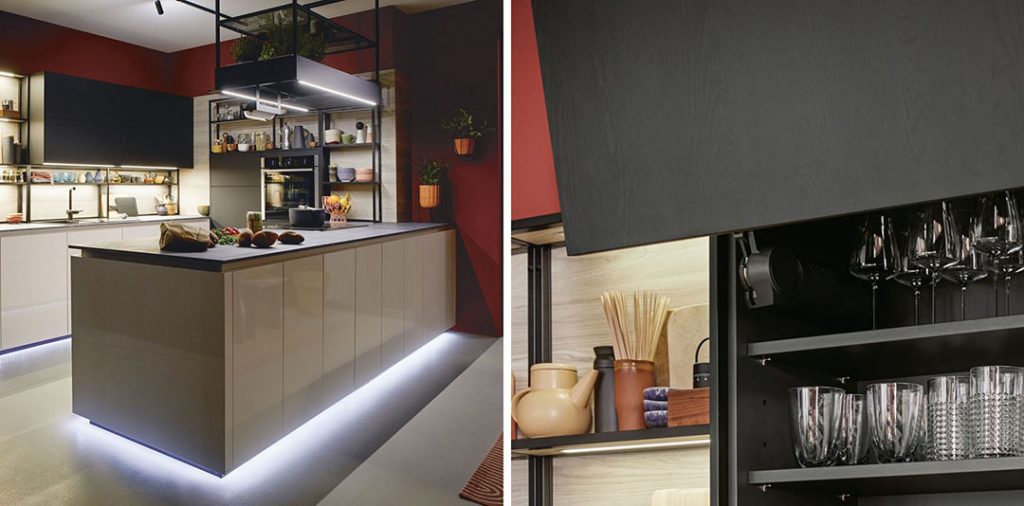 above left: With the large format kitchen island, this kitchen design has ample food preparation space and the floating feel is further enhanced here with the under unit lighting, which adds greater depth to the overall space whilst bathing it in a soft glow, both day and night.
above right: The double wall display units (also in Schuller Fino Oak Onyx Black) in this image are accessed via the upwards opening scissor doors. The (closed) units can be seen in the top left of the above left image, and provide easy to reach storage when using the kitchen island.
There is the extensive range of Schuller accessories to make your kitchen bespoke to your styling needs and wants. All you need to do is let your designer know and let us create your perfect kitchen….
Below: Here, the kitchen island, the variable Frame Rack shelves, the overhead extraction with lighting and the full galley of the kitchen are on display to show how versatile this design is. Whilst this design is for a much larger footprint, with living space, this galley style kitchen can be easily envisioned with the island having a wall next to it (in say an apartment) as opposed to the open plan space this image shows. As such, this galley style would be great for a compact kitchen.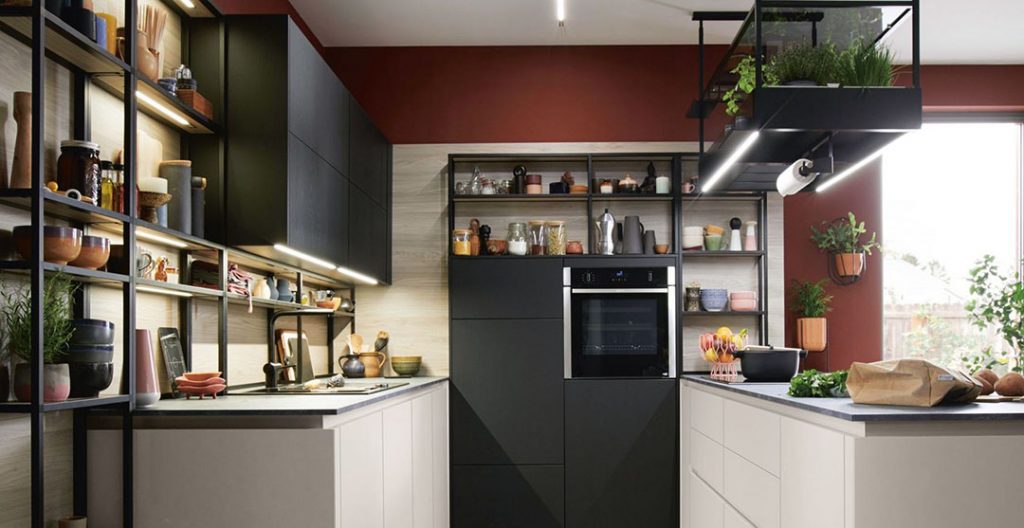 Family life can get somewhat frenetic from time to time. On such occasions it is comforting to know that at least the furnishings are harmoniously matched. Visa Schuller we offer a full range of possibilities for designing living room spaces and kitchen furniture with a homogeneous feel, as well as many wonderful accessories and lighting options.
Below: Here, you can see a wonderfully designed 'passage door' from the kitchen/living space to the hidden pantry which is "camouflaged" as a tall unit using the Schuller Fino Oak Onyx Black. The overall effect is one of even more space.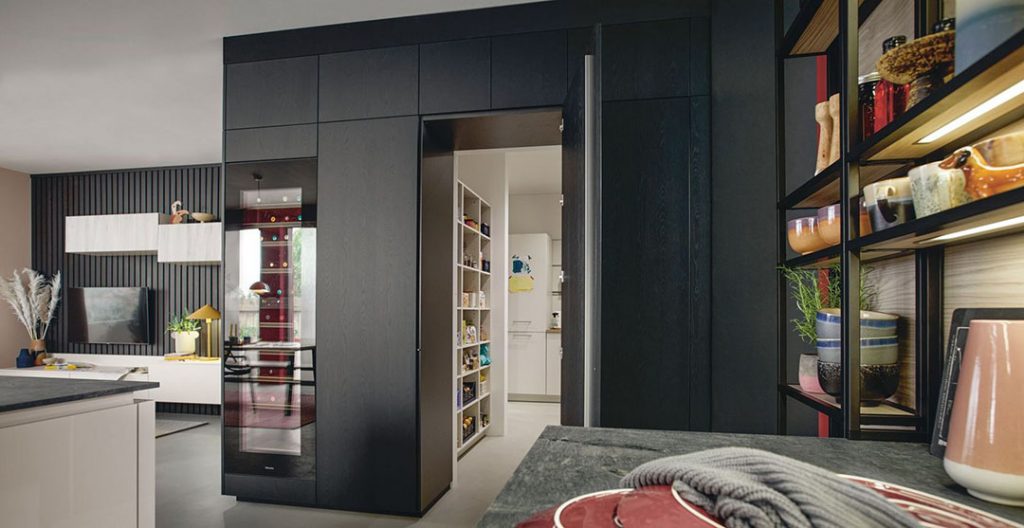 Fino Gloss: Durable and easy to clean: This water-based Dual Cure lacquer system with UV drying meets environmental requirements as well as high resistance and resilience. Due to the slightly textured surface, the front is easy to clean and the door and drawer fronts have a special AFP (anti-fingerprint technology) to keep the surfaces clean.
Being an AEG & Siemens Appliance Partner we are also able to offer near trade prices for AEG & Siemens appliances when purchased with your Schuller Canto Satin Shaker in Sand Grey, any any other Schuller style or Next 125 kitchen design project.
If you want to talk more about Schuller Kitchens, you can speak to a designer today.