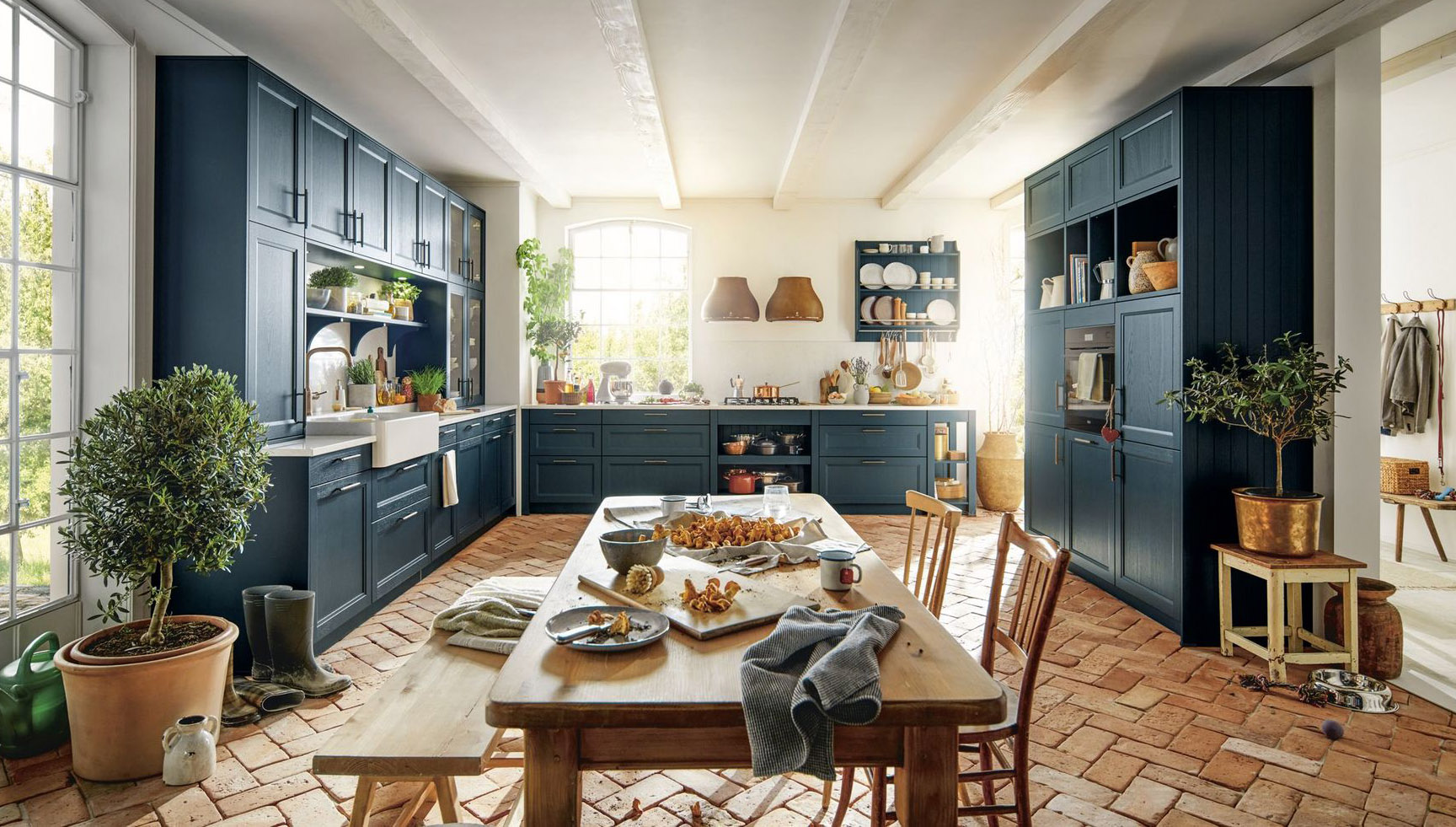 The Mediterranean inspired Schuller Finca German Kitchen, shown here in Deep Blue Satin (L550P) is a great option for those looking for modern German kitchens, but with a classic and more rurally grounded Shaker style.
The deep blue satin lacquer fronts convey a warm rural character, perfectly lending itself to becoming a timeless modern classic, achieved via the perfect balance of subtle wood grain and elegant brass handles, shown in this example design.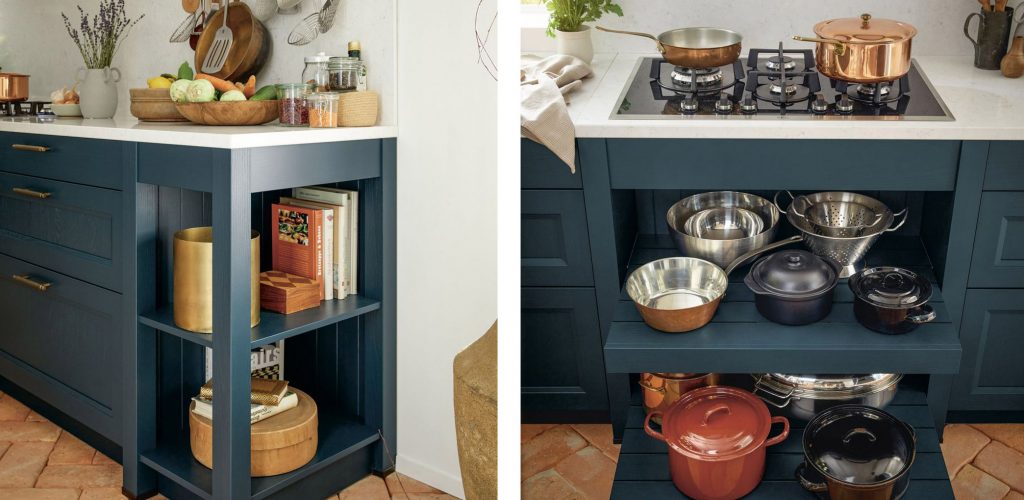 above left: The above image shows an end cabinet idea with ornate posts and two open shelves, which is very characteristic of the classically inspired, Finca Country Style.
As with all of the storage solutions from Schuller, (whether open or closed) they can be highly customised to your preferences and unique needs with multiple configuration options, all safe in the knowledge that they will be colour matched perfectly.
above right: The hob in this kitchen design features two pull-out shelves so that pots and pans in the rear can be reached without issue. A necessity when busy cooking in this functional and ergonomic kitchen.
below: This image shows the hob and end cabinet (in the above two images) from a different perspective. Traditional wooden insert separators neatly arrange all the pull out drawers storage. From cutlery to crockery, all your items can conform to the old saying "A place for everything and everything in its place".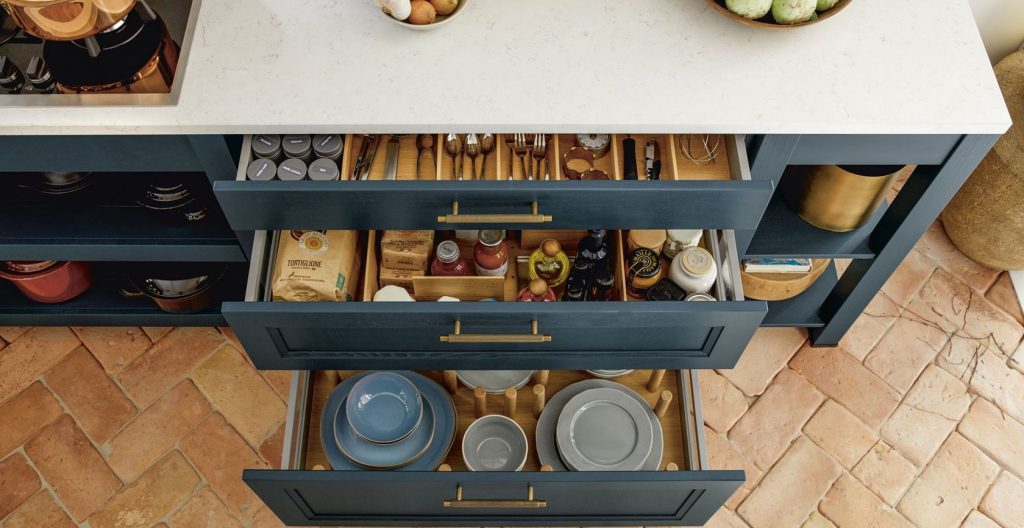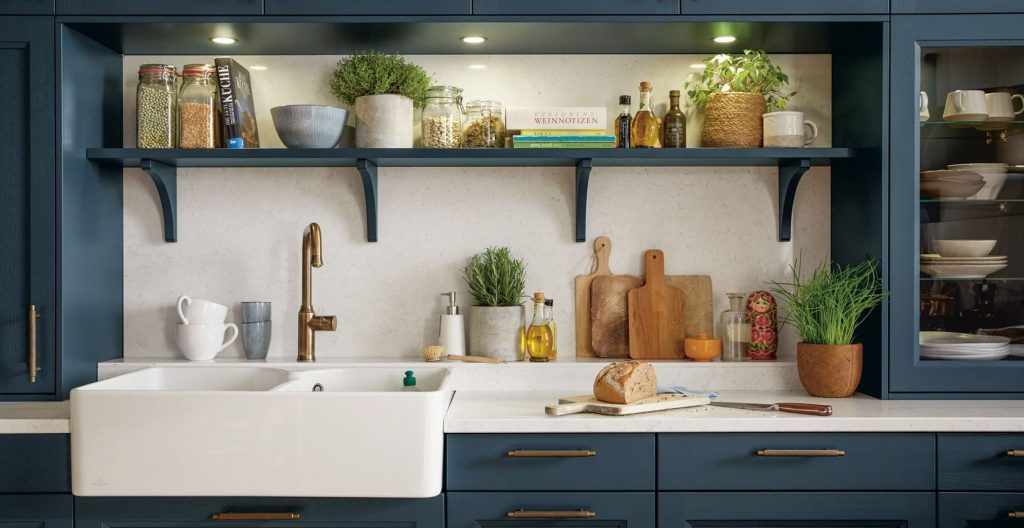 above: What can be more 'classic' and 'traditional' in an English inspired Shaker kitchen then the quintessential Belfast sink? As you might expect from Schuller, there is a modern twist, so rather than a full Belfast sink, here we have a composite model with twin bowls to create a perfect food prep area.
There is the extensive range of Schuller accessories to make your kitchen bespoke to your styling needs and wants. All you need to do is let your designer know and let us create your perfect kitchen….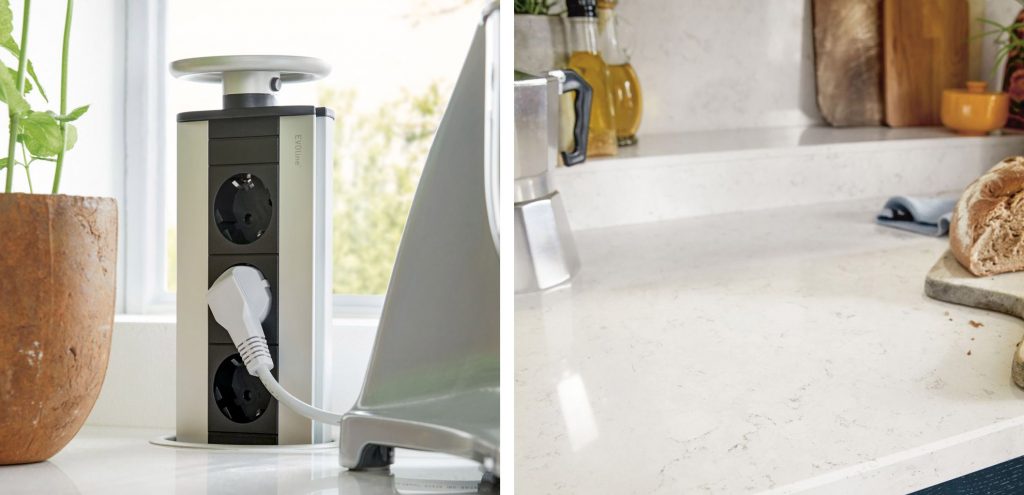 above: Here, we see a closer view of the work surfaces, namely a Systemo quartz worktop, with a recessed backsplash and (above left) there is a cut out of the worktop to place a pop up power socket. These (pop ups) are available in various formats to respond to your usage preferences and can include mobile device (USB) power in addition to the normal 3-pin sockets for any hand-held cooking appliances such as blender wands, in addition to toasters, kettles and the like.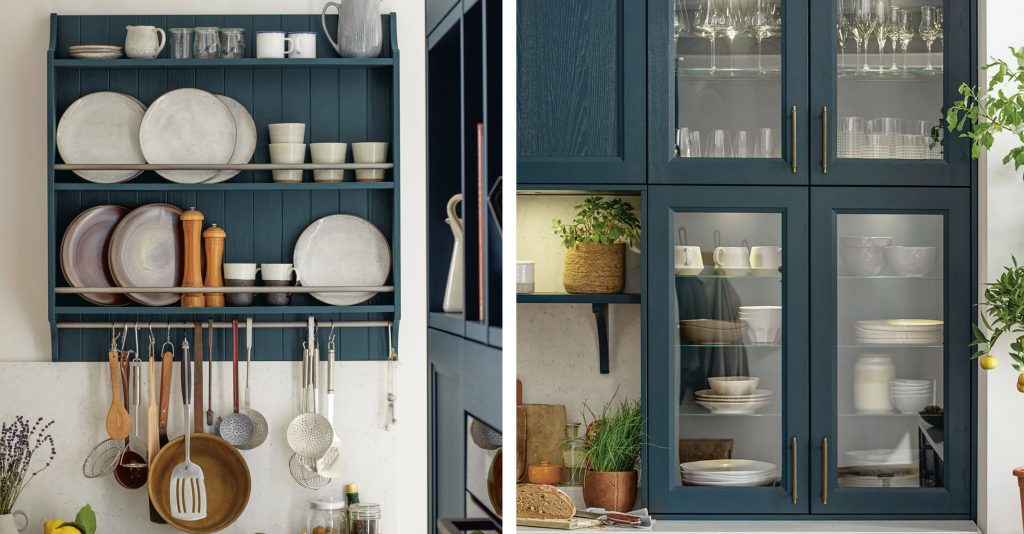 above: Here, you can see (above left) an open storage shelf with hanging utensil rack which is a great accessory to keep near or inside your cooking zone. In the other (above right) image we can see the above counter glass door cabinets on offer in this Schuller Finca German Kitchen.
Family life can get somewhat frenetic from time to time. On such occasions it is comforting to know that at least the furnishings are harmoniously matched. With Schuller we offer a full range of possibilities for designing living room spaces and kitchen furniture with a homogeneous feel, as well as many wonderful accessories and lighting options.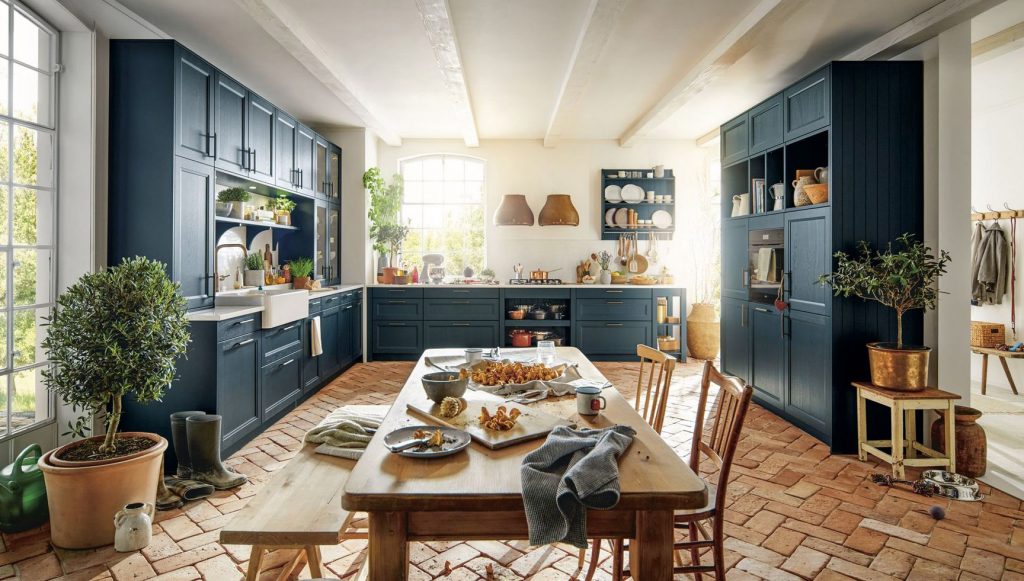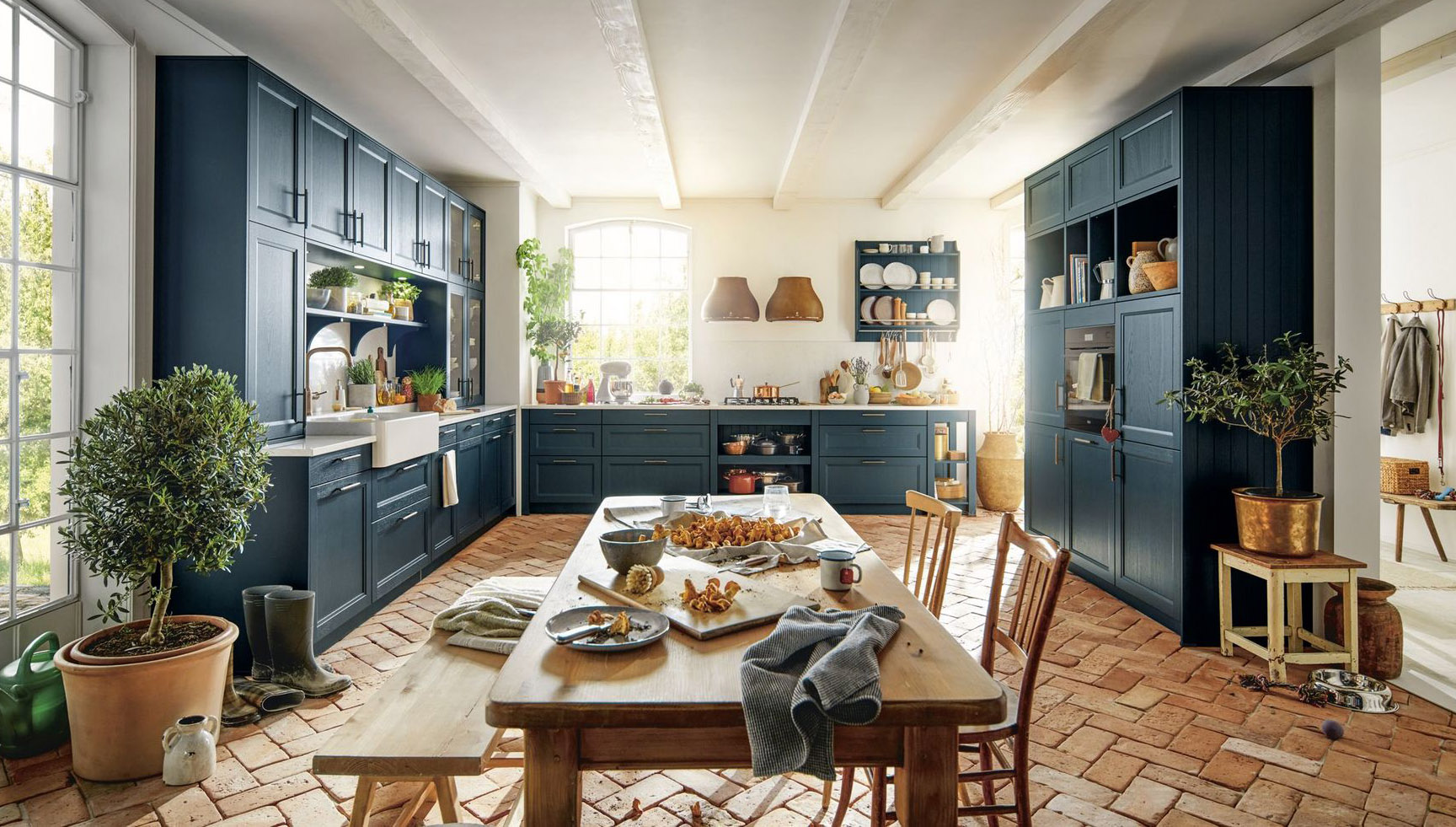 This Country Style Schuller Finca German Kitchen is a modern interpretation of the well-know rustic style and is delivered with Mediterranean charm, for that added impact. Details such as the grooved structure at the back panel of the open shelf unit for plates ensure unparalleled comfort. Decide for yourself how distinctly the Finca Country Style comes into its own by combining the available elements in many different ways.
Being an AEG & Siemens Appliance Partner we are also able to offer near trade prices for AEG & Siemens appliances when purchased with your Schuller Shaker Style German Kitchen orcany other Schuller style or Next 125 kitchen design project.
If you want to talk more about Schuller Kitchens, you can speak to a designer today.