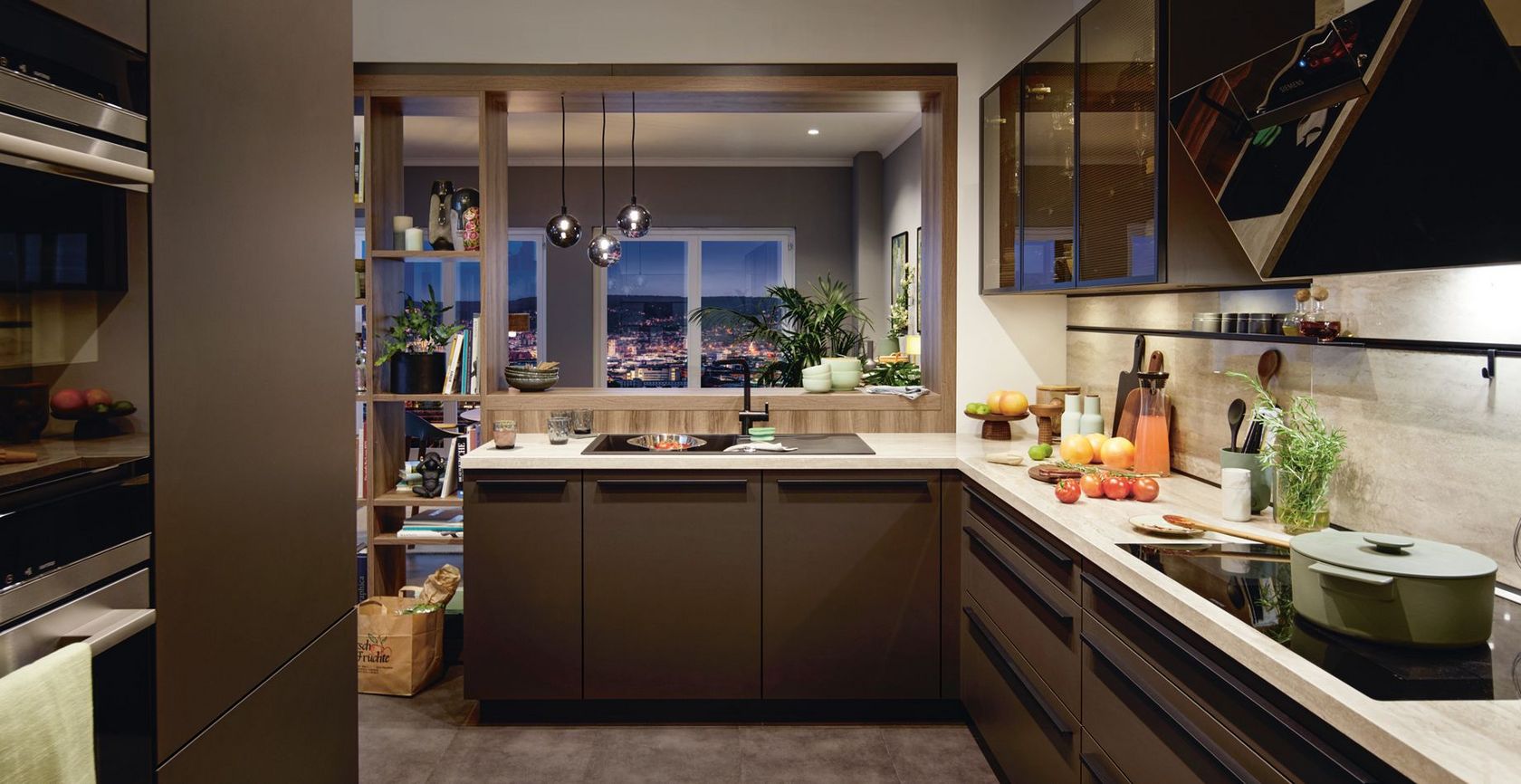 This is the Schuller Arosa Mocha Satin German Kitchen (L490P), which makes for a great option for those looking for modern German kitchens with a textured door style.
The example design shown here features extra wide drawer packs, wall cabinets with darkened glass fronts, Schuller's new Onyx Black Bar Handle (Handle 711) and a Travertine High Gloss effect work surface to complete the styling. The overall feel is one of modern and contemporary chic, with a subtle wood effect textured finish for added depth.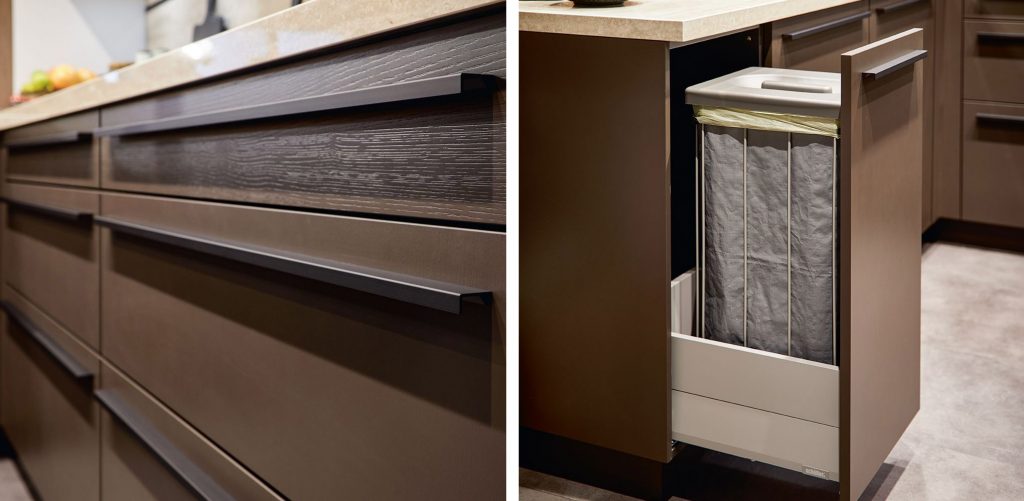 above: The above left image shows a closer inspection of Schuller Arosa Mocha Satin (L490P) door and drawer fronts combined with the Onyx Black Bar Handle (Handle 711).
In the (above right) image, is a pull out waste drawer that in sits on the left end of the sink cabinet run. The sink base unit accommodates a modern waste-separation system with recycling bag.
All pull-outs have the C-Drive electronic opening system, which is activated with light pressure.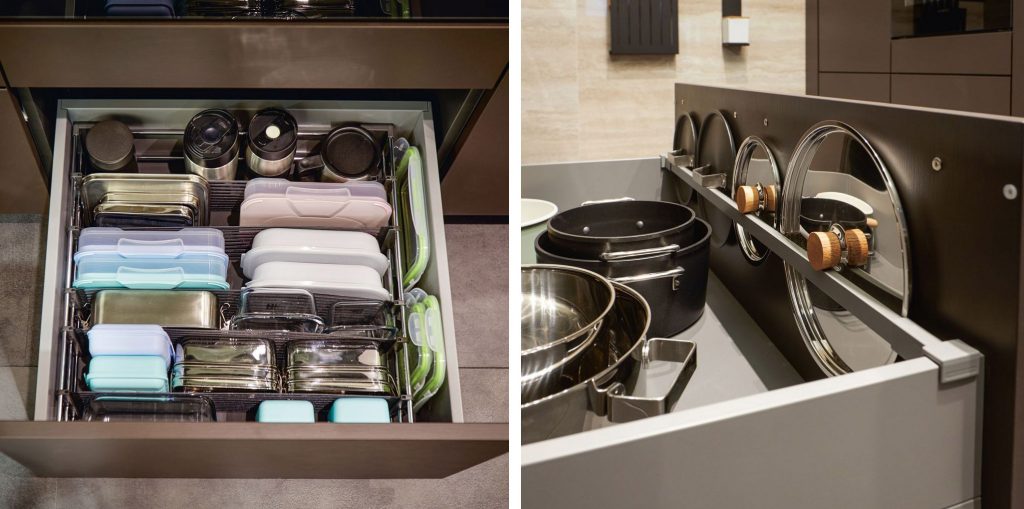 above: Shown here is Schuller's fantastic drawer organisers. There are endless options for the internal separators and here (above right) you can see a very clever little touch, which leaves a 20-30mm gap from the drawer frame to the drawer front, which has become a perfect solution to store those lids for all of your pots and pans, that would otherwise end up crashing all over the drawer.
There is the extensive range of Schuller accessories to make your kitchen bespoke to your styling needs and desires. All you need to do is let your designer know and let us create your perfect kitchen….
Urban lifestyle means more and more, that living, cooking, lifestyle and work spaces are increasingly merging within the modern home and modern kitchen designers need to adapt to the changing uses and styles to create the perfect mix.
It makes the designers role easier when the likes of Schuller's modular furniture and its ability to work seamlessly in the living, cooking, lifestyle and work spaces, is so abundant.
below: As you can see from this wider view of the entire space and the transitions from living, to cooking, to work, clever storage has been used as an informal gateway through the transition and the end result is one of harmony and balance.

With clever planning, small sections of space can be used as a storage closet, a book shelf or even a wardrobe, all providing more room separation with even greater storage flexibility. As an added bonus, these Schuller closet/shelving/wardrobe/work spaces can discretely blend in with the overall look using doors with matching design and colours so as to enhance the harmonious transition through the 'living', 'cooking', 'lifestyle' and 'work' spaces…
Being an AEG & Siemens Appliance Partner we are also able to offer near trade prices for AEG & Siemens appliances when purchased with your Schuller German Kitchen or any other Schuller style or Next 125 kitchen design project.
If you want to talk more about Schuller Kitchens, you can speak to a designer today.