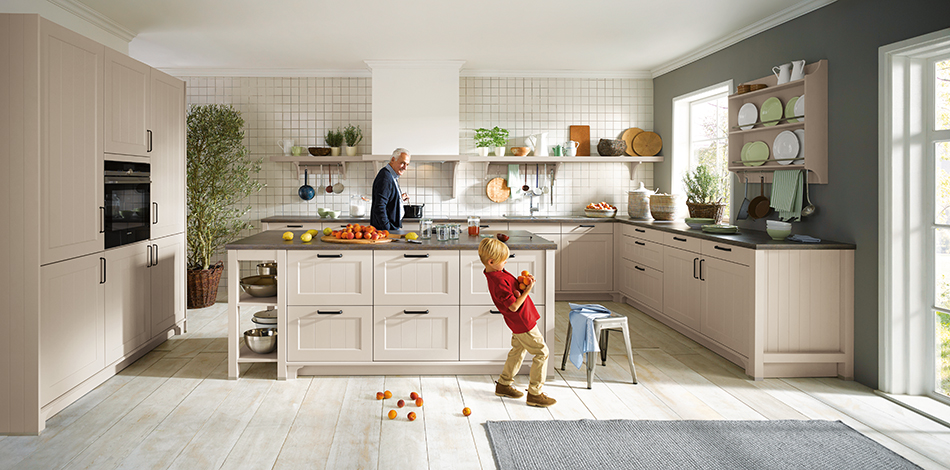 Introducing the Schuller Canto L210 Sand Grey Satin German Kitchen by Design.
With today's modern German kitchens you are literally spoiled for choice. However, if you are looking for something more traditional and classic (a Shaker perhaps) and less white gloss handle-less for your next kitchen, why not consider Schuller Canto L210 Sand Grey Satin.
The Canto door option comes in a vast array of colour choices allowing for either a solid colour choice or the ability to mix and match, to create a more unique and bespoke colour palette.
Whilst Canto is available in bold, daring, vibrant or pastel colour shades it is shown here in an understated and warm Sand Grey Satin finish (L210)
Front finish: Lacquered L210 Sand Grey Satin
System: 78 cm
Handle: 289
Worktop: K014 Oak Havana brown effect
Picture details:
–  Pillared open shelf unit for base unit
–  Plate shelf in L210 Sand grey satin finish and grooved back panel
–  Open shelf unit with railing
Special features:
–  Base unit with open hob shelf unit
–  Extractor hood with connecting
shelves and curved supports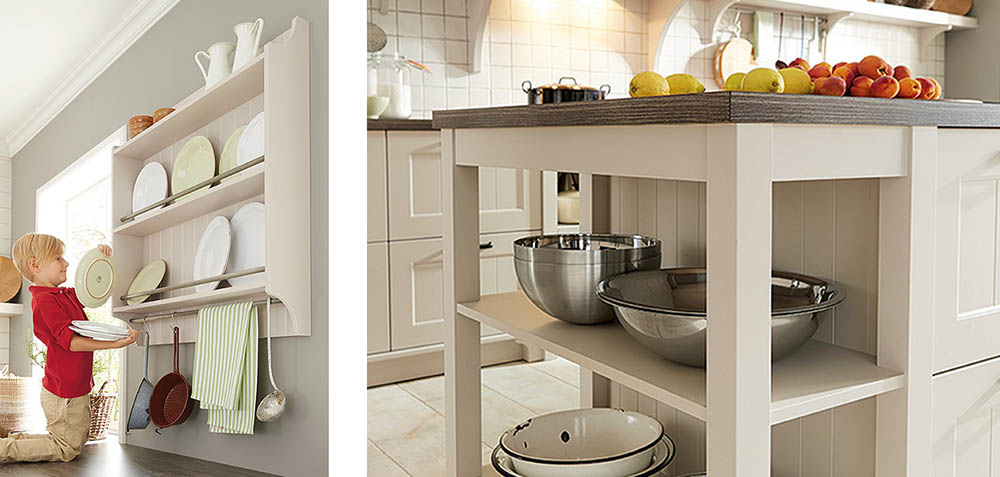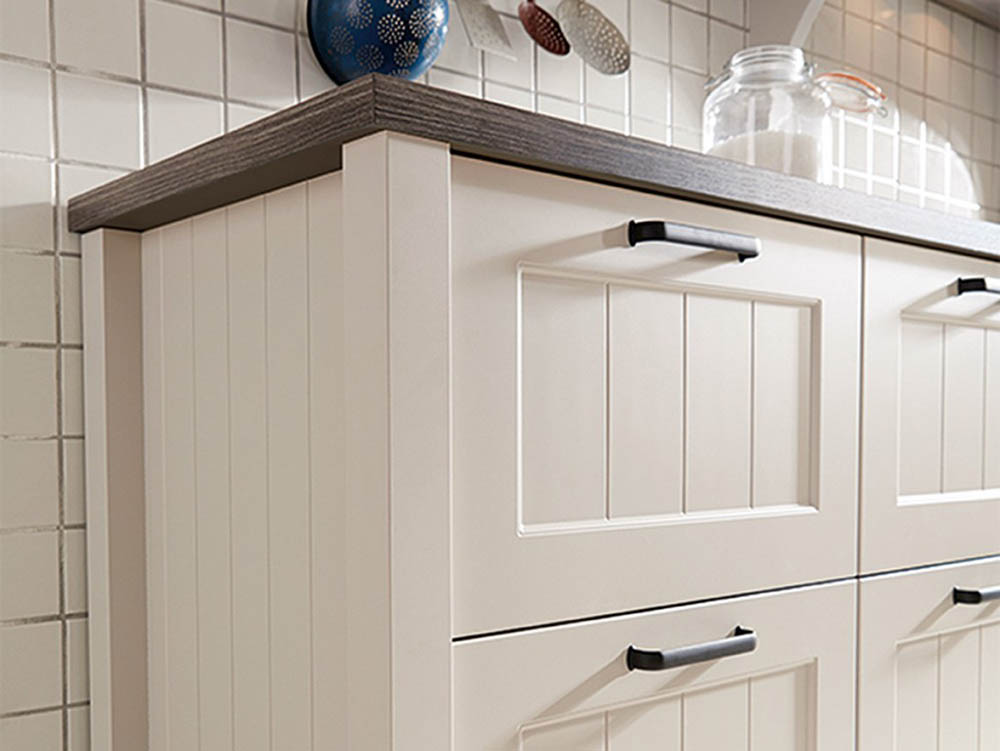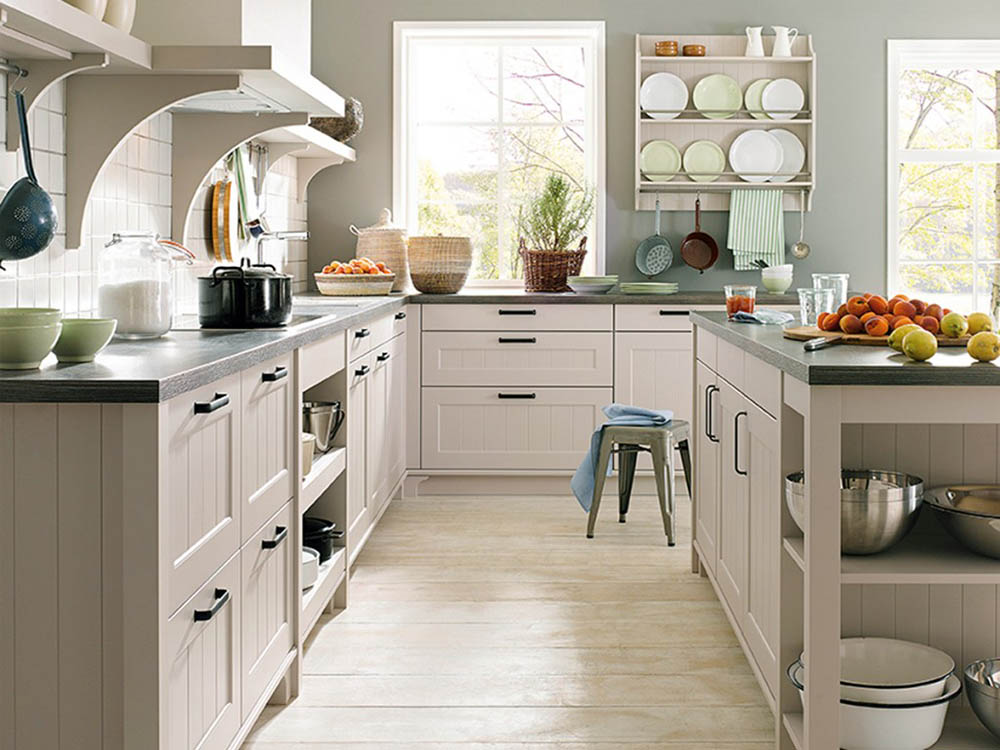 With Canto, the Shaker Kitchen style from Schuller there are many colour ideas that can come to life. The only limitation is your imagination.
You can choose from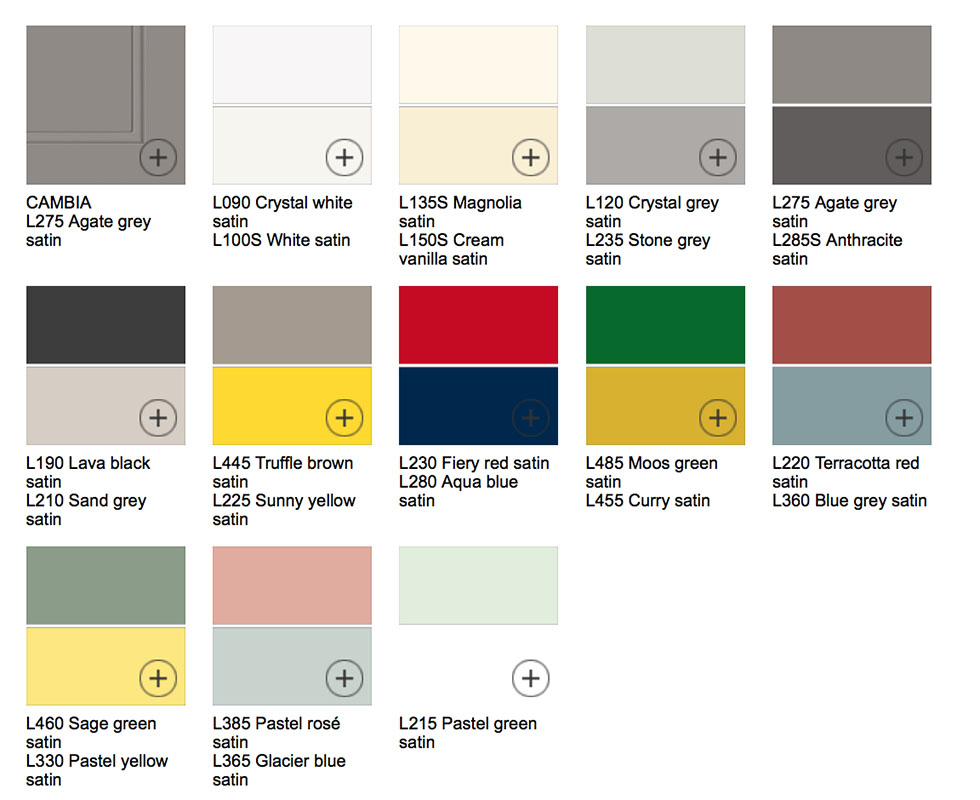 Available Door Front finishes:
L90S Crystal White Satin
L100S White Satin
L120 Crystal Grey Satin
L135S Magnolia Satin
L150S Cream Vanilla Satin
L190 Lava Black Satin
L210 Sand Grey Satin
L215 Pastel Green Satin
L220 Terracotta Red Satin
L225 Sunny Yellow Satin
L230 Fiery Red Satin
L235 Stone Grey Satin
L275 Agate Gret Satin
L280 Aqua Blue Satin
L285S Anthracite Satin
L330 Pastel Yellow Satin
L360 Blue/Grey Satin
L365 Glacier Blue Satin
L385 Pastel Rose Satin
L435 Broom Satin
L445 Truffle Brown Satin
L455 Curry Yellow Satin
L460 Sage Green Satin
L485 Moss Green Satin
German Made – Quality Assured
As an interior design specialist and the UK's leading Schuller supplier we know a thing or two about the brand we love.
Whilst the Schuller Canto door is a traditional Shaker style and somewhat classic looking door choice, as with all our furniture it can be mixed and matched with other items across the range.
There is an endless array of furniture, accessories and design features available from the full Schuller range that no matter what your styling preferences are, you will not ever have to compromise on quality.
With a Schuller Kitchen there is No Need to Compromise or Improvise. Everything Fits in Place. As it Should