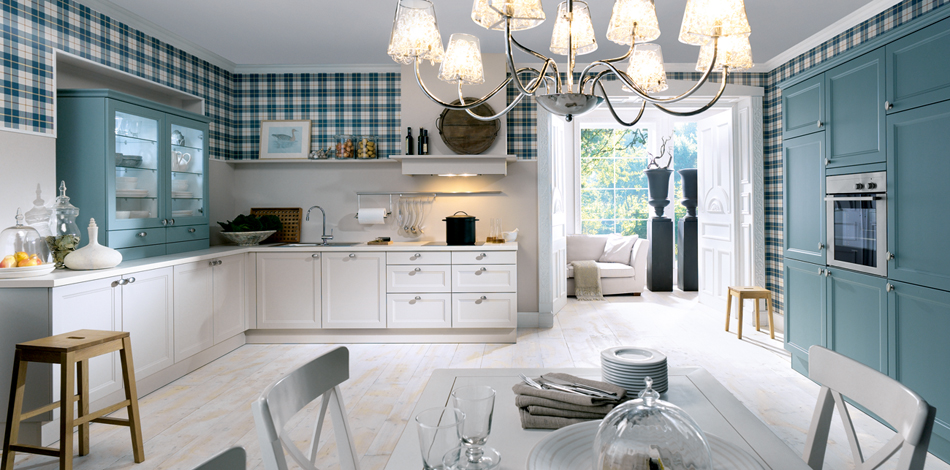 If you are looking for something more traditional and less modern 'Germanic' completely different for your next kitchen, why not consider Schuller Cambia White and Blue Satin.
The Cambia door option comes in a vast array of colour choices allowing designers and home owners to mix and match to their hearts content. The possibilities for expression are almost endless.
Shown here in a mix/combination lacquer finish of L100S White satin and L360 Blue Grey satin  the Cambia door fronts belie the modern german made furniture that behind the doors. 
Whilst what is on display is a traditional looking kitchen reminiscent of chalk painted old wood surfaces and reclaimed wood, the reality is a quality controlled door finish that matches every other door or panel you choose in the same colour, throughout your design.
Front finish: Mix of Satin lacquer L100S White satin and L360 Blue grey satin
System: 71,5 cm
Handle: 140
Worktop: K100S White
Picture details:
– Extractor hood with halogen lighting
– Top cabinet in L360 Blue grey satin with glass doors
– Oval handles in stainless steel matt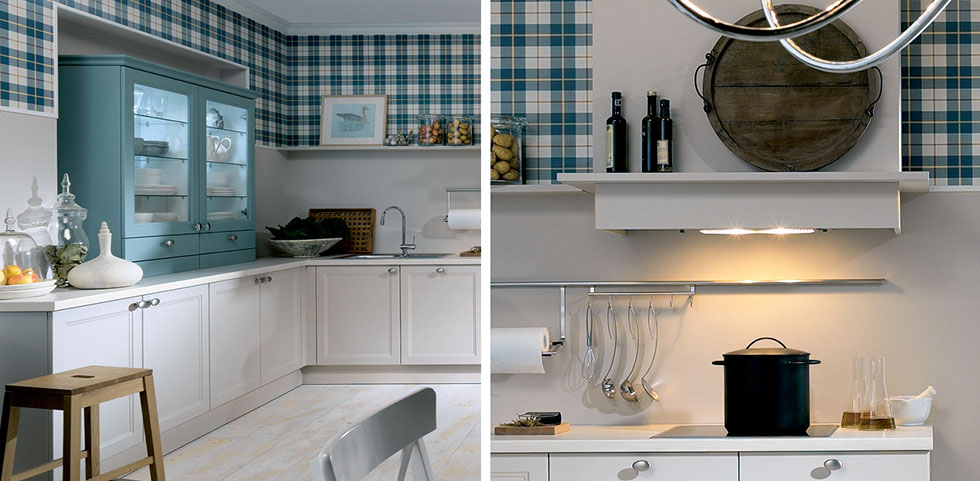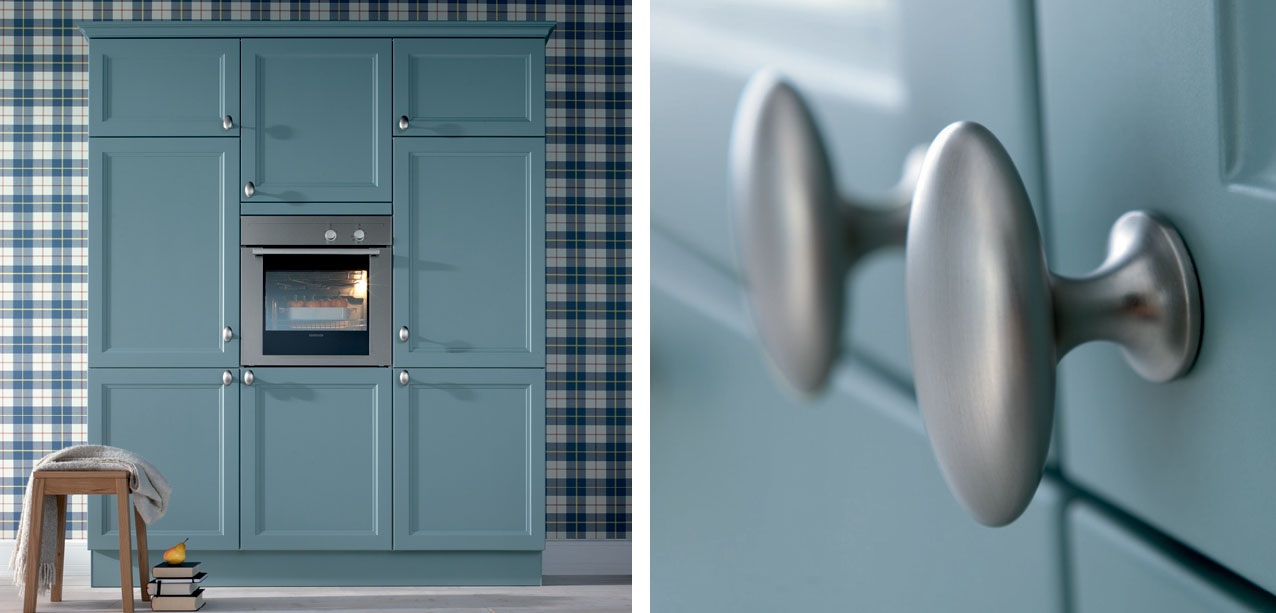 With Cambia from Schuller there are many kitchen ideas that can come to life. The only limitation is your imagination.
You can choose from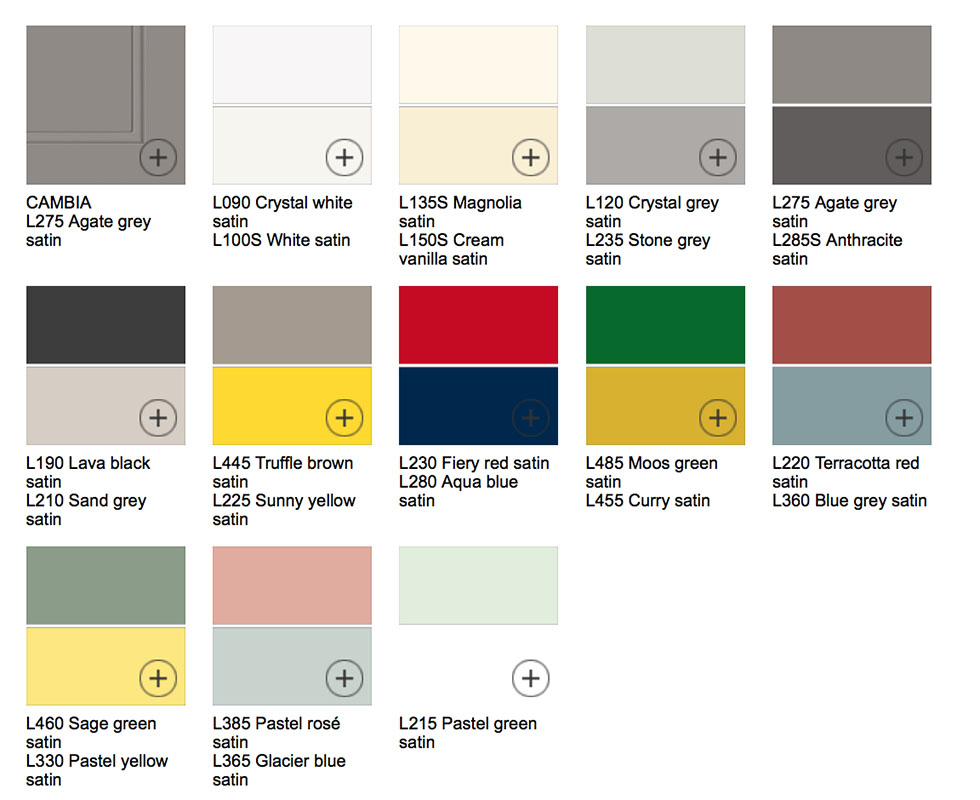 Available Door Front finishes:
L90S Crystal White Satin
L100S White Satin
L120 Crystal Grey Satin
L135S Magnolia Satin
L150S Cream Vanilla Satin
L190 Lava Black Satin
L210 Sand Grey Satin
L215 Pastel Green Satin
L220 Terracotta Red Satin
L225 Sunny Yellow Satin
L230 Fiery Red Satin
L235 Stone Grey Satin
L275 Agate Gret Satin
L280 Aqua Blue Satin
L285S Anthracite Satin
L330 Pastel Yellow Satin
L360 Blue/Grey Satin
L365 Glacier Blue Satin
L385 Pastel Rose Satin
L435 Broom Satin
L445 Truffle Brown Satin
L455 Curry Yellow Satin
L460 Sage Green Satin
L485 Moss Green Satin
German Made – Quality Assured
As an interior design specialist and the UK's leading Schuller supplier we know a thing or two about the brand we love.
Whilst the Schuller Cambia door is traditional looking door it can be mixed and matched with other furniture, accessories and design features from the full range so that no matter what your styling preferences are, you don't ever have to compromise on what makes german kitchens 'germanic', i.e., the ergonomics and engineered approach.
Being partnered with one of the World's leading german made kitchen brands we get to craft stunning designs for our customer projects safe in the knowledge that we are able to so with clarity of purpose and confidence in knowing that our designs will look just as good in real life, as they do in the 3D computer design images during the Free Design Consultation.
Everything fits together, without need to compromise or improvise with a Schuller kitchen