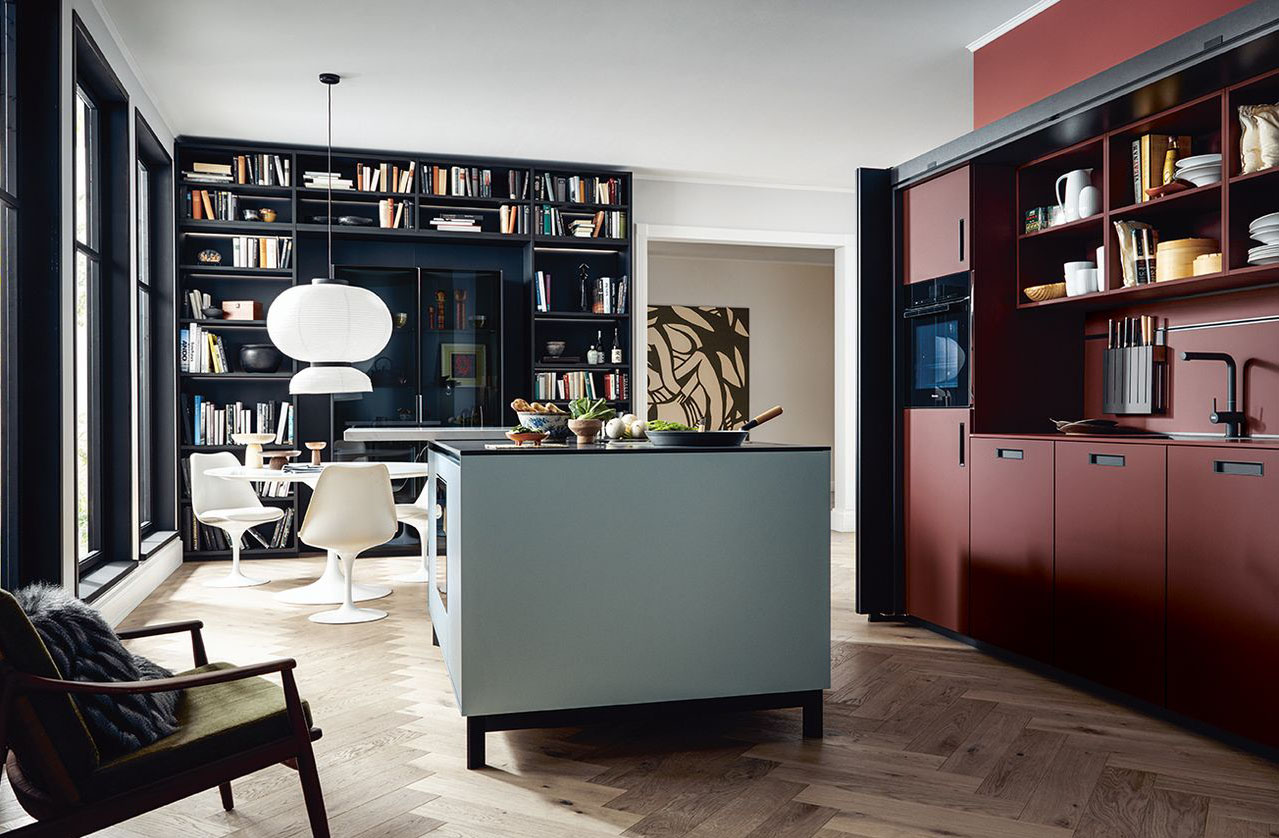 Shown here is Next125 kitchens NX 510 & NX 505 in a mix of sumptuous and rich Onyx black matt velvet AFP / Indian red matt velvet AFP & NX 505 in Misty blue Satin.
Next 125 Kitchens, as with all of Schuller's range, aren't just about having the atypical modern white gloss German kitchen and as these images show, Schuller and its Designer brand in Next125 are leading the way in the latest contemporary interiors.
Schuller says that its newer styles for 2020 and into 2021 are about the design statement of "Less is more" in which the aim is to create stunning interiors without borders, boundaries or restrictions so as to create a more open living space and sense of  freedom.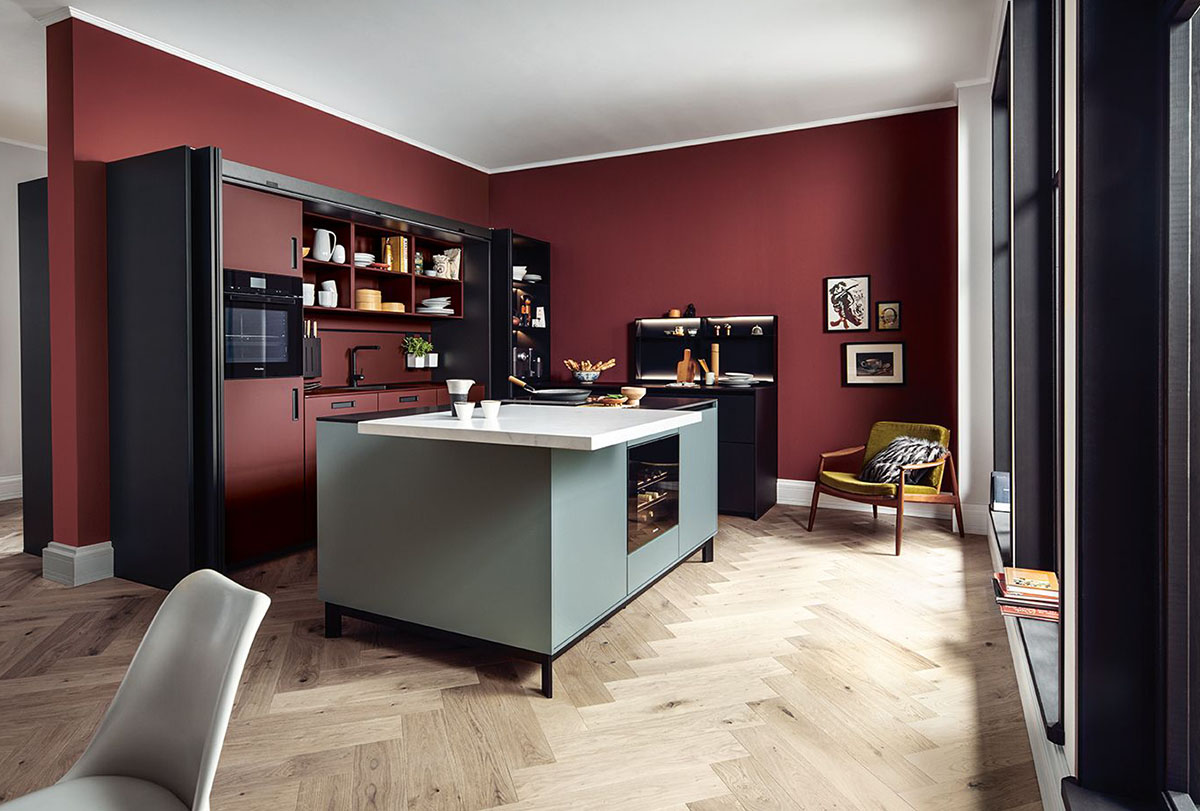 above: Is the kitchen becoming a living room or the living room a kitchen? The spacious, open planning which blur the boundaries between the kitchen and the living space make you feel relaxed.
The cubic island with its integrated breakfast bar defines the architecture of the room and at the same time is visually and unobtrusively forms the centre of the kitchen.
In Europe, particularly the Nordic countries and the Netherlands, modern architecturally designed interior living spaces have become more harmonised with the kitchen and living space more and more fused into one open plan space.
To respond to this, the furniture options and configurations from both the Schuller and Next 125 ranges are second to none and allow kitchen designers more freedom to create a highly personalised interiors for our clients.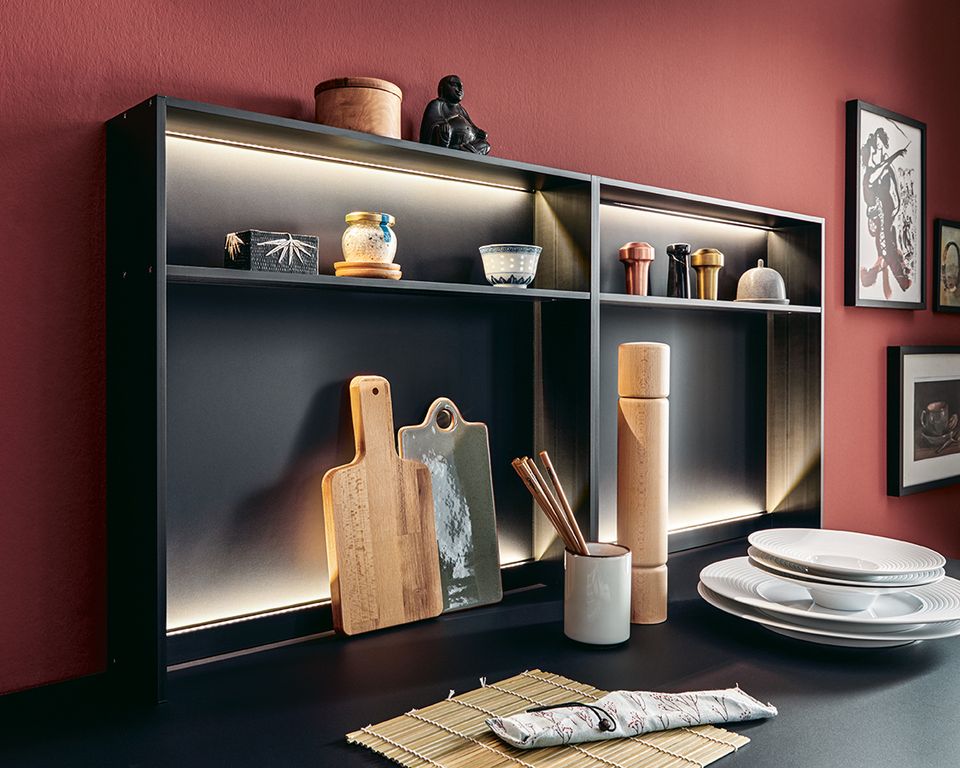 above: The recess shelf next125 Frame offers space storing in the recess and removing clutter from the work surface.
With its indirect illumination, it is also a perfect place for atmospheric  presentations. The subtle lighting system can proudly and subtly display your favourite worldly souvenirs or your kitchen utensils (if you prefer) in a homely atmosphere. The next125 Frame shelf is the perfect combination of flexible storage, ideal ergonomics and effective lighting.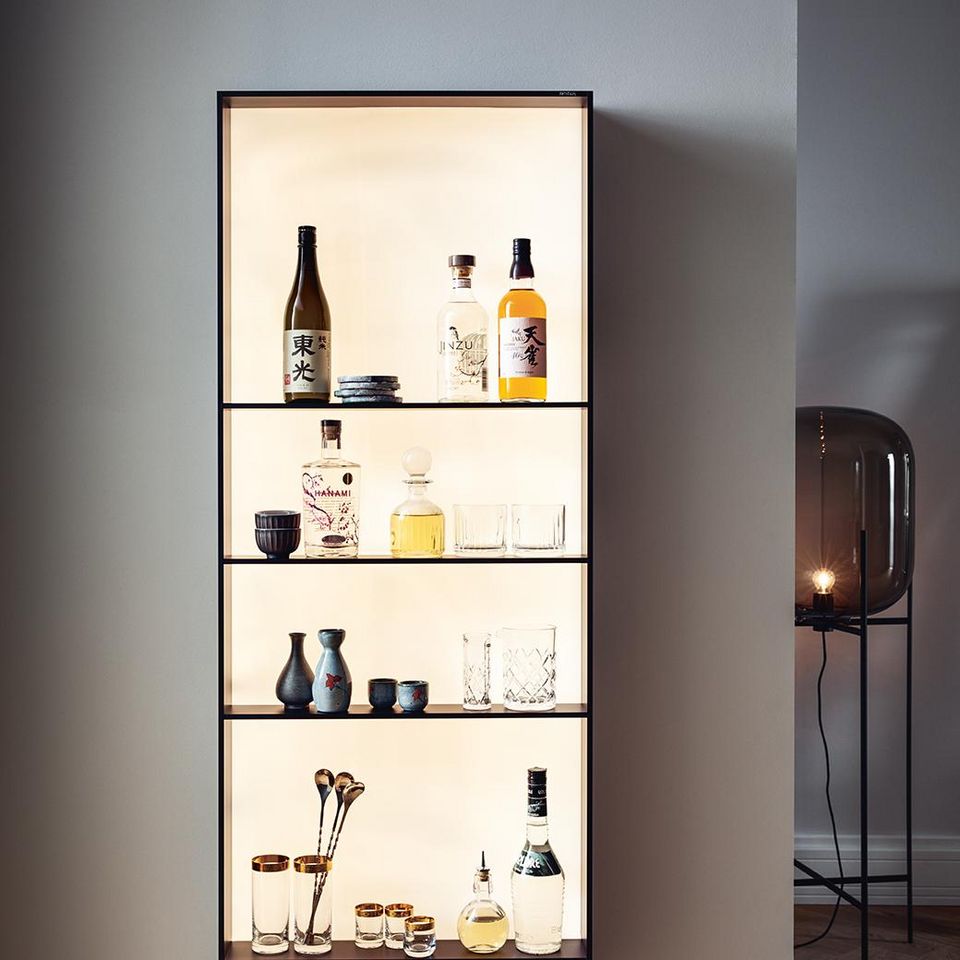 above: This backlit 'framewall' is a dazzling display of everything you put in it. Sadly the Japanese rice wine and beer dont come with it.
below: If there is something all vintage enthusiasts need, it is a hobby space. The floor-to-ceiling bookcase with an eye-catching display unit in the middle offers room for an abundance of items is a very bold  statement.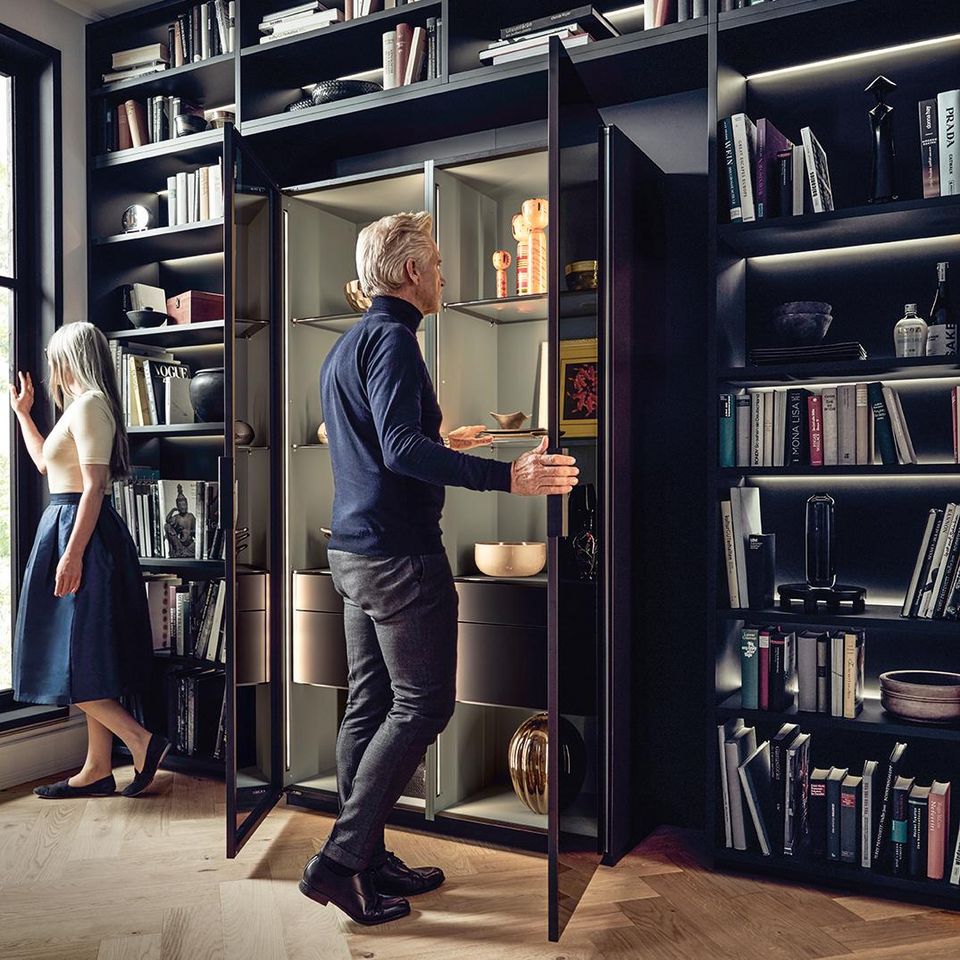 All the door and drawer fronts shown here include Schuller's AFP – Anti-Finger Print technology, to reduce the luxurious Matt surfaces from fingerprints.
Next125 kitchens NX 510 is available in13 stunning Matt Velvet Lacquered finishes from the Onlx Black and Indian Red Satin shown here, to the likes of Apline White, Crystal White, Stone Grey, Crystal Grey, Agate Grey, or Cobalt Green and Mocha Brown (all in Velvet Matt).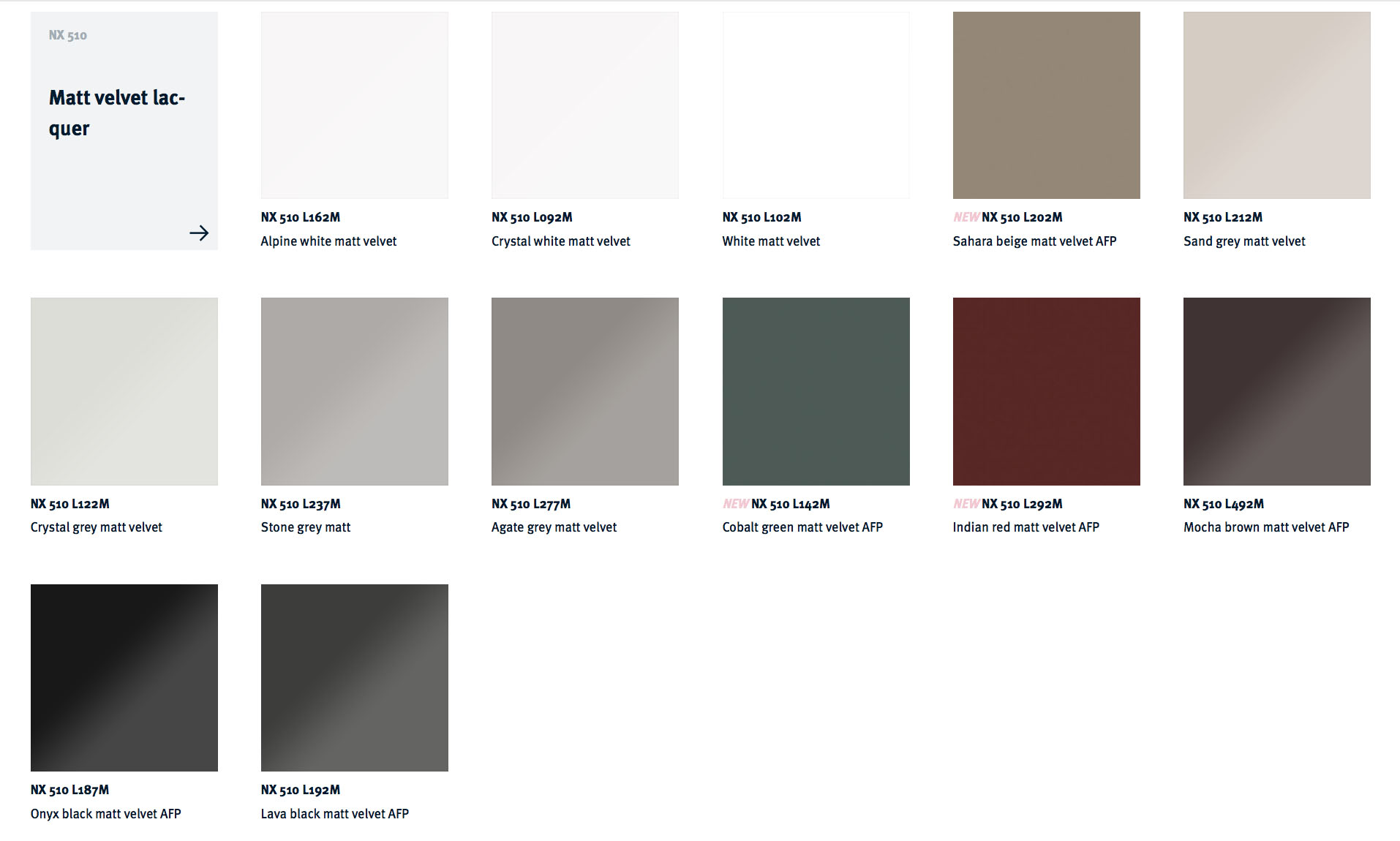 Being a AEG Appliance Partner we are also able to offer near trade prices for AEG appliances when purchased with your Schuller or Next 125 kitchen design project.
If you want to talk more about Next125 Kitchens, or any other Schuller product, you can speak to a designer today.