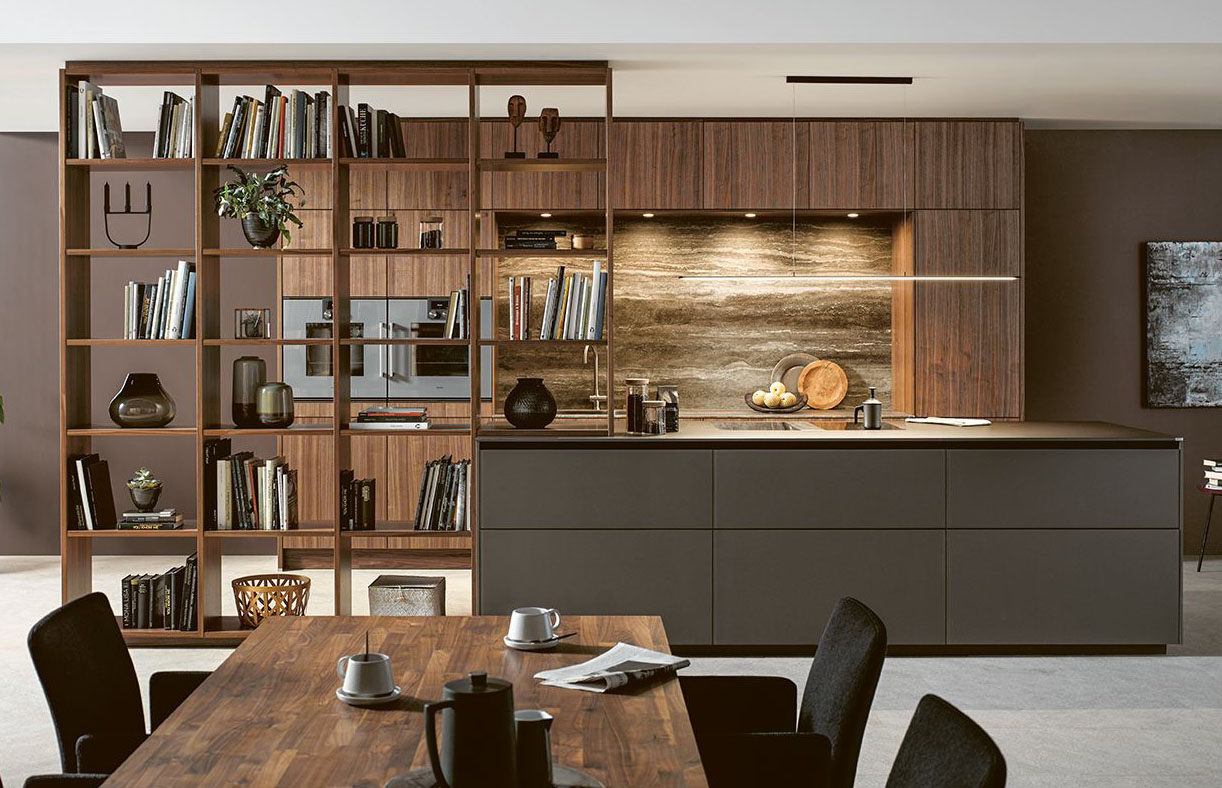 Next 125 Kitchens, as with all of Schuller's range, aren't just about having the atypical modern German kitchen, as this Next125 NX870 kitchen style in Fenix Mocha Brown fine Matt & Natural Walnut expertly demonstrates.
Schuller says these new styles for 2020 and into 2021 are about the "Less is more" principle and creating an interior with almost no doors or internal boundaries so as to create freedom and provide the necessary open space with air to breathe via an open-plan design.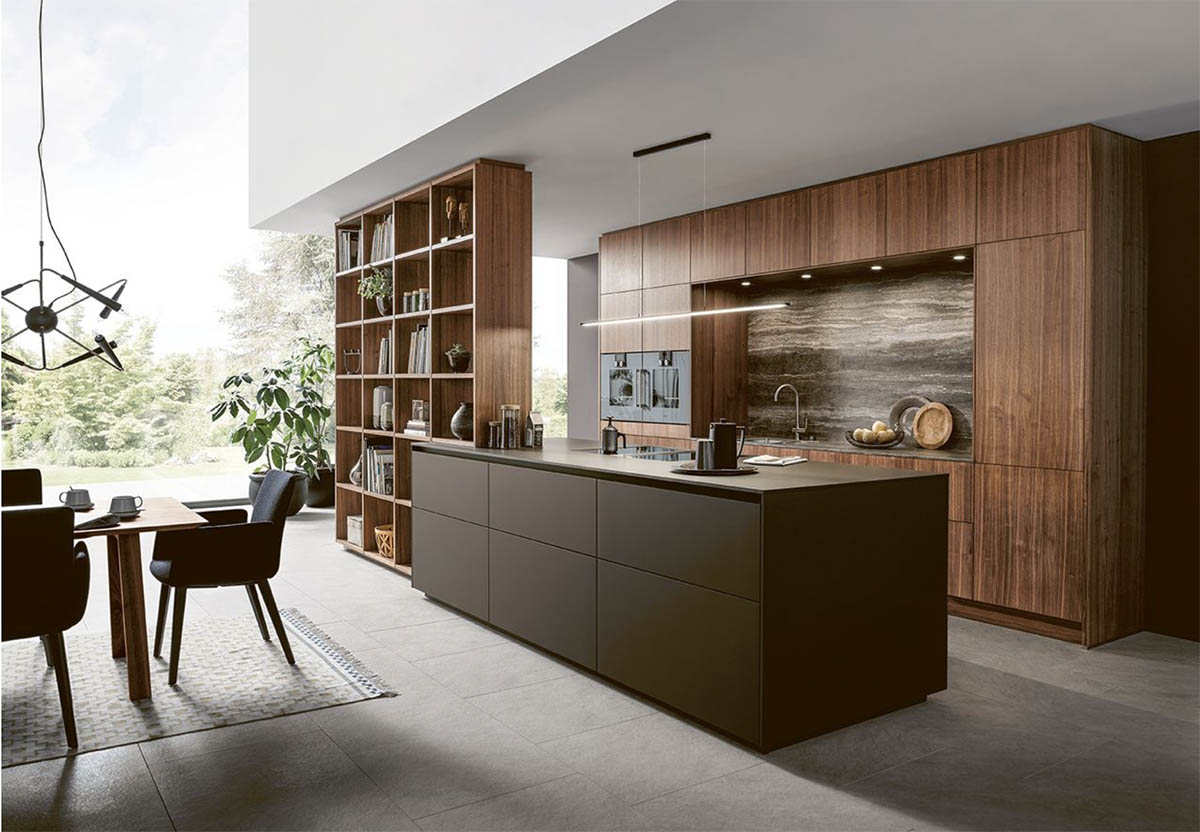 above: Is the kitchen becoming a living room or the living room a kitchen?
A question that can be answered quickly when you look at this kitchen. Open on both sides and serving as a room element, the open shelf unit subtly emphasises the homely character while, at the same time, acting as a bridge between cooking and dining.
below: The kitchen block to this Next125 NX870 kitchen style made from Fenix with its single line optic serves as a minimalist contrast.
In order to ensure a more regular front view, this design features an horizontal grip ledge profile under the worktop used for the opening of the first pull-out or drawer. The drawers and pull-outs underneath open with the mechanical opening system TIP-ON.
Wall-mounted elements provide ways of creating designs that appear to float in mid air. Based on the 125 mm grid – with the aim of letting the kitchen as a living area appear freer and weightless.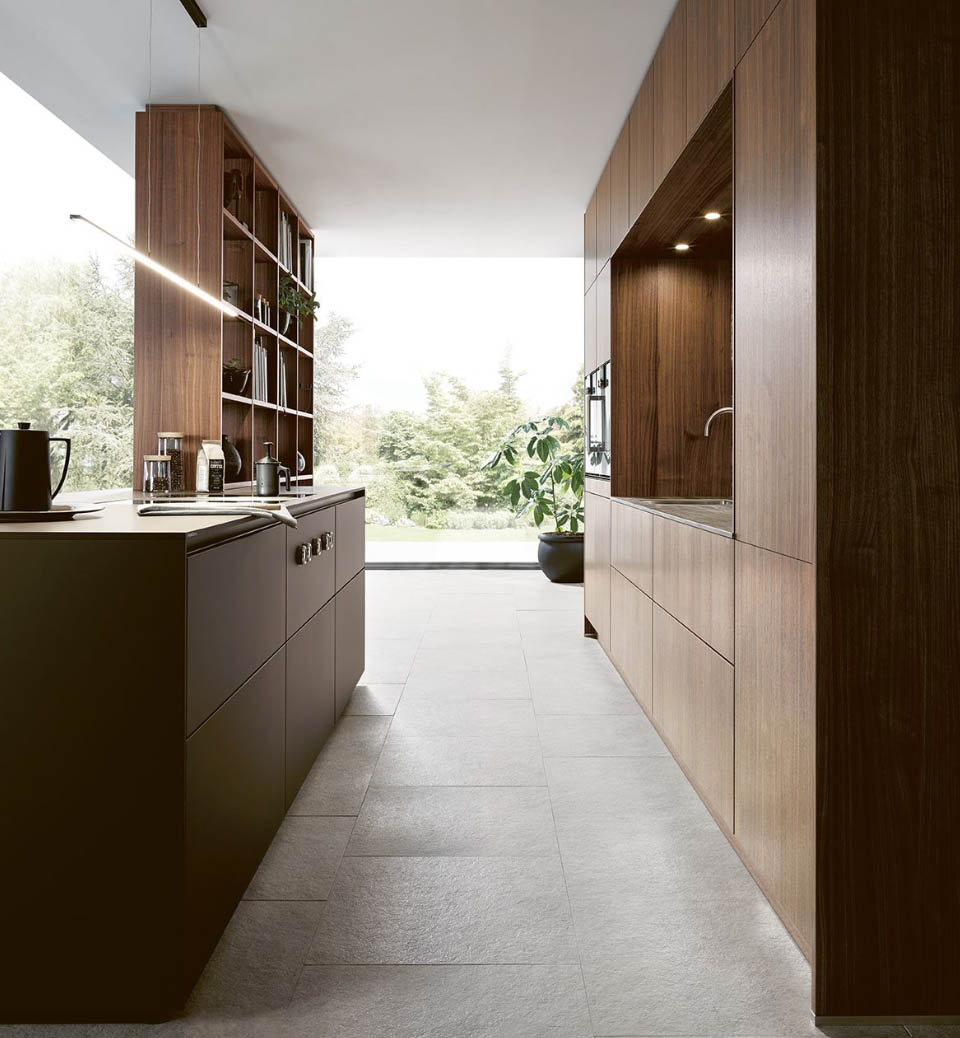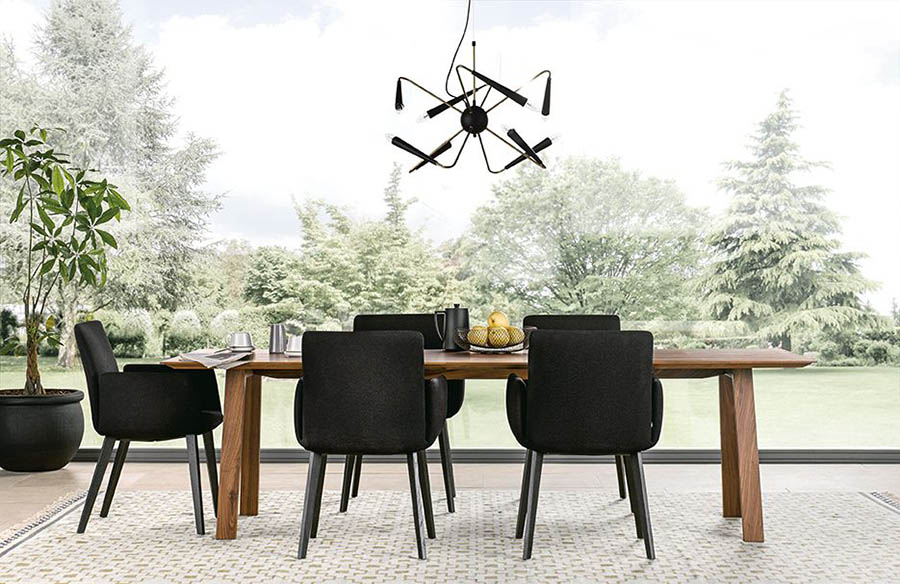 above: next125 table – Designed in a way that expresses unadulterated clarity, it forms a homogeneous unit with the kitchen. The table in solid, natural wood underscores the design style. Sturdy, slightly angled legs complement the next125 Cooking table with absolute perfection.
NX870 is available in Fenix solid core is pressed from several layers of solid in order to obtain a 4 mm thick worktop. The contemporary, warm and velvety design invites the user to touch it and to feel comfortable.

NX870 doors are available in Alpine White, Mocha Brown and Onyx Black.
Thanks to the special anti-fingerprint coating AFP, annoying fingerprints are considerably reduced with the NX870 solid core doors.
Being a AEG Appliance Partner we are also able to offer near trade prices for AEG appliances when purchased with your Schuller or Next 125 kitchen design project.
If you want to talk more about Next125 Kitchens, or any other Schuller product, you can speak to a designer today.