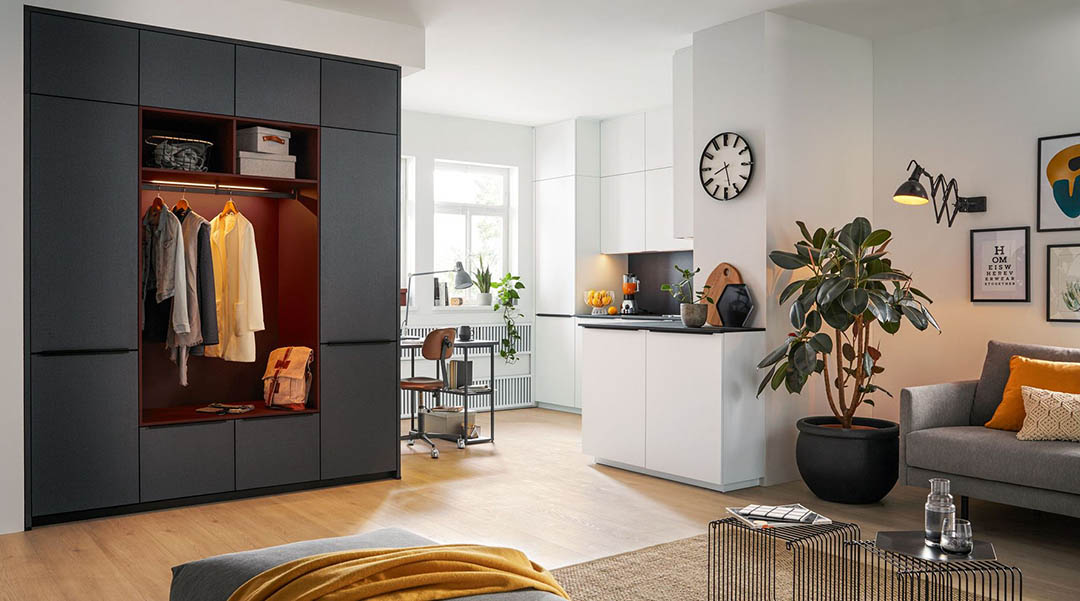 Shown here is the Schuller Fino Crystal White door style, finished in Matt, with AFP (anti-fingerprint coating) and with it, a perfect example of Studio Living by Schuller.
Studio Living has seen somewhat of an explosion in the last decade. Property prices have soared and yet the city centre housing supply across the UK remains unable to satisfy demand as city populations and a desire for city living continue to grow.
Small But Mighty – Studo Living from Schuller
What the little black dress is to the fashion industry the brilliant white German kitchen is to the home and Schuller Fino Crystal White is the latest on offer. A perfect choice that is always modern and timeless.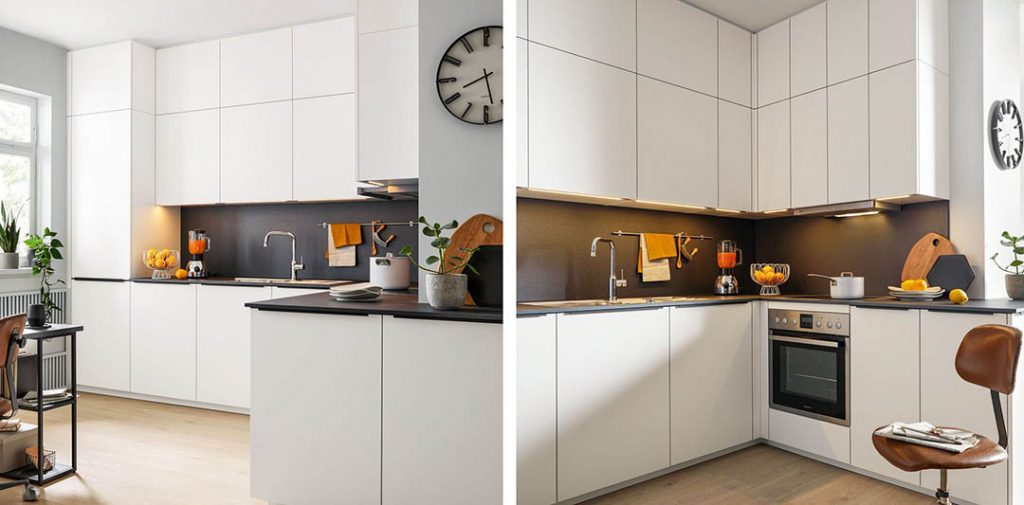 above: With Schuller you dont need a big footprint to get a kitchen without needing to compromise as with so many storage options and dimensions, the kitchen can be cleverly planned to maximise its functionality within the limited space on offer in a studio.
below: Any good studio apartment needs to have all of the functions of any other home, but expertly designed to achieve a smaller, more compact use of the interior space and with Schuller, living room, home office and even bedroom storage can be sourced, to continue and colour palettes throughout the studio as shown below with a home office desk and (under TV) storage unit in the Fino Matt Onyx Black colour choice.
Smooth transitions – due to the matching sideboard, the classic look of the kitchen is continued into the living area.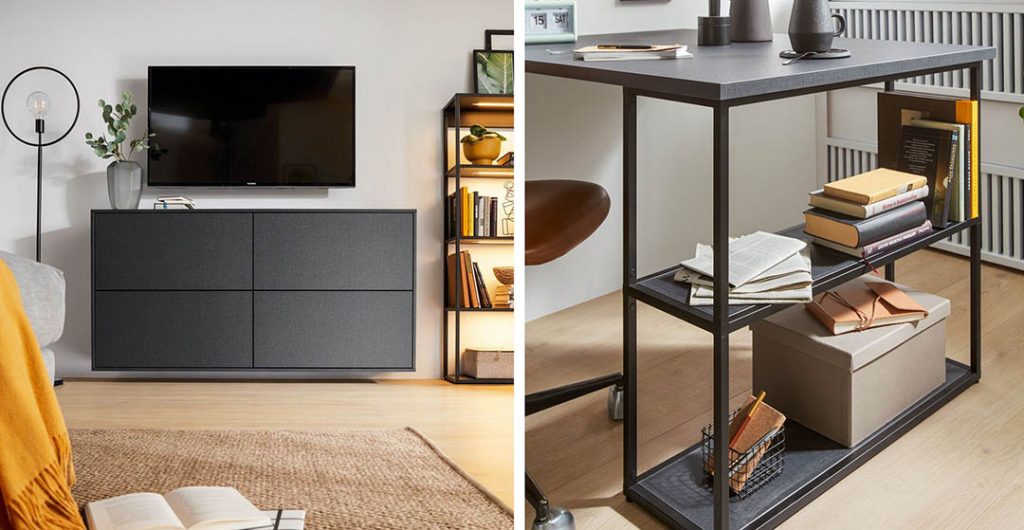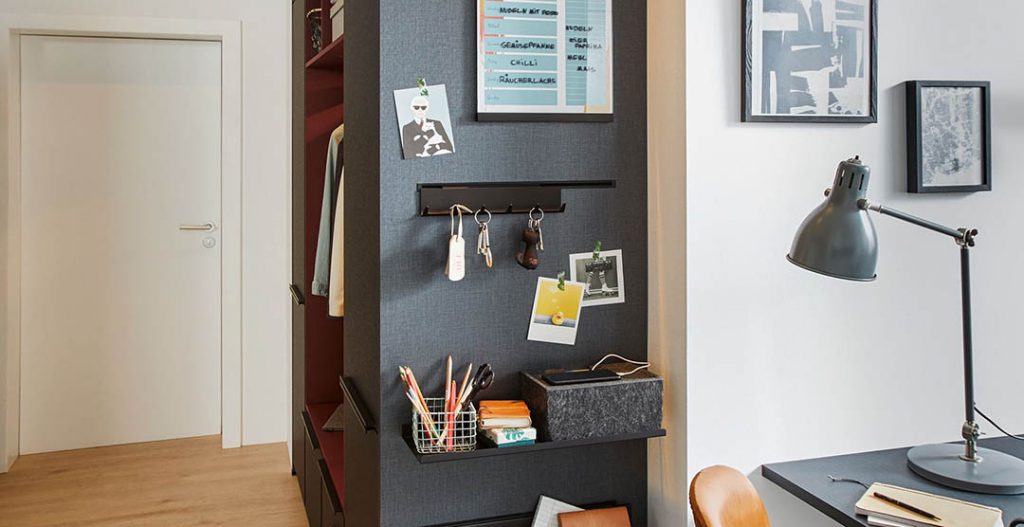 above: With Schuller you can plan your studio down to the last detail: with the Orgawall, unused areas serve as practical storage space for utensils that need to be at hand in the hectic everyday life.
Interested in Schuller Fino Crystal White?
Schuller Fino is tough, resistant and available in several colour choices. The base is a high-quality MDF substrate, the front of which is coated with several layers of UV lacquer. Radiation curing with special UV lights produces a very hard and resistant lacquered surface in high-gloss or matt finish.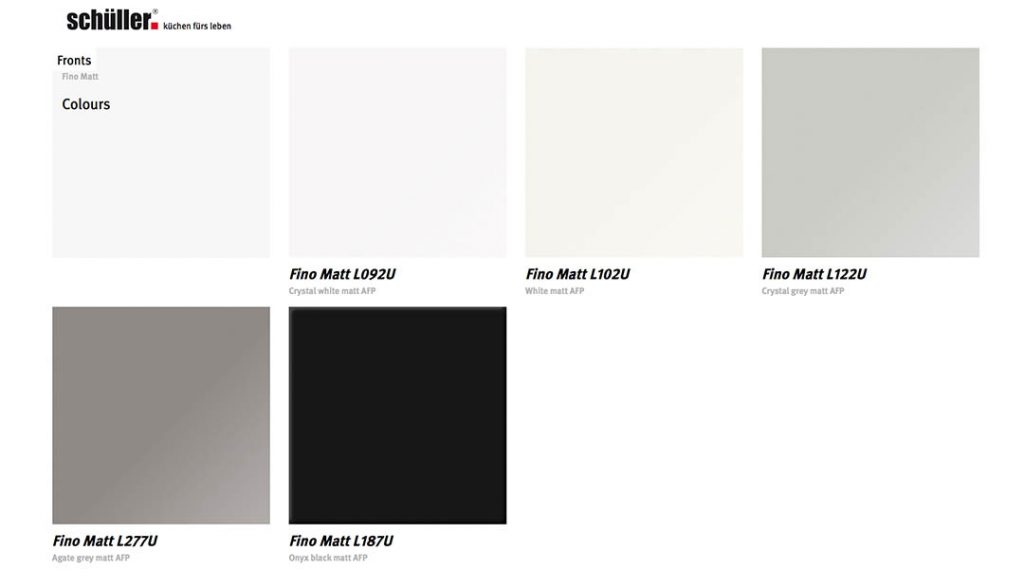 As a Full Service company we Design Plan and Install your new Schuller German Kitchen and project manage from start to finish and in addition to fitting the furniture we also complete any plumbing, electrical and gas works, in addition to Extensions, Windows and Bi-fold doors.
If you want to talk more about Schuller Kitchens, you can speak to a designer today.