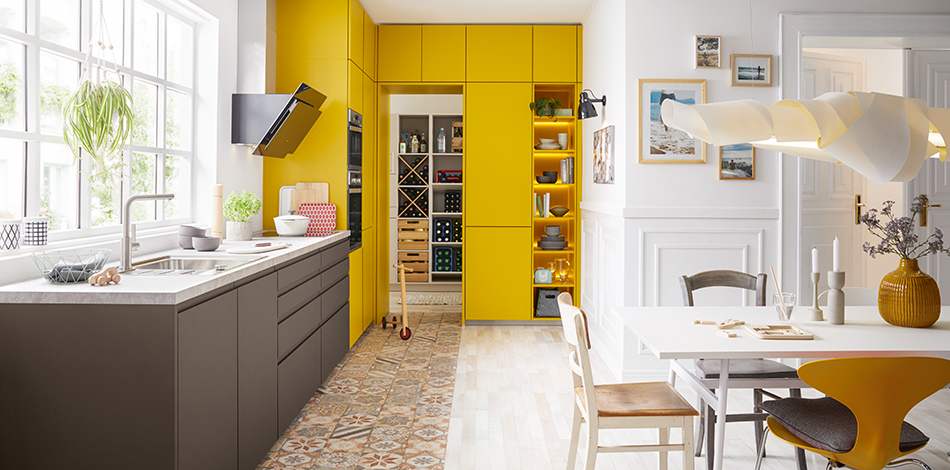 According to the latest Houzz Trend Predictions for 2020, coloured kitchens are going to feature heavily and Schuller Kitchens of Colour have you covered, so look no further…
Houzz is considered the leading platform for home design ideas and inspiration so whilst the traditional German made kitchen, (including those from Schuller) have predominantly been monochrome in terms of what people have been buying, Schuller has been making colourful kitchens for years. It just that they were favoured more in Europe.
Inspiration for Kitchens of Colour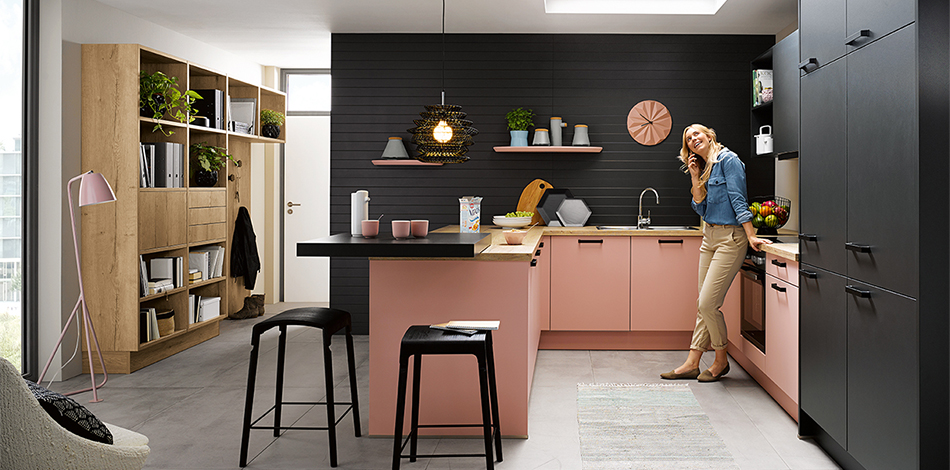 If you are looking for something completely different for your new kitchen, perhaps consider Schuller Biella L385 Pastel rosé satin. Its a great example of what can be achieved with some pastel colouring in your new kitchen design.
---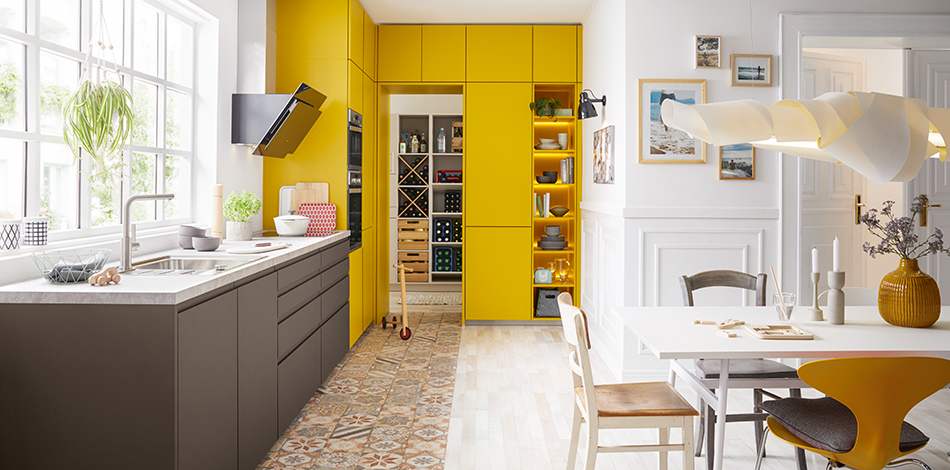 This Alea Door in Havanna Brown L272M with a matt velvet finish, paired with Alea L455 Curry satin is a great combination. The boldness of the Curry yellow is offset by the more muted Havanna Brown and by using plain white for the wall colour choice, this kitchen is good inspiration for injecting some colour into the room.
---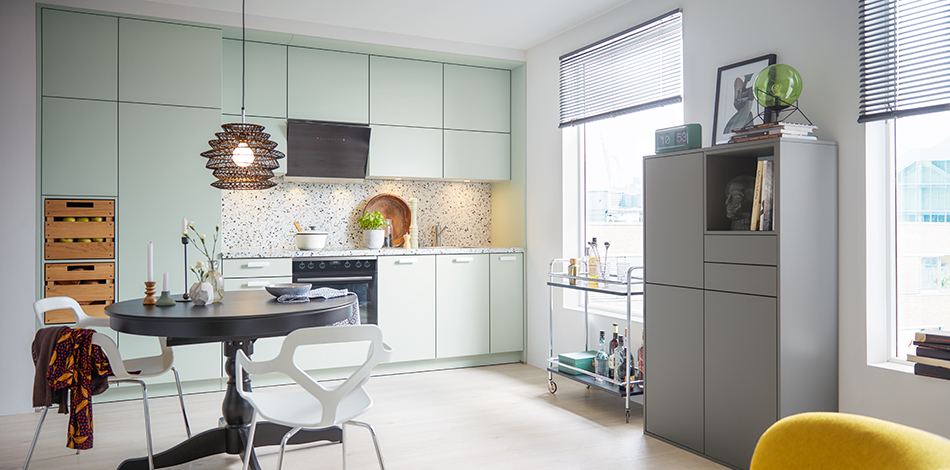 Schuller Biella in L365 Glacier blue satin is a more subtle colour choice if you prefer your colour inspiration to be more towards the pastel shades and Glacier Blue in a satin finish, as shown here is an interesting shade as the room lighting (as it changes through the day) can make the colour seem cooler or warmer depending on the level of natural light. if you look at the above showroom image, we perhaps would suggest to use a solid colour block and do away with the wooden crate storage as that would be more at home in a more rustic setting.
---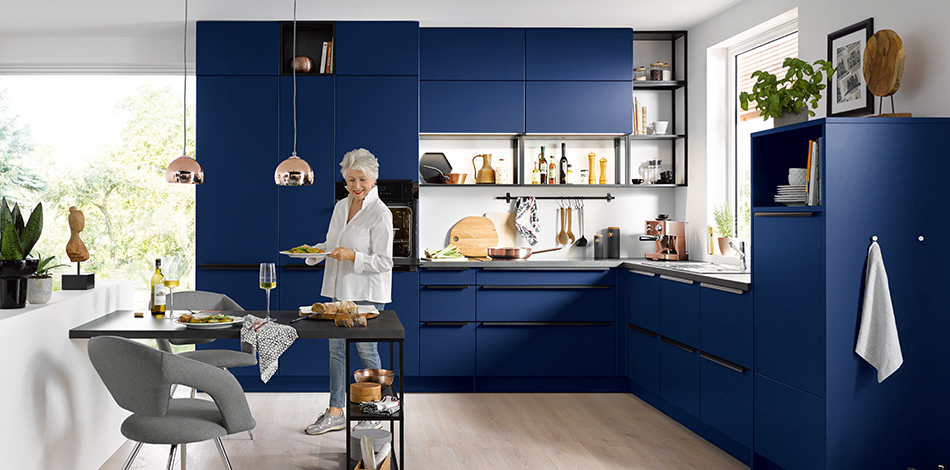 They say fortune favours the brave and Schuller Biella L280 Aqua blue satin is probably as bold as you can get with kitchen colours, save for Schuller Fiery Red Satin.
Blue represents both the sky and the sea, and is often sensitivity associated with open spaces, freedom and whilst some shades of blue can be quite calming, Aqua Blue satin, shown here is more passionate and engaging color that expresses exhilaration.
---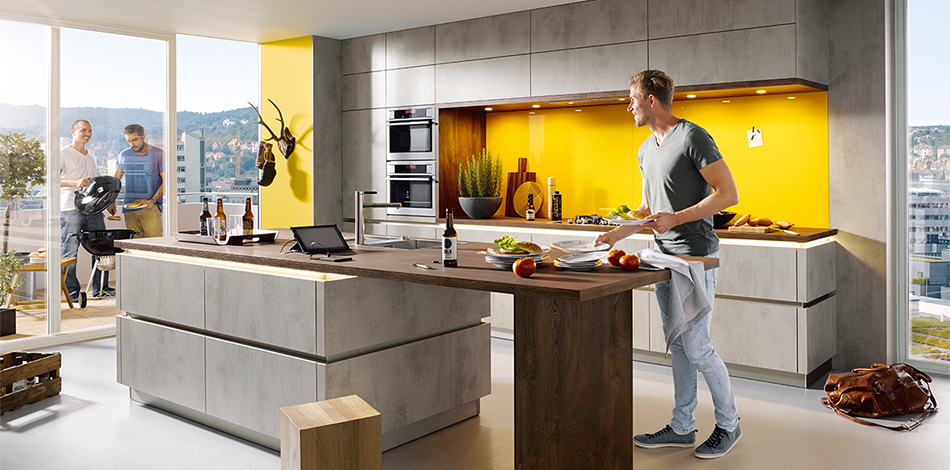 When considering injecting more colour into your home and especially in the kitchen, you don't just have to think in terms of the door fronts.
Looking at the above image which is the Schuller Elba door in K023 Concrete Quartz Grey, you may think just looking at a close of of the kitchen island that it wasnt very colourful. Yet when you take a step back and look at the subtle use of with Curry Colour Accents to the splash back and wall covering you can see that you don't have to go overboard and sometimes less can be more akin to your personal preferences.
---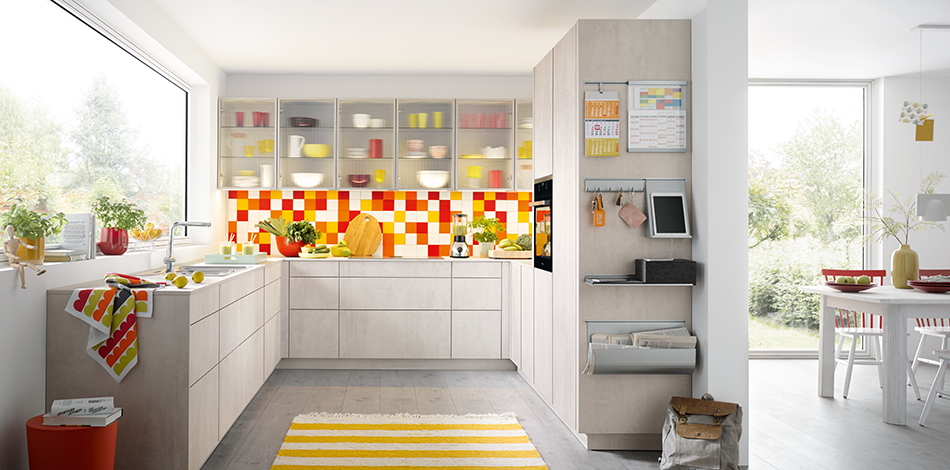 Continuing on from the use of colour accents as opposed to coloured kitchen doors, another option is to have some textured, patterned and coloured glass splash backs, as shown here with Schuller Elba K025 Concrete White/Grey with Colour Splashback.
In the room set up, attention to detail was using a frosted glass above counter wall cabinet door and putting cups, bowls and glassware that mirrored the colours in the splash back. Nice easy tune up if you are not quite ready for a whole new kitchen yet.
If you are looking at Kitchens of Colour, Schuller furniture from German Kitchens NW have all of the above and more so feel free to get in touch and ask for a brochure or speak to our designers for some inspiration.