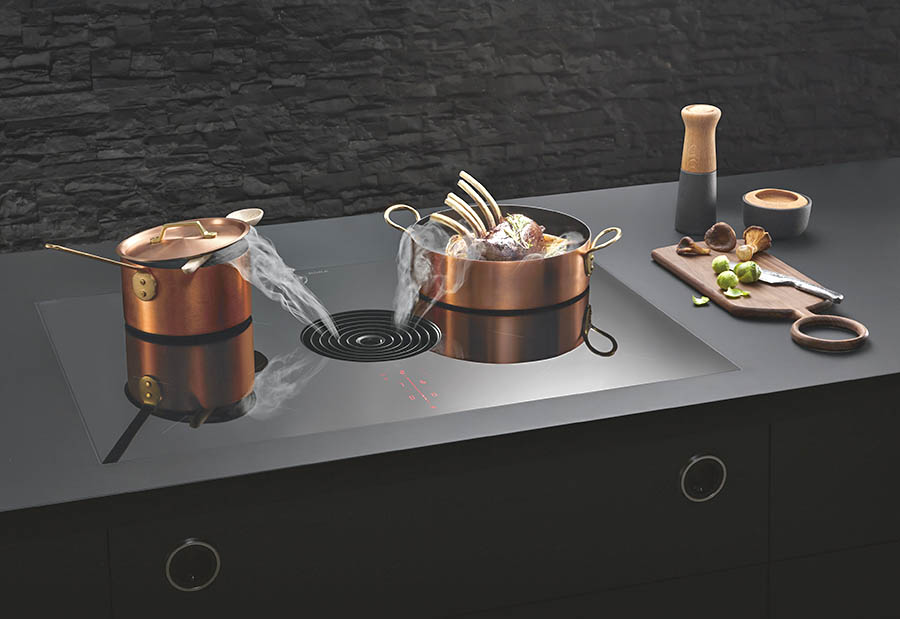 When considering what to hob and extraction to partner your new Schuller or Next125 Kitchen with, Bora offers some stunning and contemporary visuals with the performance to match.
Bora Extractor Hoods and Cooktops
Extractor hoods are traditionally not conducive to a peaceful and tranquil kitchen.
They are loud, ineffective and visibly intrusive. They also restrict the possibilities when designing a kitchen but Willi Bruckbauer from Bora had a vision to invent an market leading vapour extraction system that meets the highest standards in terms of both technology and aesthetic appeal.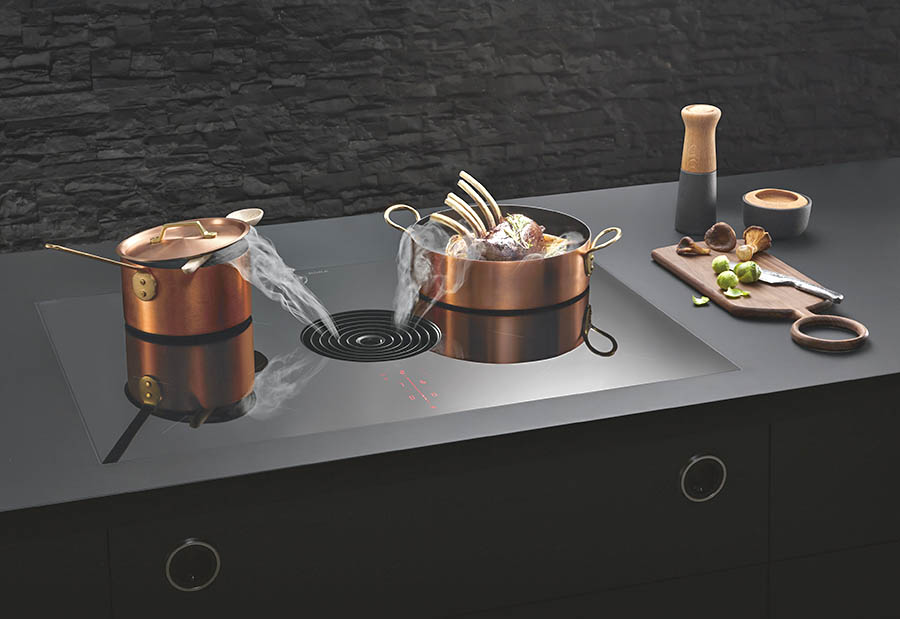 above: This is the Bora Pure, a new compact vapour extraction system and combined cook top offering the best in downdraft technology and puristic, simple, minimalist design.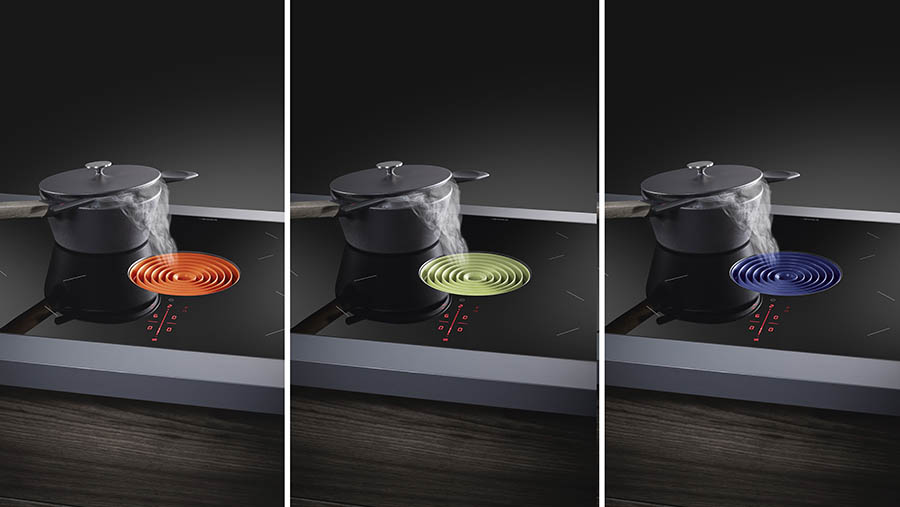 above: In addition to the extraction unit being easy to remove in order to replace the charcoal filters, without having to remove any plinths or panels as you normally would with other brands, shown here the Bora Pure, and its party piece is that the extraction unit also has a colour changing light feature.
below: Shown from an overhead angle the Bora Pure combined hob and downdraft extraction offers a minimalist design and its sleek profile also allows for ample storage under the unit, to keep all your cooking essentials to hand.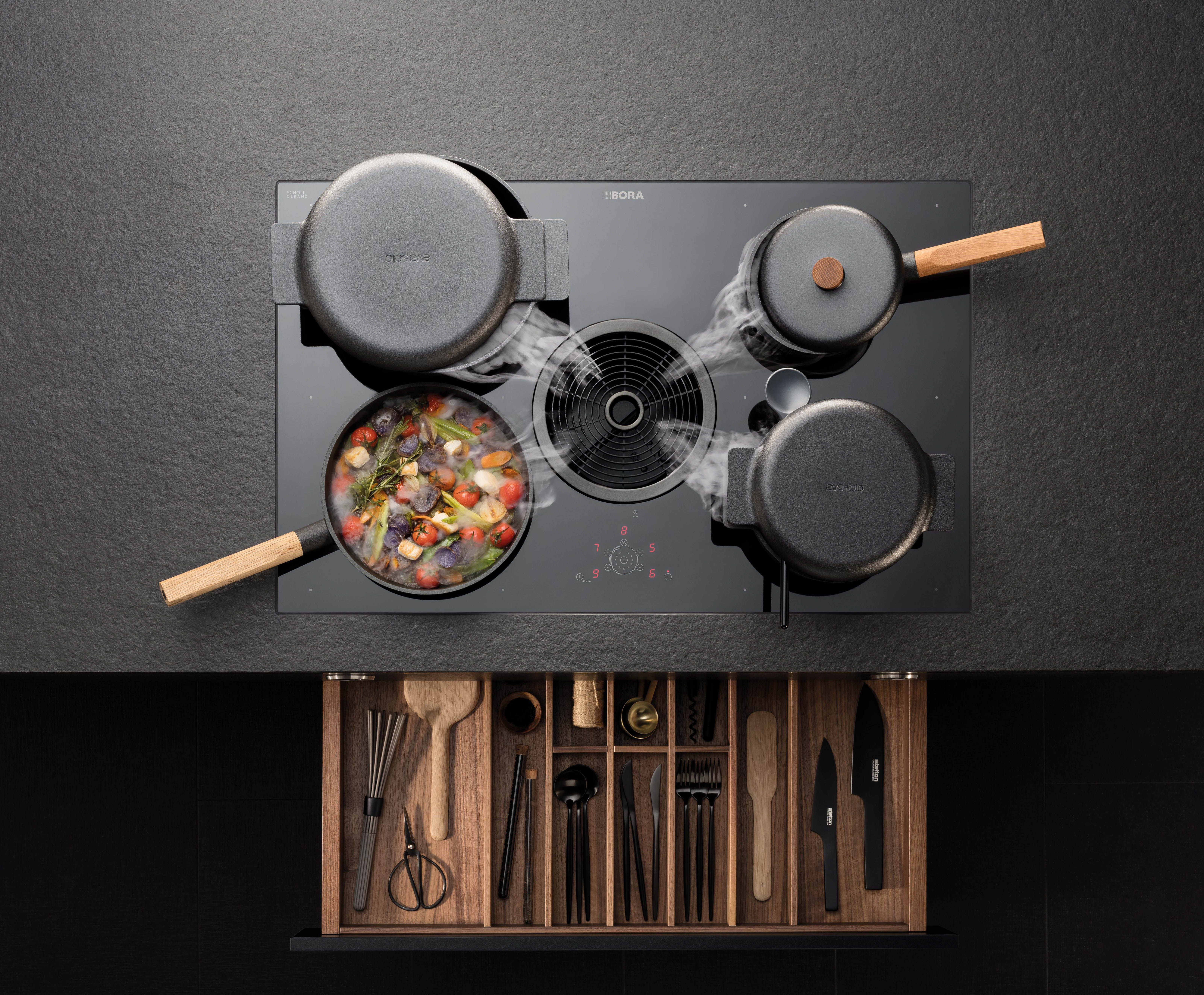 Ceramic is ideal for kitchens: foods can be hygienically processed directly on the surface. Furthermore, the material is resistant to cutting and heat. Used for worktops for many years, the next logical step is ceramic kitchen fronts. As with porcelain, this natural, man-made material only contains substances which also occur naturally in this form. This means that the material is environmentally sound and can be fully recycled.
How Does Bora Pure Work?
Steam and vapours rise at a maximum speed of one metre per second. The BORA cooktop extracts with cross flow suction that is higher than the speed at which cooking vapours rise. In this way, the cooking vapours and odours are effectively extracted on the cooktop.
Depending on the system, up to 300 ml of liquid can collect in the cooktop extractor and be washed away without issue. If more liquid than this gets into the cooktop extractor, this cannot damage the electronics as the air flow does not pass through the electronics.
With BORA X Pure, BORA Pure and BORA Basic models, larger volumes of up to 3 litres of liquid can also be caught. The housing base can be removed for simple cleaning.
All removable parts such as the grease filter, drip tray, air inlet nozzle/cover can be removed easily by hand and cleaned in the dishwasher.
The normal manufacturer's warranty is 2 years but in addition to this, we can offer you the chance to extend your warranty with a full 10 year plan costing £250.
If you want to talk more about Bora Hobs and Extraction for your Schuller or Next125 Kitchens project, why not speak to a designer today.