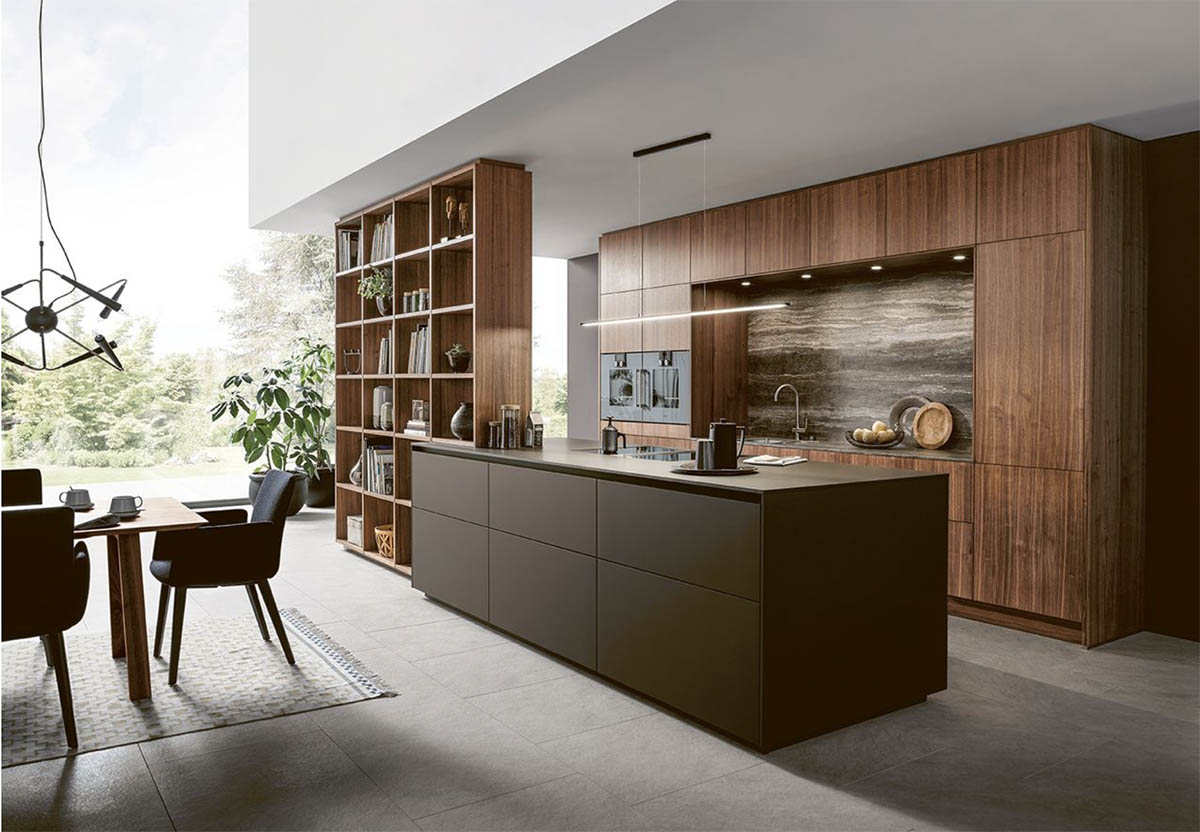 As the UK's leading Schuller and Next 125 Kitchens Retailer we have been asked "Whats Hot for 2021"? The answer is Next 125 Fenix Surfaces.
Never one to shy away from bold statements, Schuller's Next 125 Designer kitchens flagship is akin to the Mercedes S-Class in motoring circles. For decades the Mercedes S-Class was the car you would look to, for a glimpse into the future of automotive innovation. It led the motor industry with many innovative firsts that would then filter down into the rest of the industry.
Next 125 is the S-Class of the kitchen industry, a class leader in innovative luxury.
Next 125 Fenix Door NX860 style is available in Onyx Black , Mocha Brown and Alpine White, all with an industry leading Matt surface with innovative light absorption and Anti-Fingerprint properties.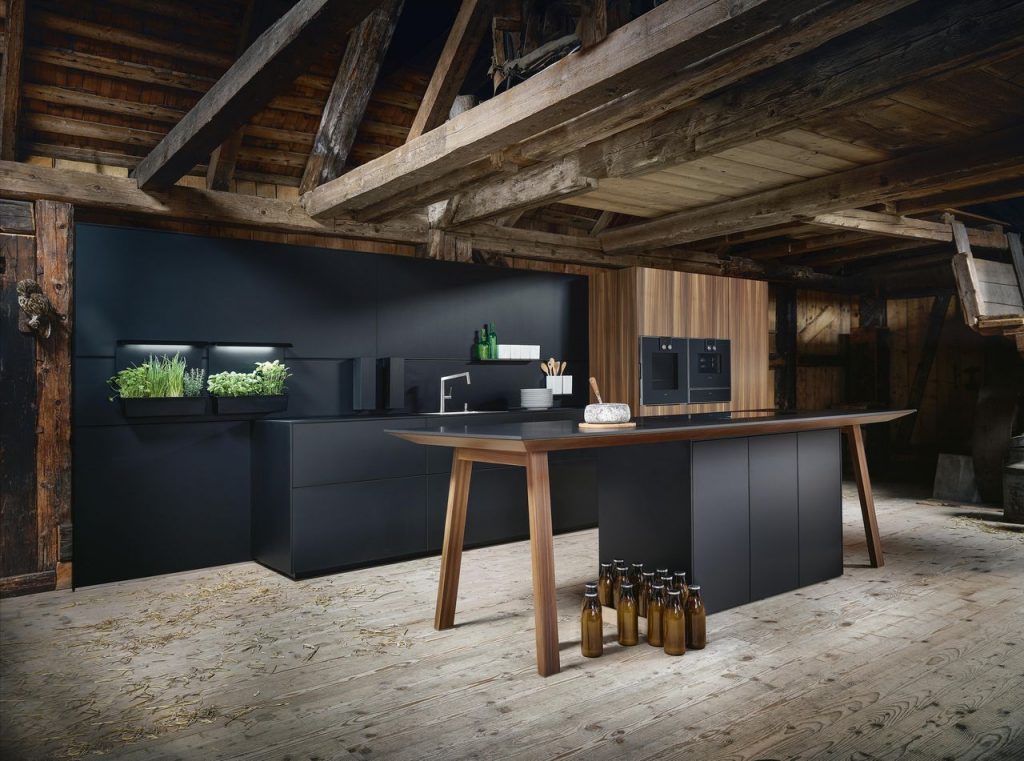 above: The full splendour of Next 125 Fenix Onyx Black is on display here with the legs of the next125 cooking table perfectly offsetting the Fenix Onyx Black via its wooden legs that perfectly mirror the small run of NX 650 in Larch Smoked, housing the oven
below: From this angle the luxurious small run of NX 650 in Larch Smoked, housing the oven and microwave is more evident.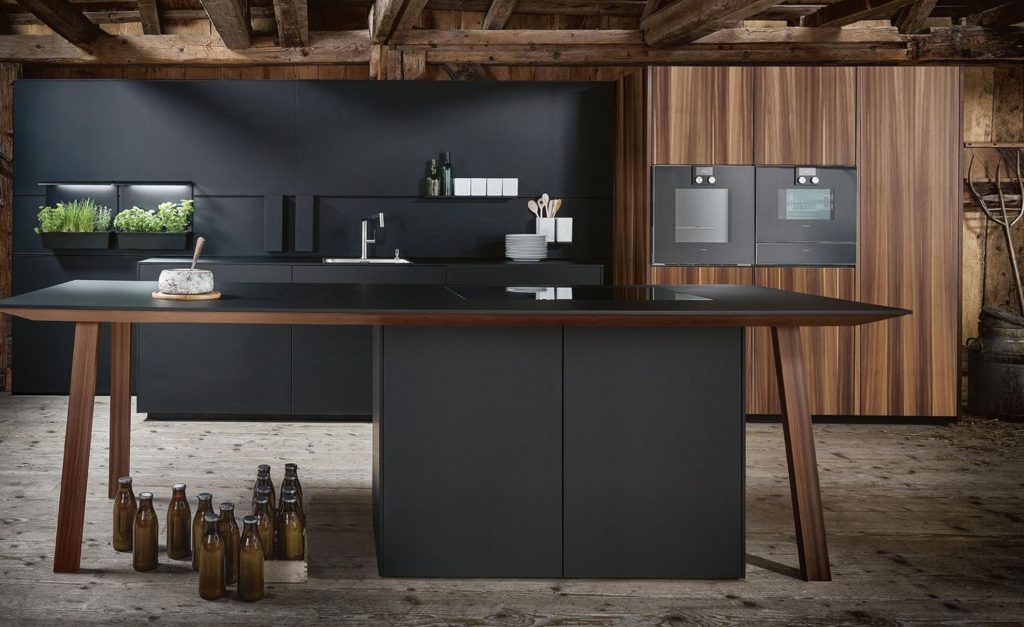 Fenix surfaces and Next 125 kitchens are a perfect partnership as the versatility of the Fenix material and its properties can be taken to new depths and dimensions that only Schuller's designer brand Next 125 can offer.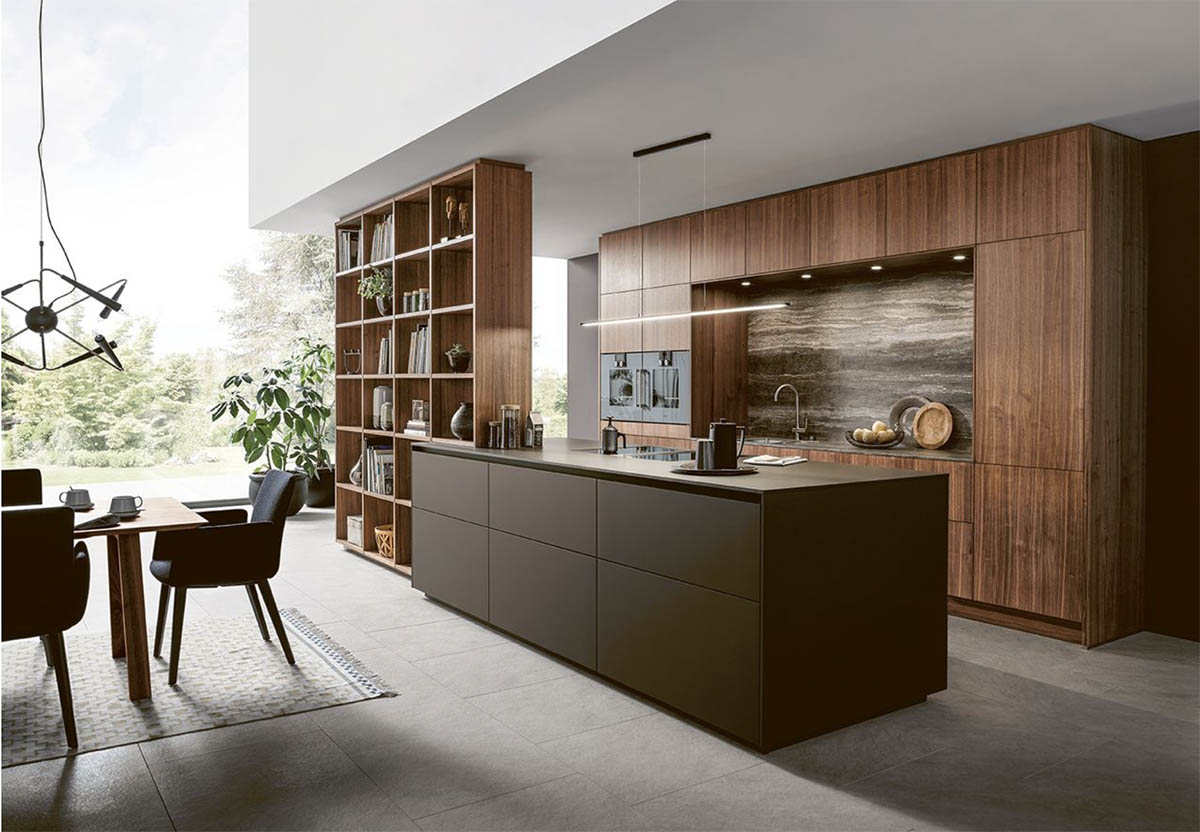 above: Is the kitchen becoming a living room or the living room a kitchen?
A question that can be answered quickly when you look at this kitchen. Open on both sides and serving as a room element, the open shelf unit subtly emphasises the homely character while, at the same time, acting as a bridge between cooking and dining.
below: The kitchen block to this Next125 NX870 Mocha Brown kitchen style made from Fenix with its single line optic serves as a minimalist contrast.
In order to ensure a more regular front view, this design features a horizontal grip ledge profile under the worktop used for the opening of the first pull-out or drawer.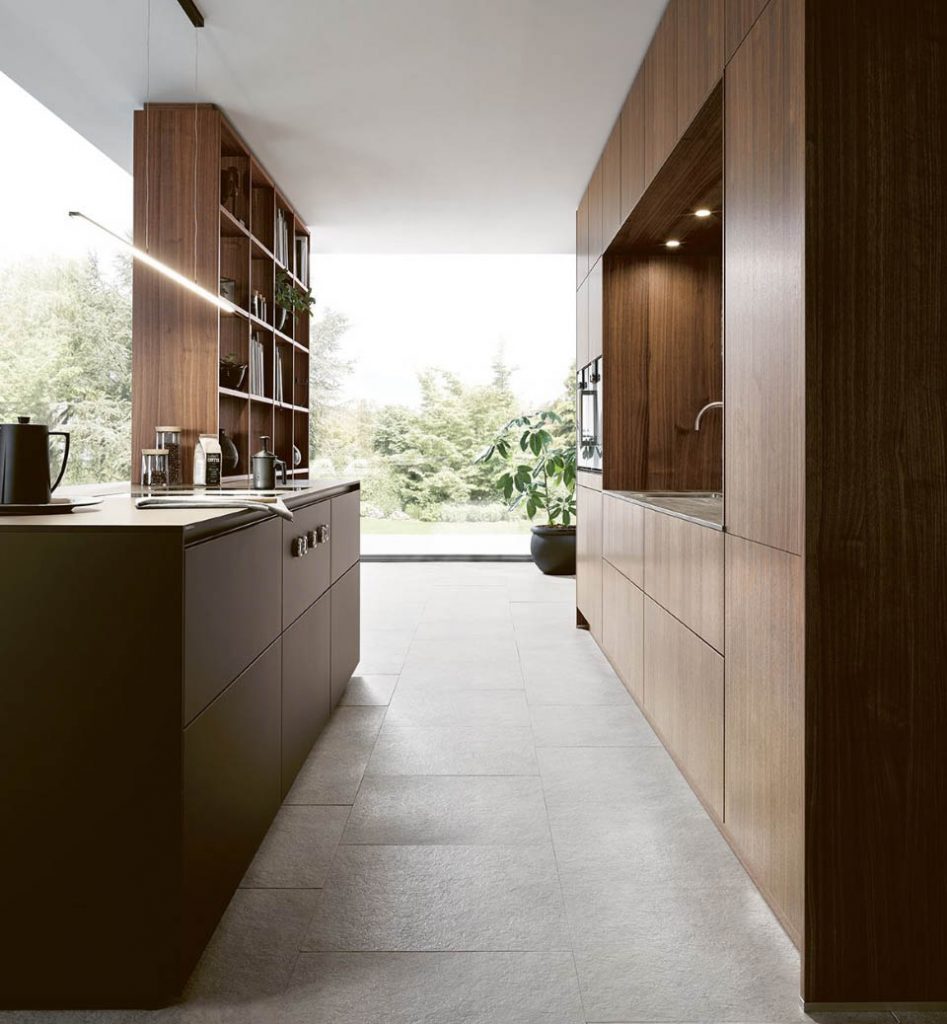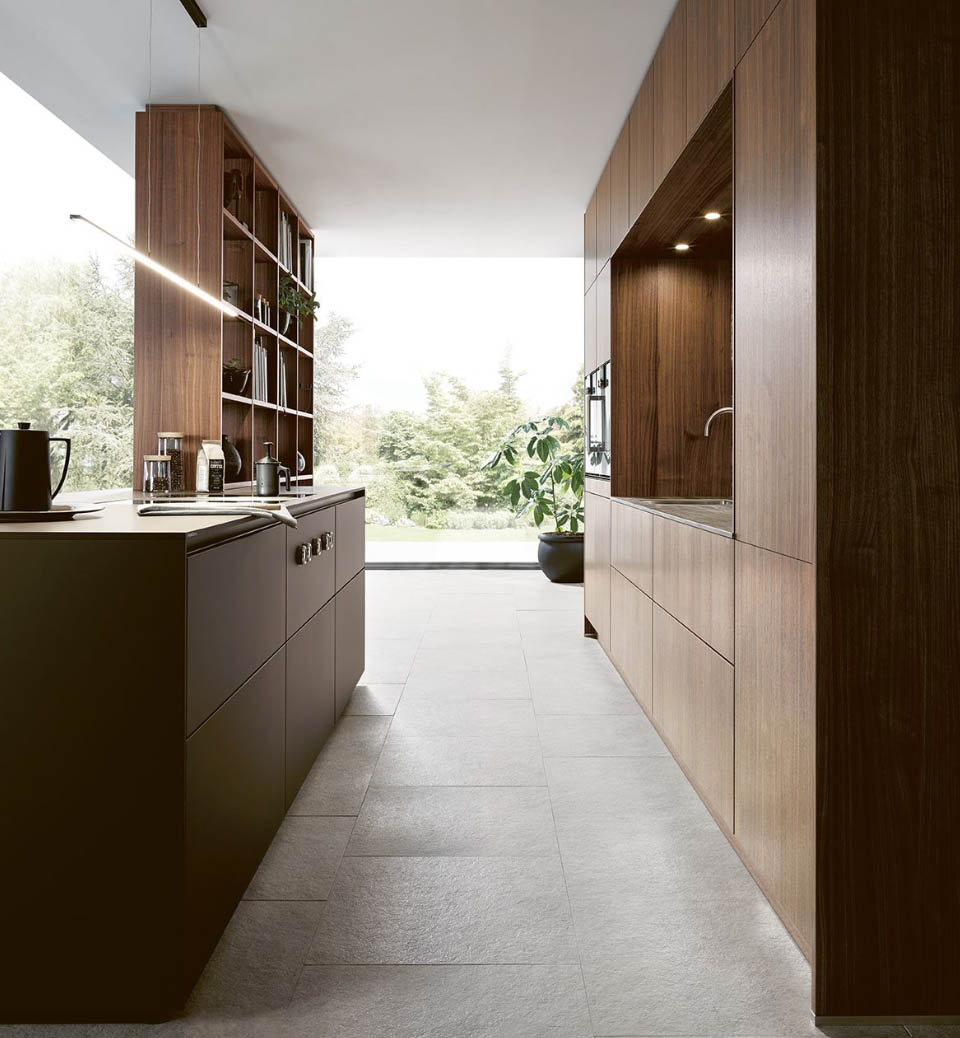 What is FENIX?
FENIX, is the innovative material from Arpa Industriale which has revolutionised the world of interior design.
Fenix surfaces are not only beautiful to look at but, more importantly, they are also a high-tech material, made unique by its engineered characteristics. Fenix have these innovative characteristics by undergoing a particular series of industrial and engineering processes, including  multilayer coating.
The use of next-generation acrylic resins, which are hardened via an Electron Beam Curing process gives the low light reflectivity made perfect for Matt interiors finish. In addition to the light absorption properties  the materials are also soft to the the touch and offer an anti-fingerprint surface perfect for today's busy kitchen environments.
Next 125 Fenix NX 860 Door Colour Choices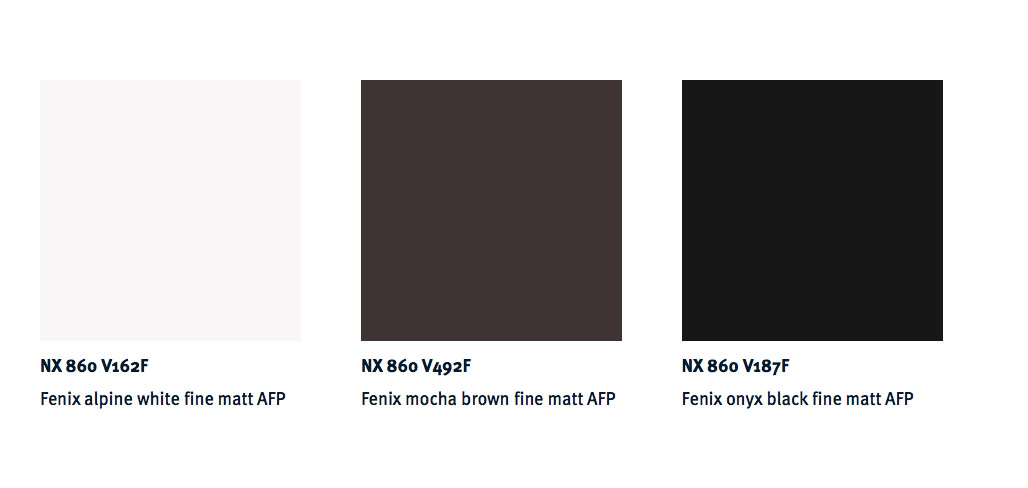 If you want to talk more about Next125 Kitchens, or any other Schuller product, you can speak to a designer today.