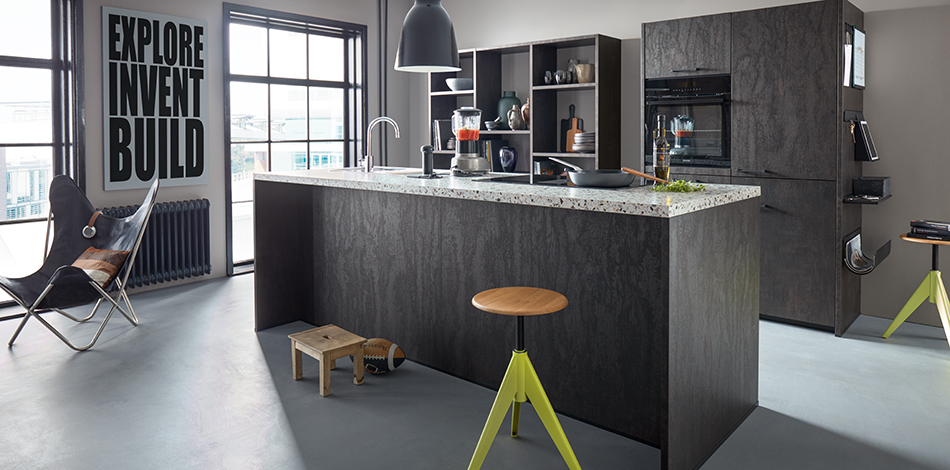 This is the very luxurious and on trend Schuller Linea Flamed Oak Black door style available at the UK's leading Schuller retailer.
The new Schuller Linea door is also available in Textured Spruce Onyx Black (K883) which has the same Flamed Oak textured finish, but in a darker tone more akin to its Onyx namesake.
Front finish: Laminate K799 Flamed oak black effect
System: 84.5 cm
Handle: 466
Worktop: K031 Terrazzo Urbano effect
above: This photo shows the room layout from another angle which further demonstrates the latest coloured and textured surfaces and door fronts that Schuller has brought into the UK market.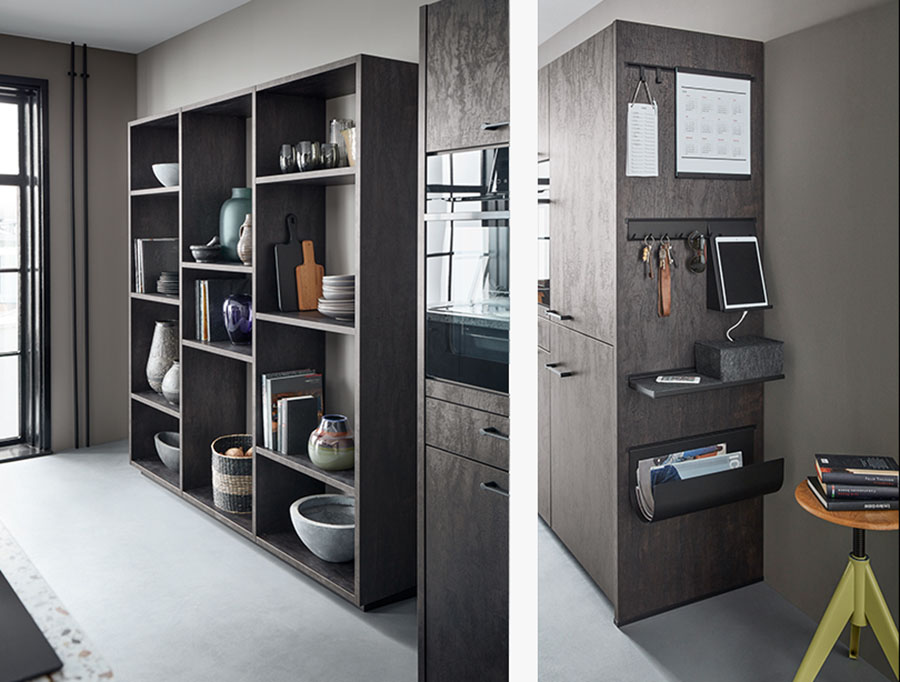 above: Shown here is some open decorative storage in the matching Flamed Oak Black and (above right) is the Schuller OrgaWall, which is a great organisational addition to the clever storage options available.
Now you can bookend a bank of units with a custom layout (inc power or lighting options) to make better use of the end of a run of units and organise your recipe books and tablet devices, magazines, keys, and daily planners etc.
above: As you can see from the close up of the Schuller Linea in Flamed Oak used also for the island units, the Linea door front is textured which catches the light in many different ways. No two ways of looking at it are ever quite the same.
Even with some very small spaces, the pull-out storage on offer (above right) can be configured to store whatever you wish, with whatever available space you have left over.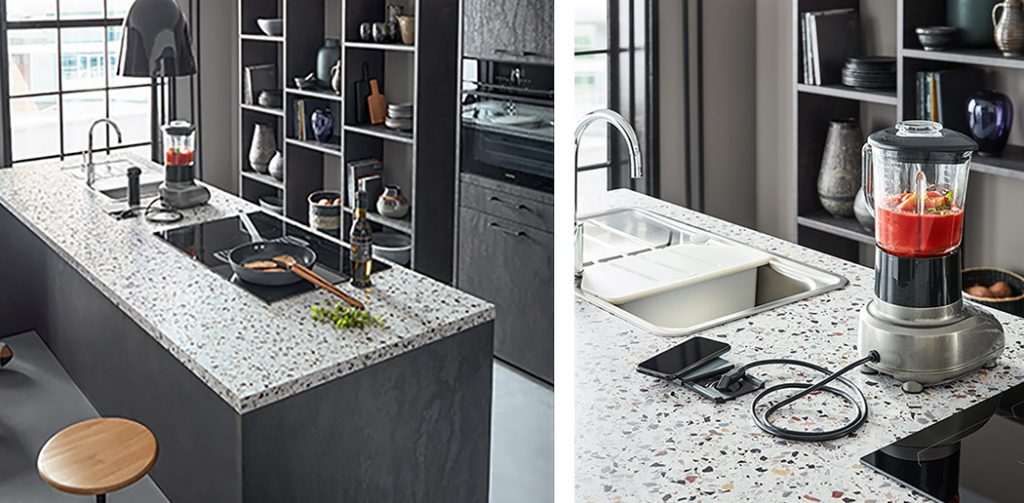 above: Schuller Linea in the Flamed Black has that luxurious feel and as shown in the above image, the K031 Terrazzo Urbano effect worktop is a perfect partner.
German Made – Quality Assured
As you would expect from one of the biggest german made kitchen brands in Europe, Schuller kitchens are built to the highest possible standards.
With a steadfast combination of very high-quality workmanship and an engineered manufacturing approach the net result is kitchen furniture that is highly durable and will look as good as it does today, in years to come.
With Schuller you get the german made furniture you want, at an affordable price range which features the latest in kitchen ideas and technologies to ensure that each kitchen is as ergonomically set out and easy to use as it is stunning to look at.
Being a Master Siemens Partner and an AEG Appliance Partner we are also able to offer near trade prices for Siemens and AEG appliances when purchased with our furniture, as part of your next kitchen design project.
If you want to talk more about Schuller or Next125 you can speak to a designer today.