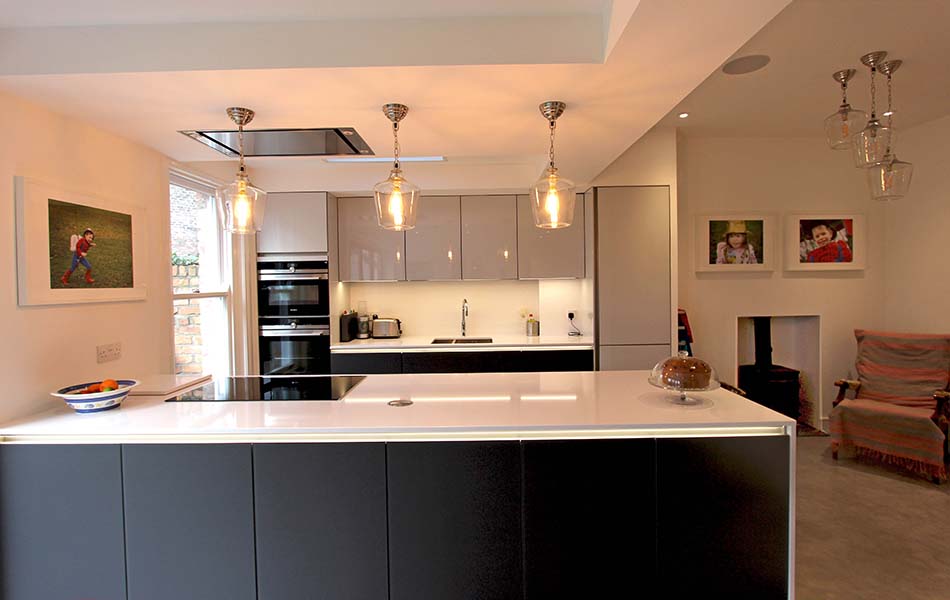 For our customers Celia and John and their whole of house renovation in a quiet river side location in Liverpool, we installed this lovely Schuller NX901 Kitchen from German made premium brand Next 125. Using a mix of Glass Gloss Crystal Grey & Quartz Grey, this is a fabulous design.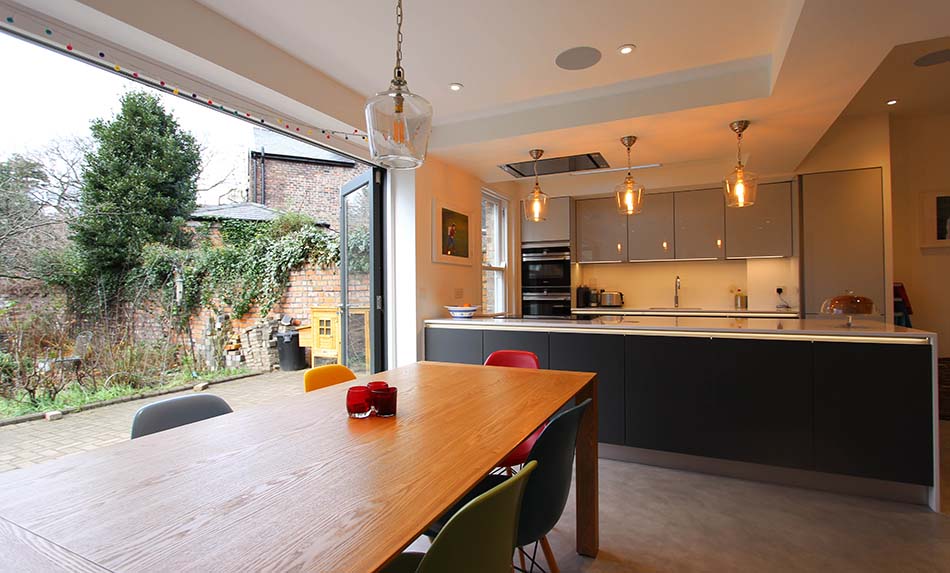 above: From this view the open plan design comes into full view. The bi-fold doors open the room up and provide easy access to the garden. Perfect for summer bbq's and in the cooler months, views out to the garden safe from the elements in the warm and cosy kitchen.
below: The room is of a size sufficient to allow a good kitchen footprint and a dining table but without the room feeling cluttered or cramped.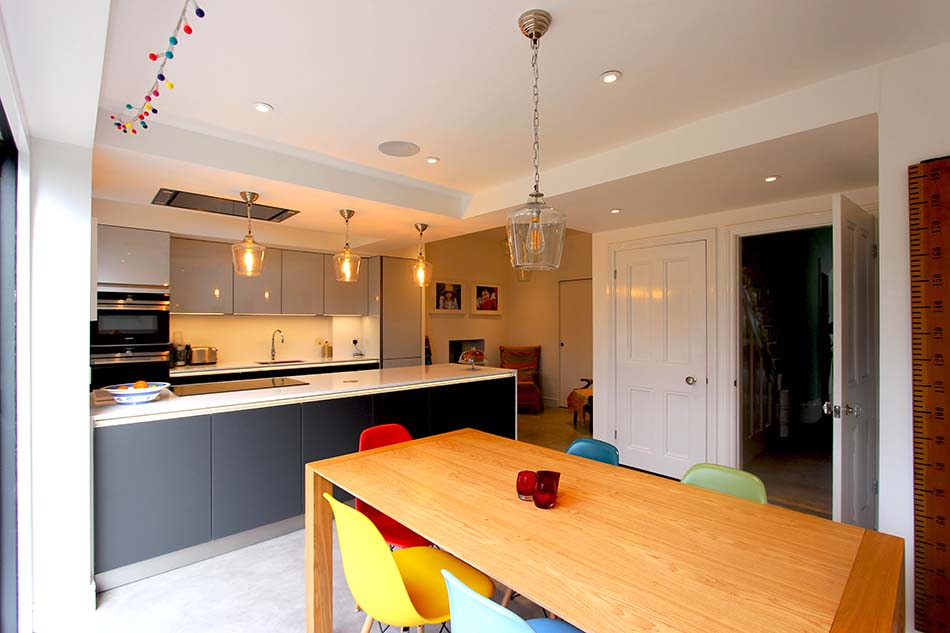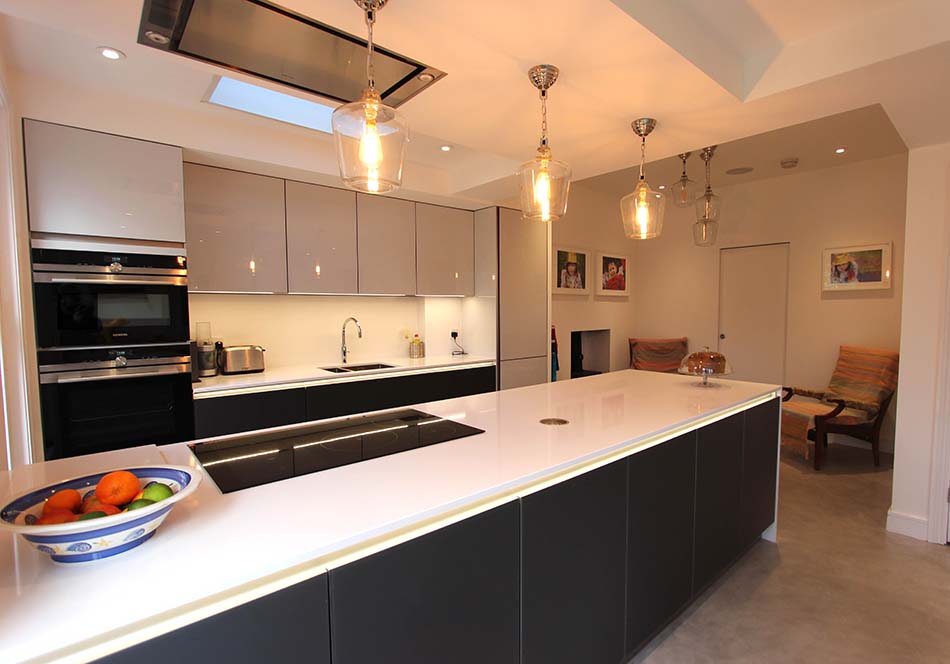 above: In this image an additional living space can be seen which provides relaxed seating in a little snug.
below: Despite the skylight, windows and bi-fold doors all providing an abundance of natural light the featured LED handle recess lighting to the island offers a warm soft glow with great aesthetics.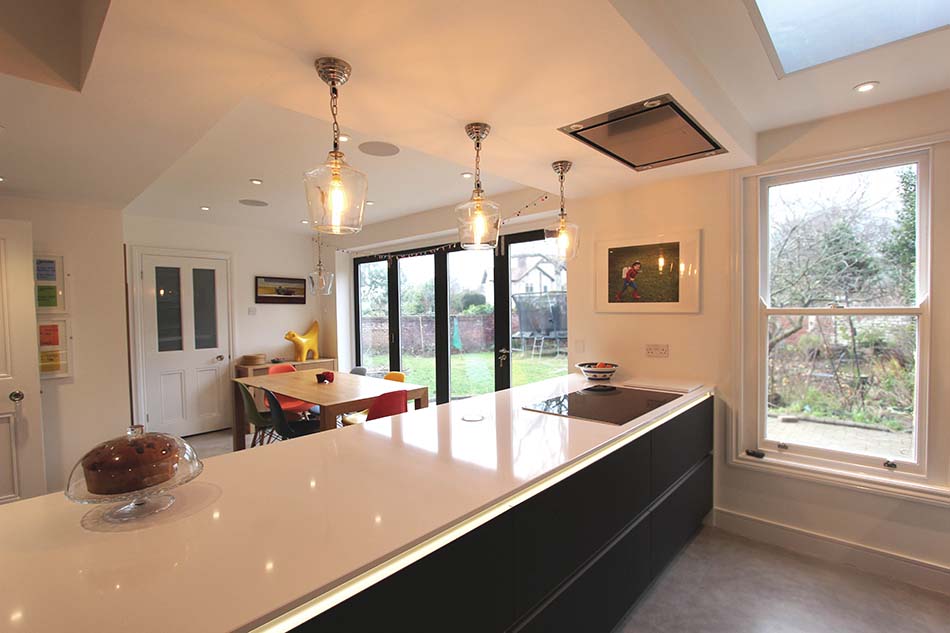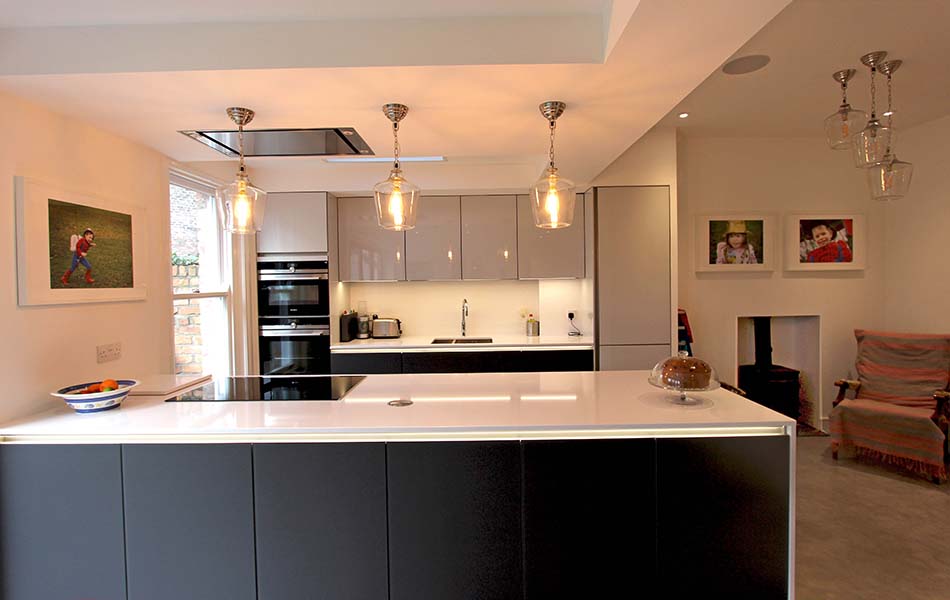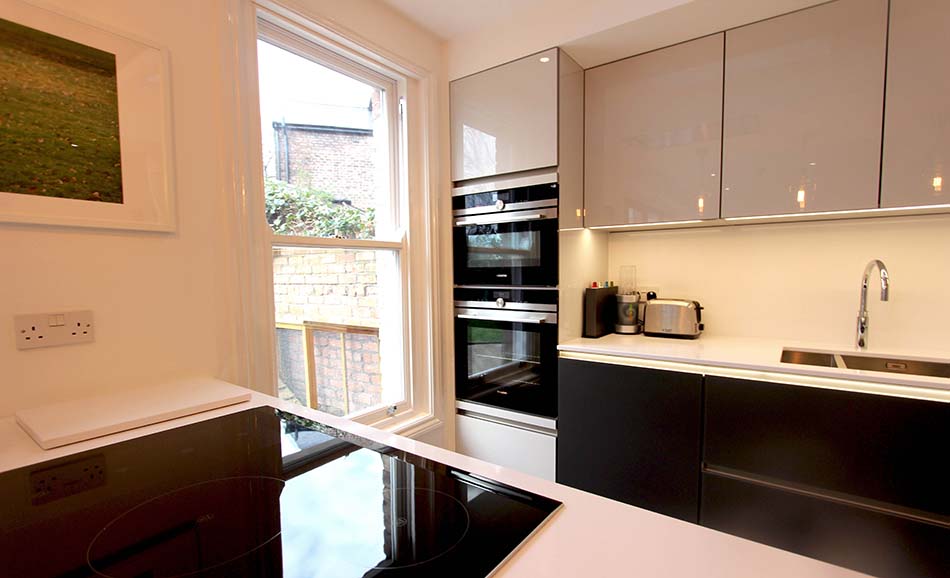 above: To keep the character of the room and the traditional sash window, the furniture was laid out in analyst galley configuration, with the island providing the opposite channel.
below: From this view of the cooking zone at the far end of the island (containing the island hob and twin ovens to the full height run) you can see the abundance of food preparation space available.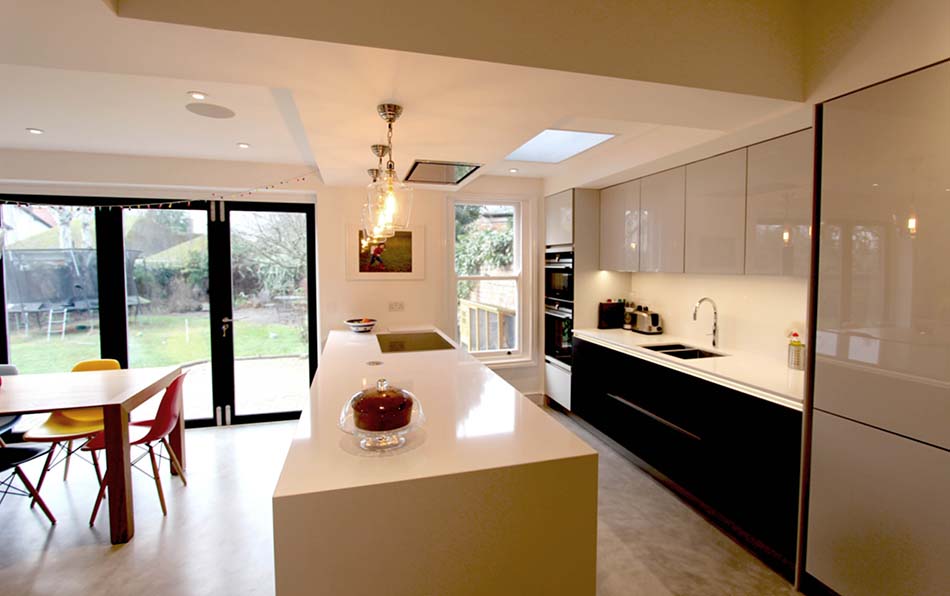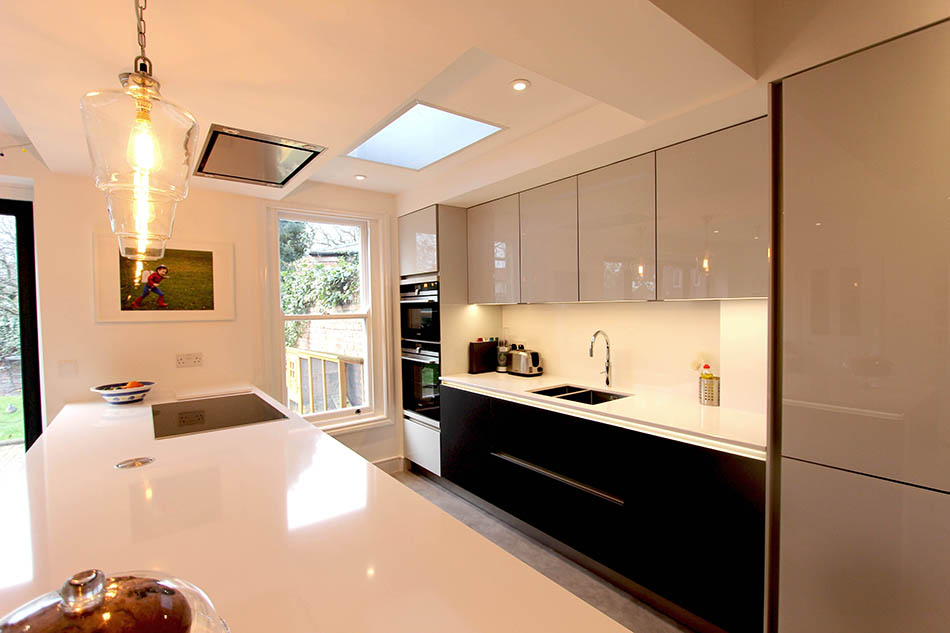 above: In terms of kitchen design ergonomics the planning of the food preparation zone as shown above allows for the full food pre and cooking to be done in this kitchen, without obstruction or interruption so that the family members or guests can still use the rest of the living space.
below: Schuller Nx901 kitchen from the designer Next125 brand is very much a premium offering and the drawer packs, despite their feather-light operation the pull-outs and drawers are extremely strong.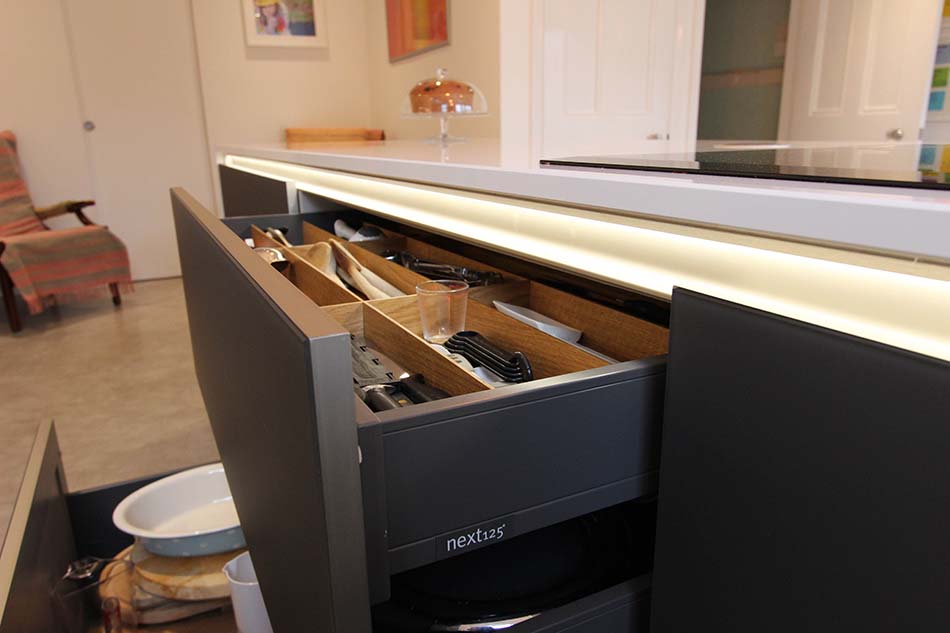 We are the UK's leading supplier of German made Next 125 & Schuller Kitchens and a Master Siemens Partner. We have a showroom in Greater Manchester, and a Free Home Design Visit service covering areas such as Liverpool, Manchester, Chester and more so please get in touch to order a brochure or speak to our Design Team.