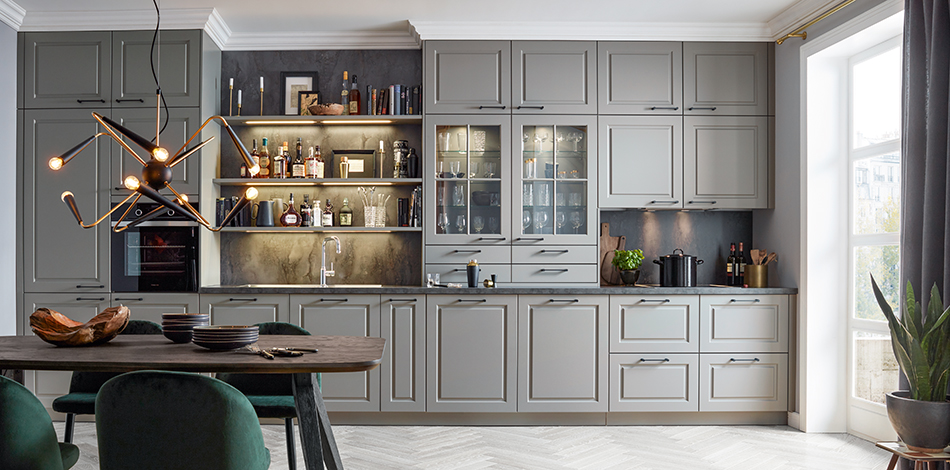 This is the Schuller Classic Agate Grey Matt (L277M) door style for those who wish to have all the style and convenience of a modern German kitchen design, but with the classical inspiration of the traditional in-frame shaker.
Front finish: Schuller Classic Agate Grey Matt (L277M)
System: 78 cm
Handle: 466
Worktop: K085 Oxide Graphite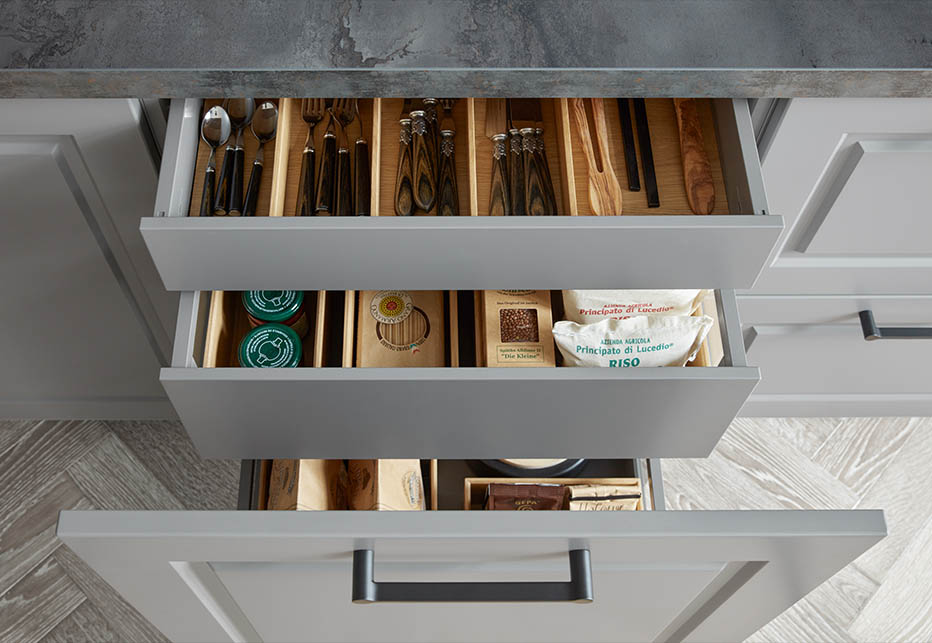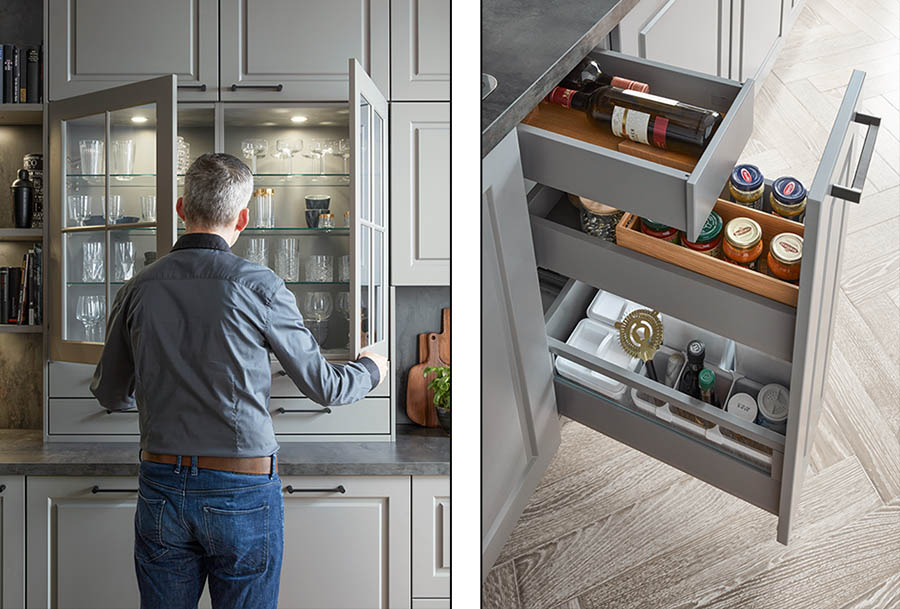 above left: Available in matching Agate Grey Matt finish is an array of open storage, dining tables, shelving. Shown here is a very classic array of drawers paired with glass door storage with internal lighting.
above right: Storage from Schuller doesn't just have to be ultra wide, or ultra deep. These narrow pull outs are perfect for spices and condiments.
below left: The layout of this kitchen (across a single wall) is kept classically inspired with the large shelving atop the sink. Perfect for recipe books, decoration and whilst shown as a makeshift bar in this image, bottles of olive oil and cooking wine can be stored here for ease of access.
below right: This image helps to frame the position of the shelving that bridges the two tall banks and demonstrates that single wall kitchens are not just for modern apartments.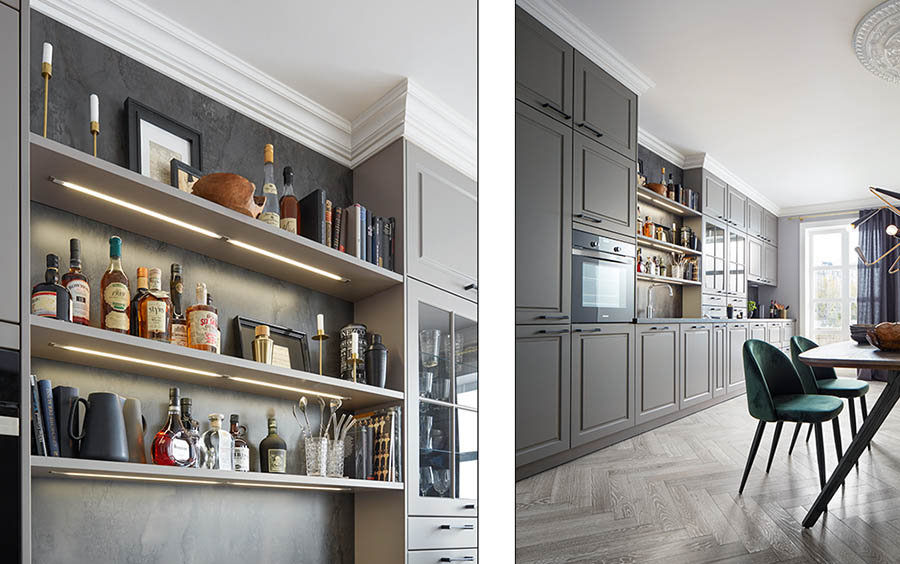 Whilst the defining characteristic of the classically inspired Classic door is unmistakably Shaker in style, with Schuller you don't have to compromise.
With Schuller you can have all the modern inner workings of a German made kitchen but with the outer appearances of something much more traditional.
Although shown here is the Classic Agate Grey Matt (L277M) finish, below is the colour chart of the full Matt finish for the full range.
Classic Matt finishes also include; Crystal White, White, Magnolia, Crystal Gray, Sand Grey, Terra Grey, Havanna Brown, Lava & Onyx Black, Terracotta Red & Aqua Blue.
All of the colours can be used solely, or mixed and matched to create a more bespoke colour choice for your next kitchen project.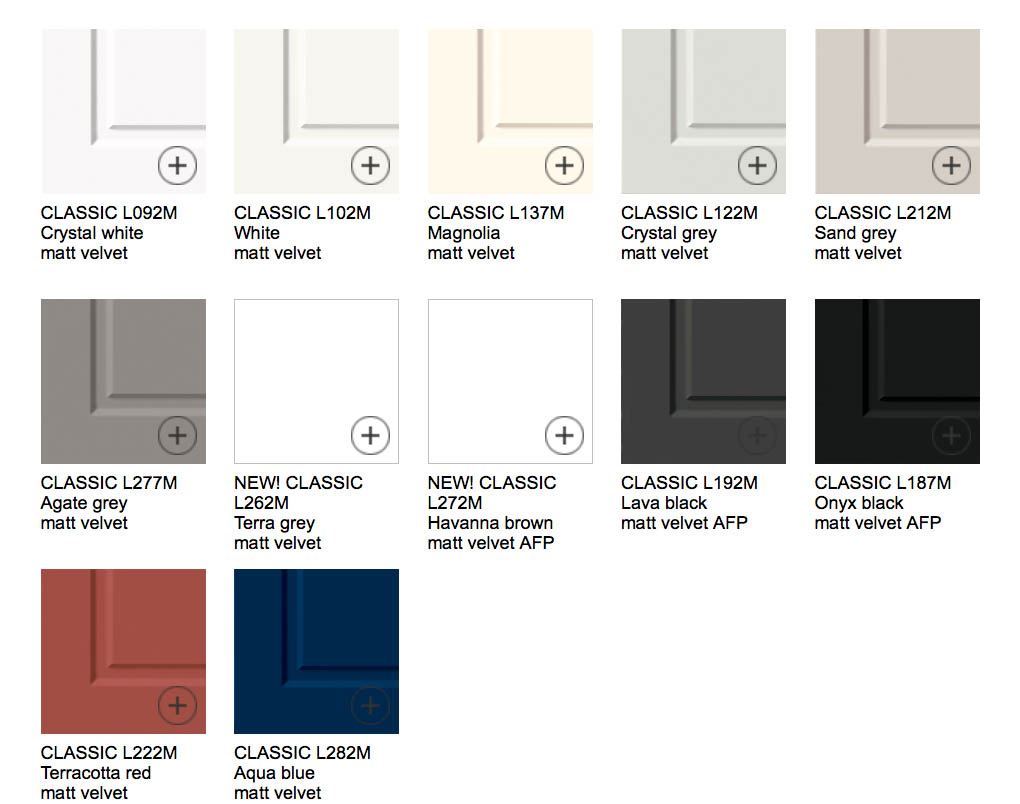 Being a AEG Appliance Partner we are also able to offer near trade prices for AEG appliances when purchased with our furniture, as part of your next kitchen design project
If you want to talk more about Schuller Classic in the Matt Finish, other Schuller Country Kitchens or indeed any other style, you can speak to our designers today!