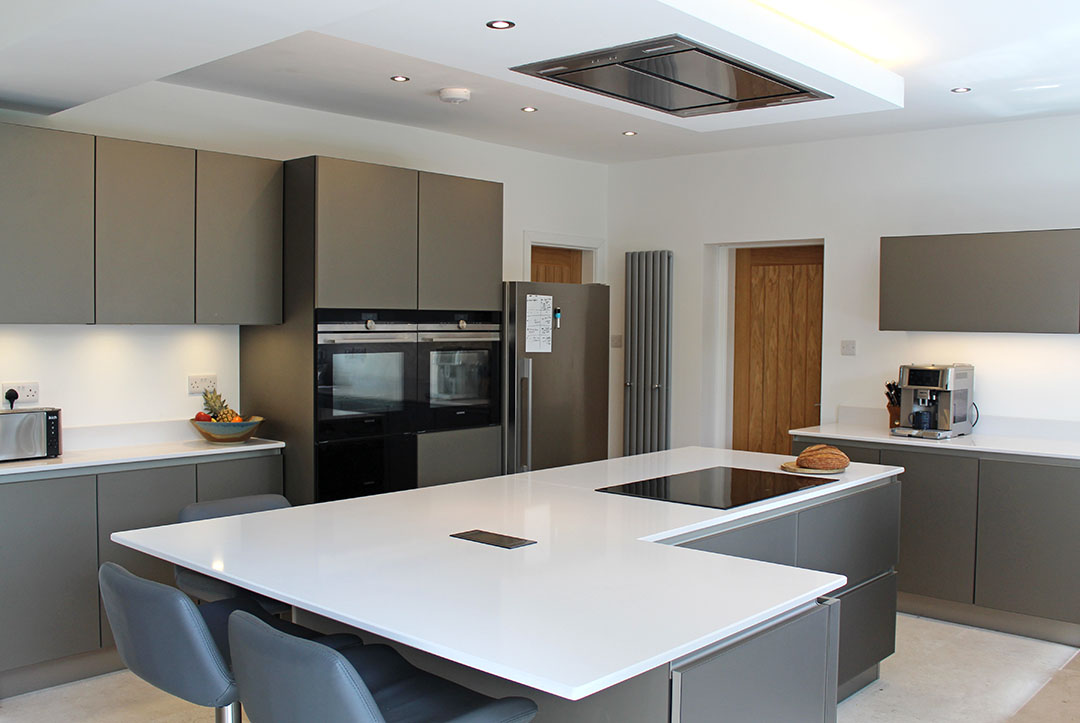 We recently installed this Schuller designer brand of Next125 Kitchen, using the NX902 Glassline Matt Metallic doors for a customer installation in Greater Manchester.
Next125 was the pioneer in glass fronted kitchen doors and aside from a luxurious shine showcasing the colour choice underneath, the use of a thin glass panel over the kitchen doors and drawer fronts protects the doors and increases longevity.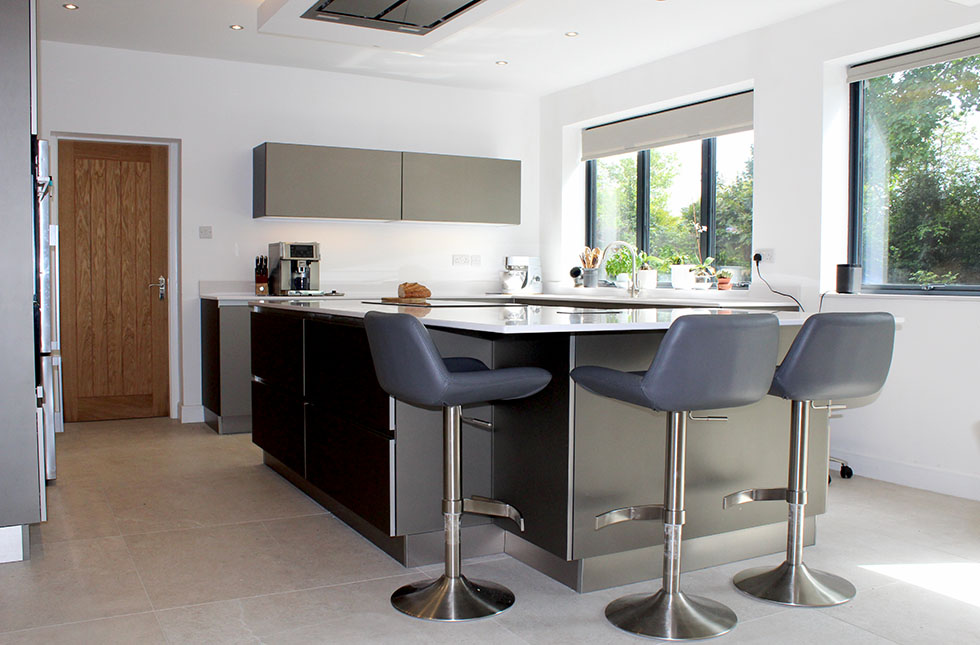 above: This image shows the true handle-less door style with the recessed J-pull grip atop the door or drawer to open, which gives this Schuller Next125 German kitchen a slim handle-less profile, all finished in the glassline matt metallic colour choice. 
The island has a perfectly designed overhang for bar stools and casual dining and with the AEG 80cm Maxisense Induction hob (IKE85651FB model with flexible cooking zones) the island is a very versatile cooking station, perfectly positioned with the Siemens Combi Oven/ Microwave and additional single AEG oven to the wall behind.
below: From this angle the overhead Nitro 360 extraction hood can be seen, which was installed into a false ceiling over the island to maximise the minimalist, open look with clean visuals and zero obstruction.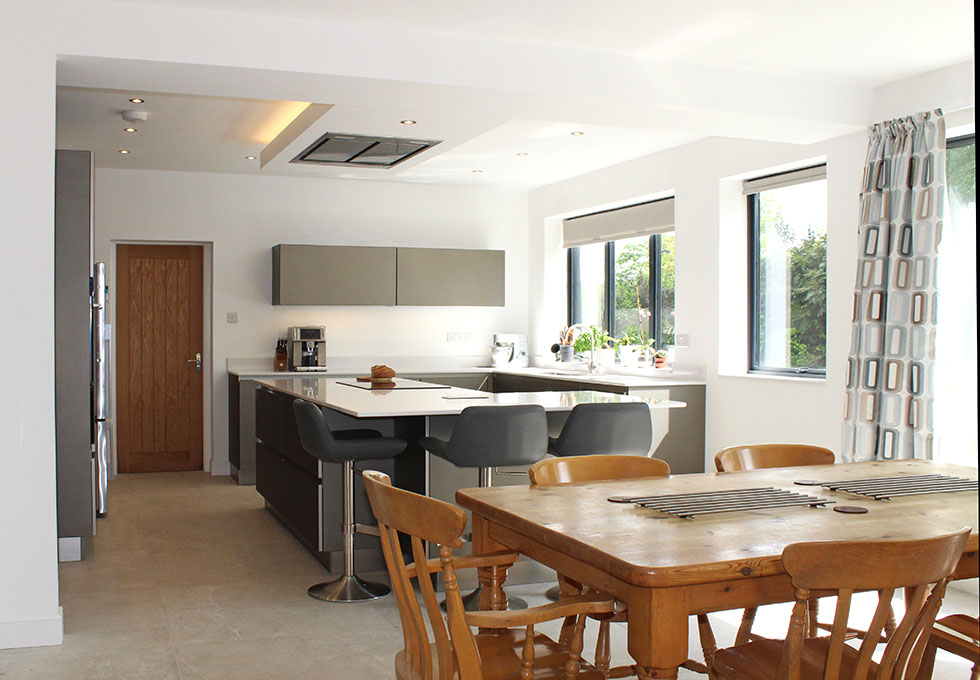 Below: This image shows the full footprint of the kitchen and the large L-shape island with breakfast bar overhang and demonstrates just how much additional storage this island can offer, via its extensive use of under-counter oversize drawer packs. Rated to 50kg the Next125 drawer packs can certainly take the heavy lifting out of your kitchen storage.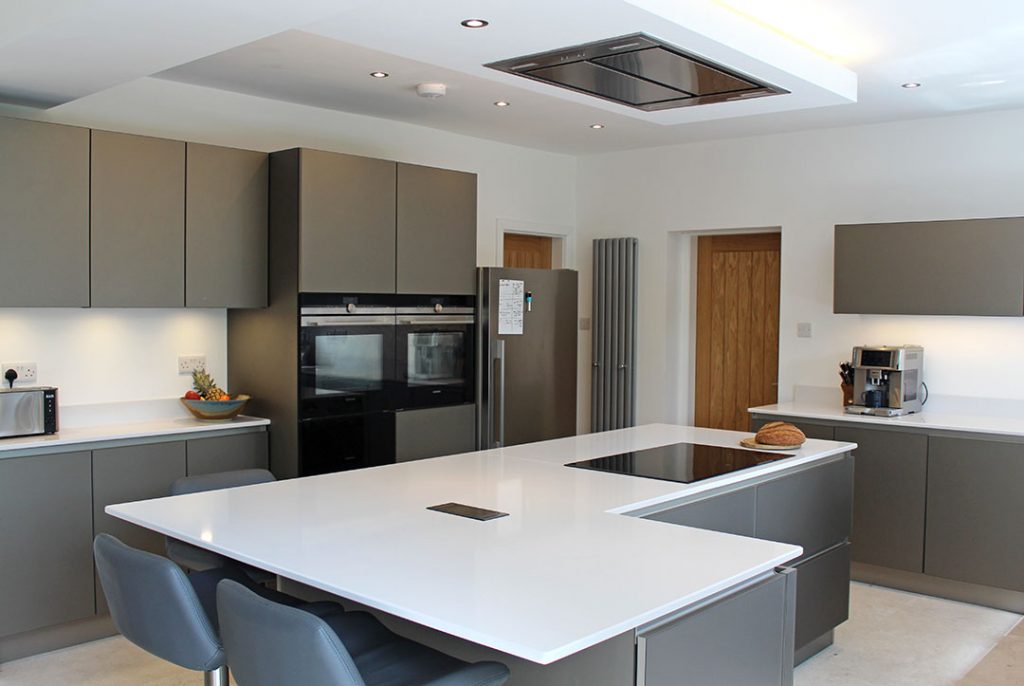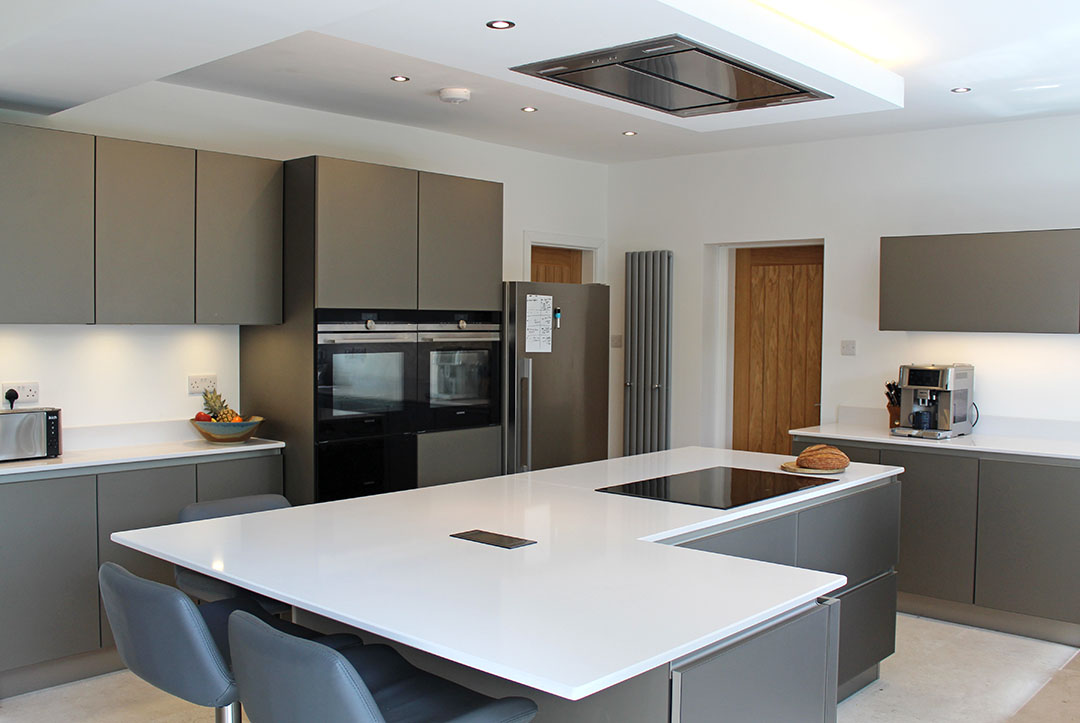 As you might expect with Schuller and its designer brand of Next125 kitchens, there is an almost endless array of drawer inserts and organisers so that each pan, every piece of cutlery and all of your kitchen essentials can be perfectly organised at your discretion and preference.
As a Full Service company we Design Plan and Install your new Schuller German Kitchen project and fully manage it from start to finish and in addition to fitting the furniture we also complete any plumbing, electrical and gas works, in addition to any Extensions, Windows and Bi-fold doors that maybe required to create your perfect kitchen.
If you want to talk more about Schuller Kitchens or the Next125 (NX902 Glassline Matt Metallic) kitchen shown here, why not speak to a designer today.