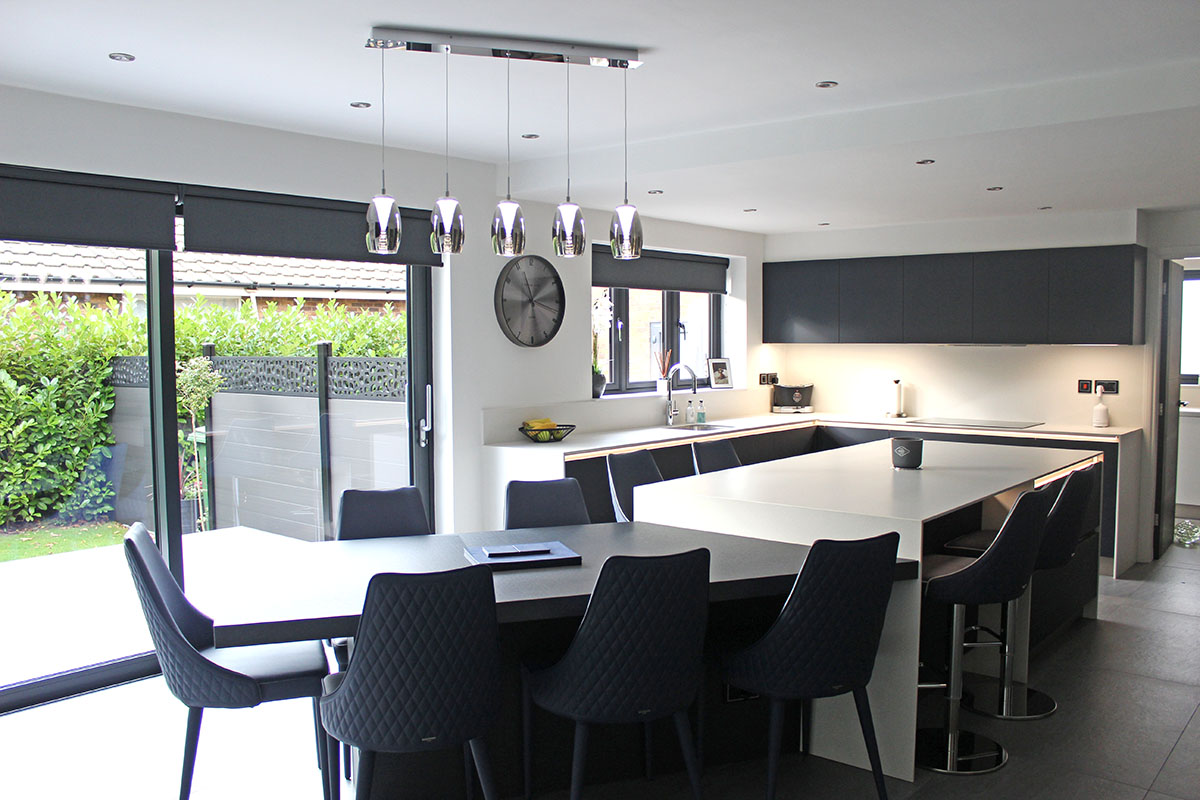 We recently installed this Schuller german kitchens customer project using the Next 125 Glassline door in Matt Crystal Grey for our customers in Cheshire.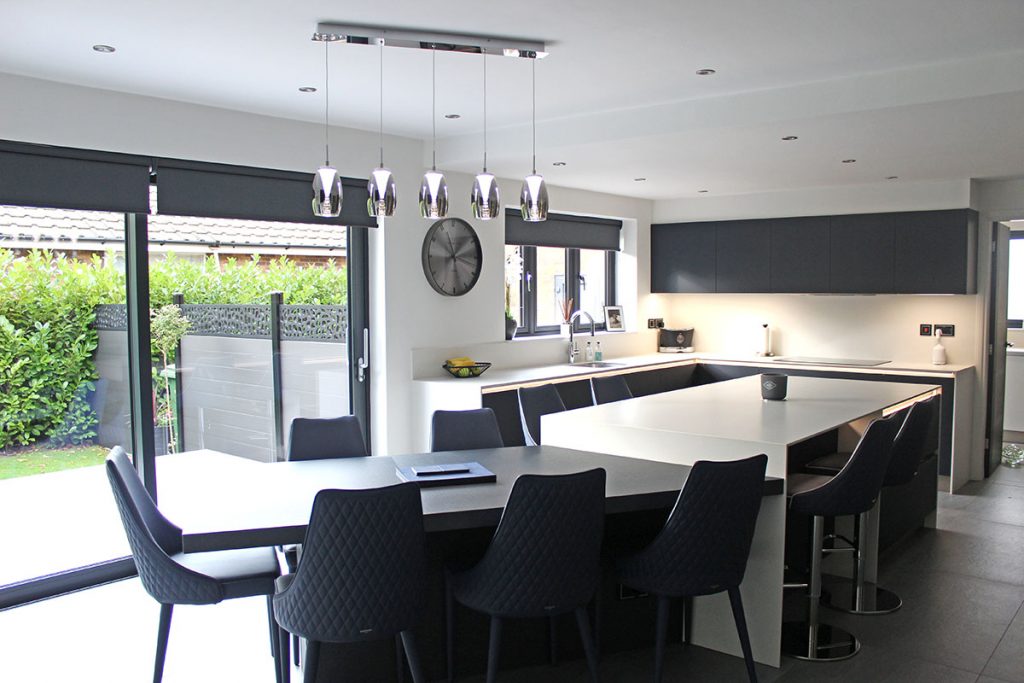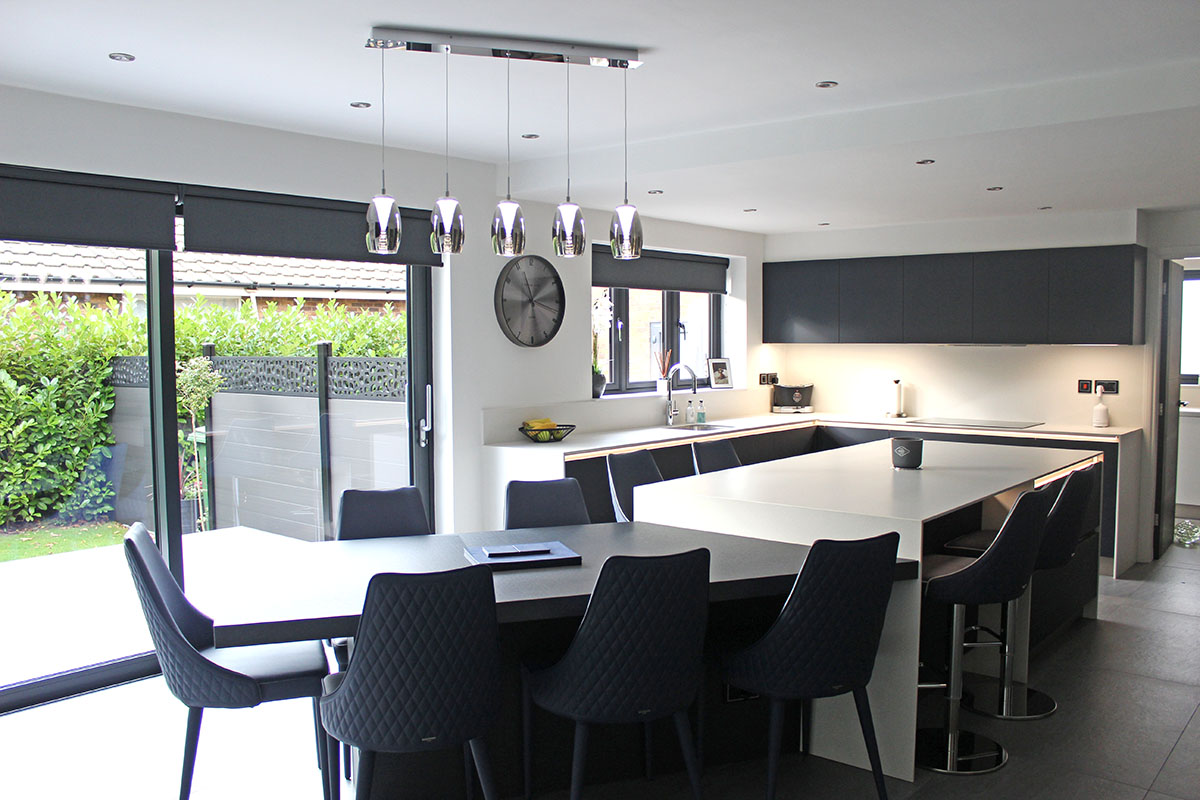 above: This photo shows the large open plan layout of the room with extensive dining options, which has benefited greatly from an extension with its sliding patio doors giving the room an abundance of natural light. The kitchen table has been factory supplied in colour matched Next 125 Matt Crystal Grey.
below: From this angle the looking more into the kitchen, the use of the Glass Matt Crystal Grey is used throughout and contrasting perfectly against the white worktops, walls and ceiling. The twin ovens housed in a recess of Matt Crystal Grey creates a flush and architectural inspired finish.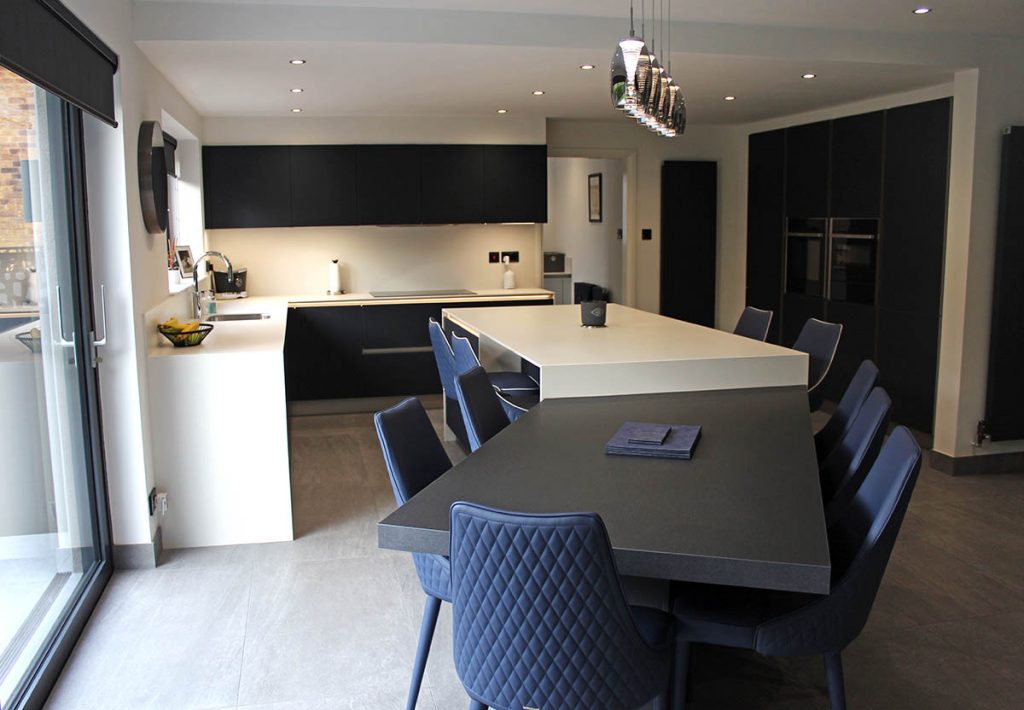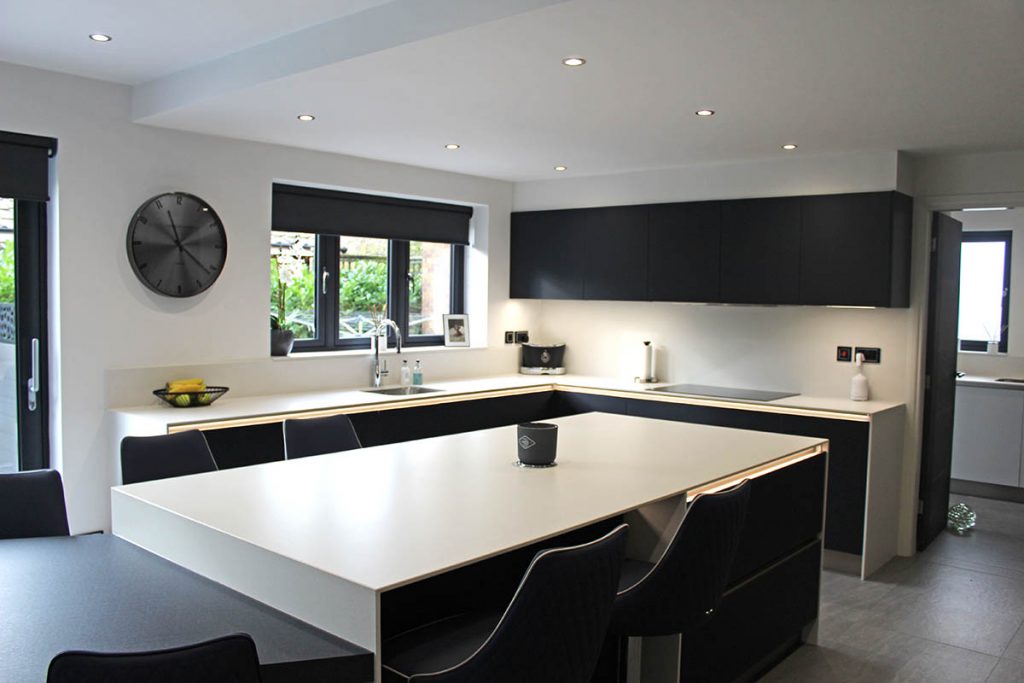 above: The large island in this modern german kitchen design features double recess, on either side so as to accommodate seating for dining at the island and the recesses are perfect to slide the bar stools under when not in use. Thailand also features large oversized pull out storage drawers housing dinnerware, all nicely bathed in the soft glow of the under counter LED slighting strip. 
below: Keeping a minimalist and clean line throughout, the sink is perfectly framed by thin profile ceramic worktop. Also in this image is the induction hob.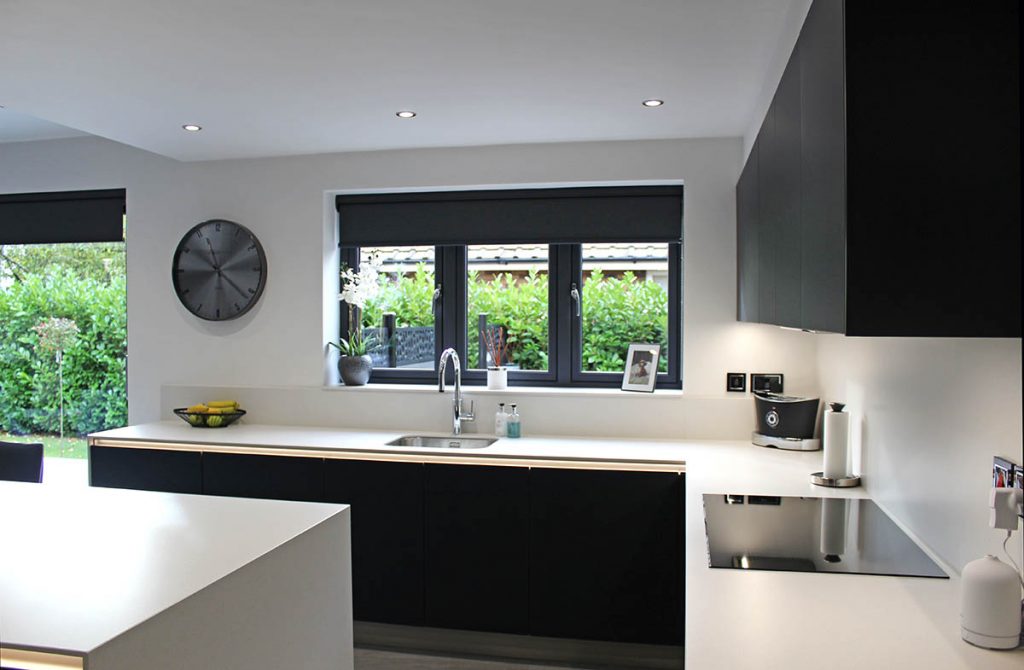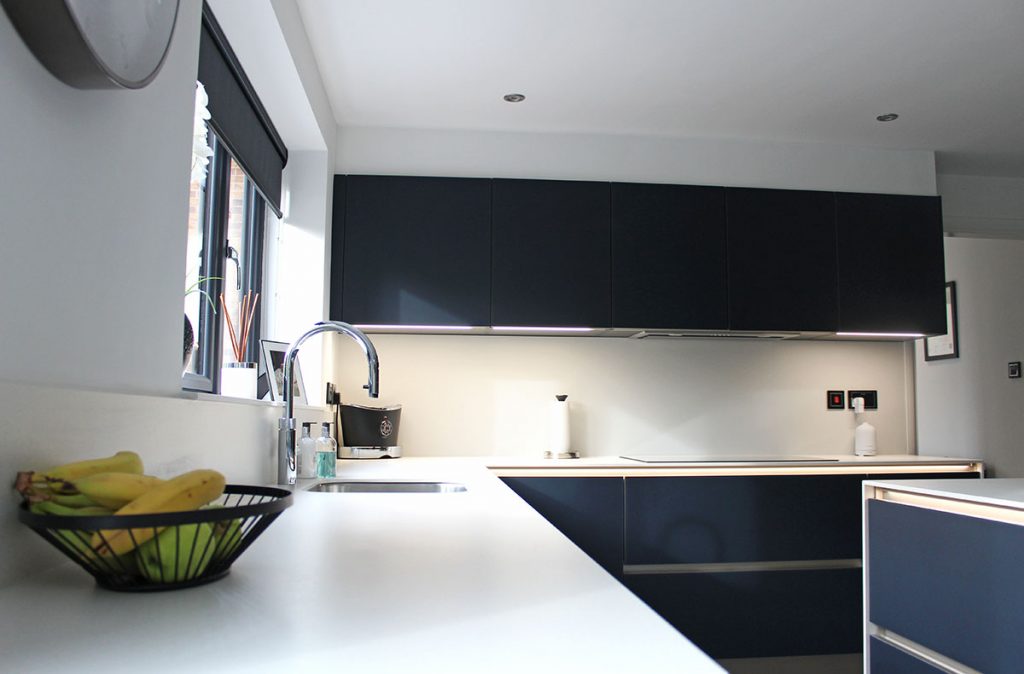 above: The styling contrast between the Crystal White worktops and the Matt Crystal Grey door fronts are really pronounced in this image. With Next 125 Glassline door fronts, the colour underneath is protected by a thin yet durable glass covering. 
below: The view from this angle shows the simple yet stunning symmetry of this design. Nothing is superfluous, unnecessary. Every surface, every texture, every element feels harmonious.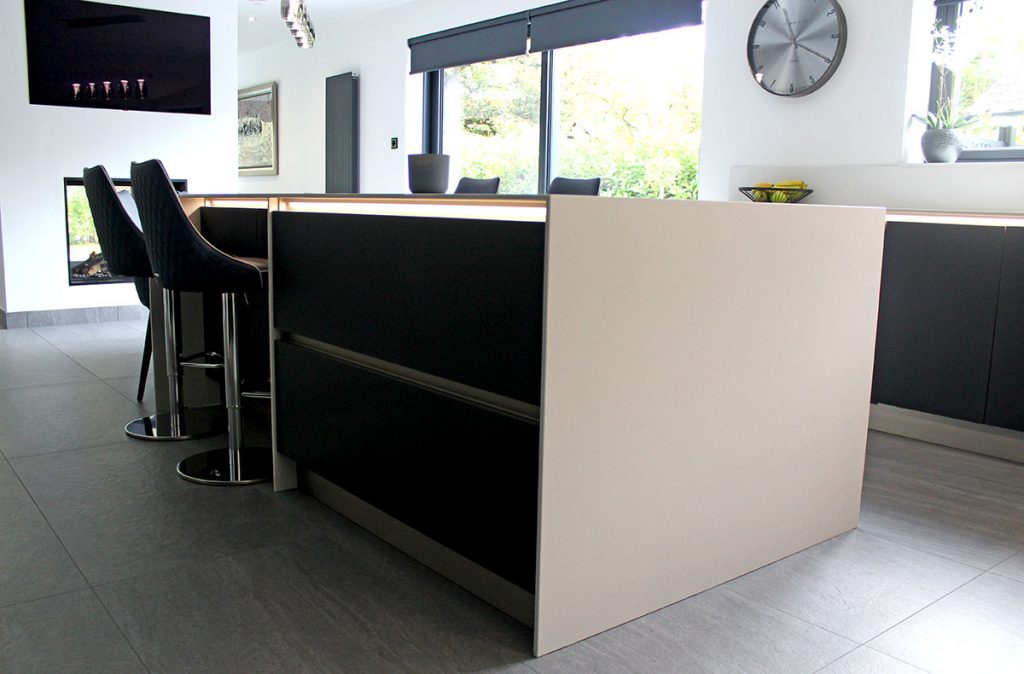 As the leading Schuller German Kitchens supplier in the UK we have hundreds of projects spanning over a decade and being a specialist we dont just design kitchens, we craft them and engineer them to our customers needs and wants.
Being a Master Siemens Partner and AEG Appliance Partner we are also able to offer near trade prices for Siemens and AEG appliances when purchased with our furniture, as part of your next kitchen design project.
If you want to talk more about this Schuller Next 125 Matt Crystal Grey Customer Project or any other Next125 kitchen why not speak to a designer today.