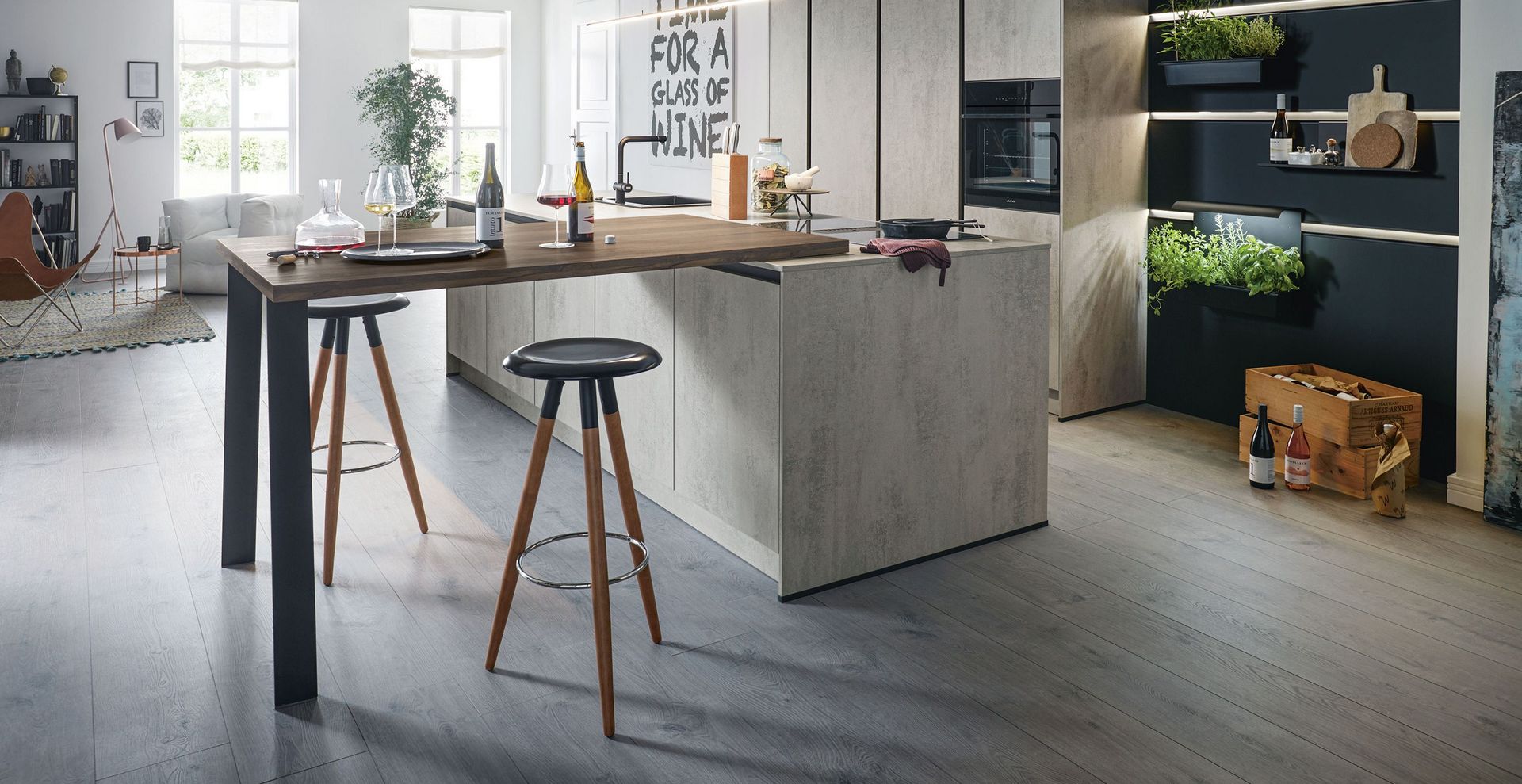 Here is the Schuller Elba Concrete Quartz Grey German Kitchen, a great textured and industrial inspired style of german made kitchen. The perfect designer kitchen for any home.
Elba is a monochrome specific door by Schuller that consists of high quality laminate door fronts which are hard-wearing with high-quality melamine resin coating to keep their pristine monochrome surfaces locked under a protective coasting for added longevity.
Elba is a textured door that comes in Concrete Quartz Grey (K023) shown here, plus Concrete White Grey (K025) and Concrete Anthracite Grey (K028).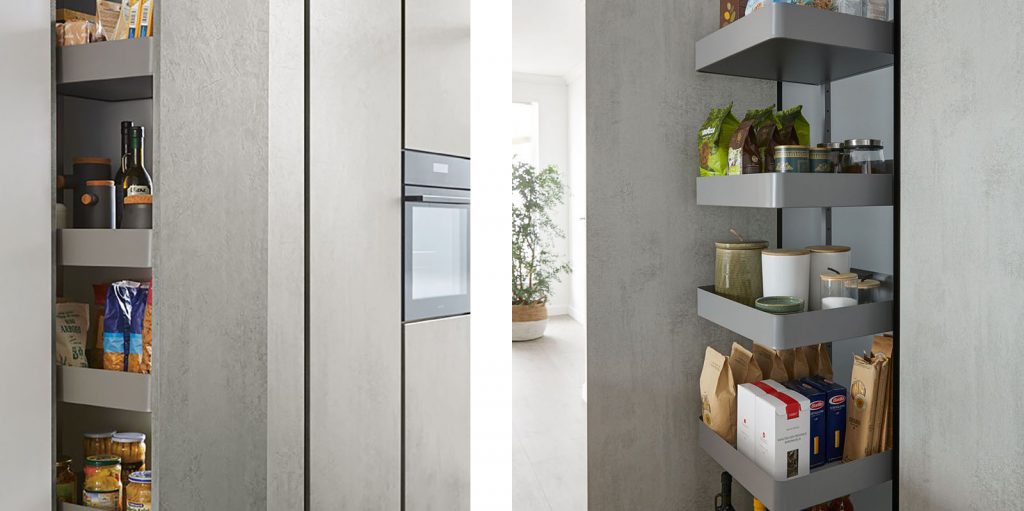 above: Fantastic external visuals are aplenty, but thanks to the tall unit with pull-out larder, the kitchen shown here is just as appealing on the inside with its ample storage space.
The insert with natural oak Flex-Boxes also guarantees that drawers and pull-outs will be kept nice and tidy when not being used. Horizontal and vertical onyx black handles enhance the serene, minimalist look.
As with all of the storage solutions from Schuller, they can be highly customised to your preferences and unique needs with multiple configuration options.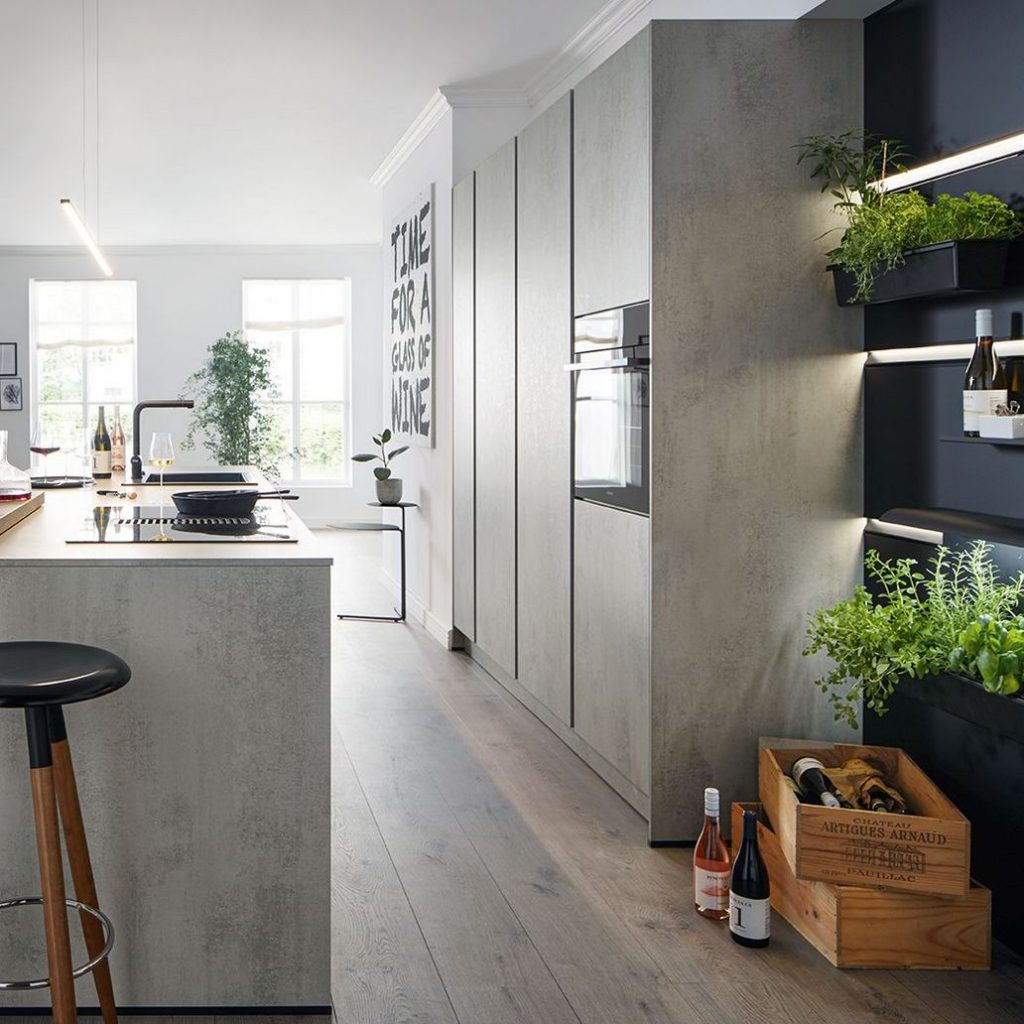 above: The kitchen island is perfect for preparing meals or entertaining with friends and family. Alternatively, you can simply seat your guests at the adjoining counter, pour them a glass of wine and chat away while you get on with the cooking. (wine sold separately ha).
One of the highlights of the Schuller Elba Concrete in this design is the recess panel to the right of the photo, with its built-in herb garden. The Schuller storage wall is a great, flexible storage solution that can be made adaptable to almost any size.
Thanks to the lighting, it provides not only a great warm lighting solution but ample light for fresh herbs all year round – even when it's a bit darker during the winter. What's more, the panel system enables additional elements to be incorporated. In this case, a simple shelf, but a spray water bottle, cutting tools like shears and herb cutters for your herb garden, could be placed here instead.
There is an extensive range of Schuller accessories to make your kitchen bespoke to your styling needs and wants. All you need to do is let your designer know and let us create your perfect kitchen….
Schuller Elba Concrete Door Colour Options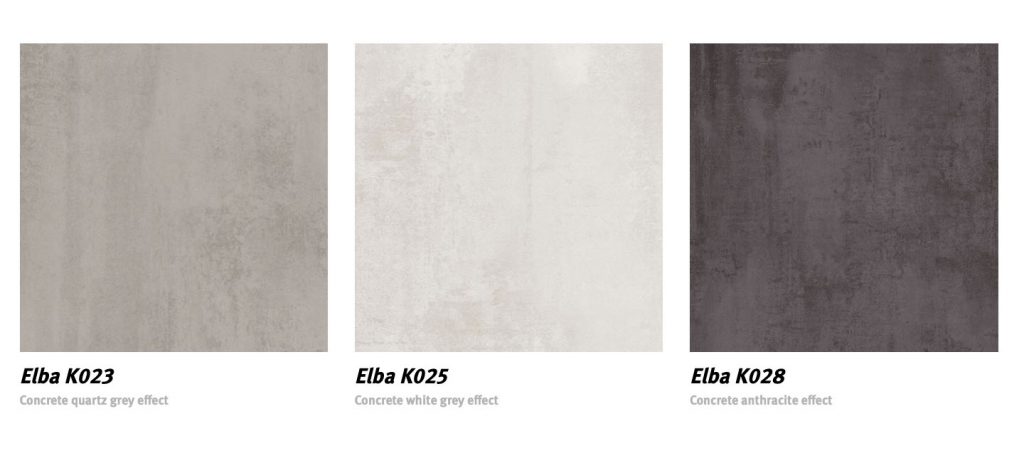 Being an AEG & Siemens Appliance Partner we are also able to offer near trade prices for AEG & Siemens appliances when purchased with your new Schuller kitchen design project.
If you want to talk more about Schuller you can speak to a designer today.