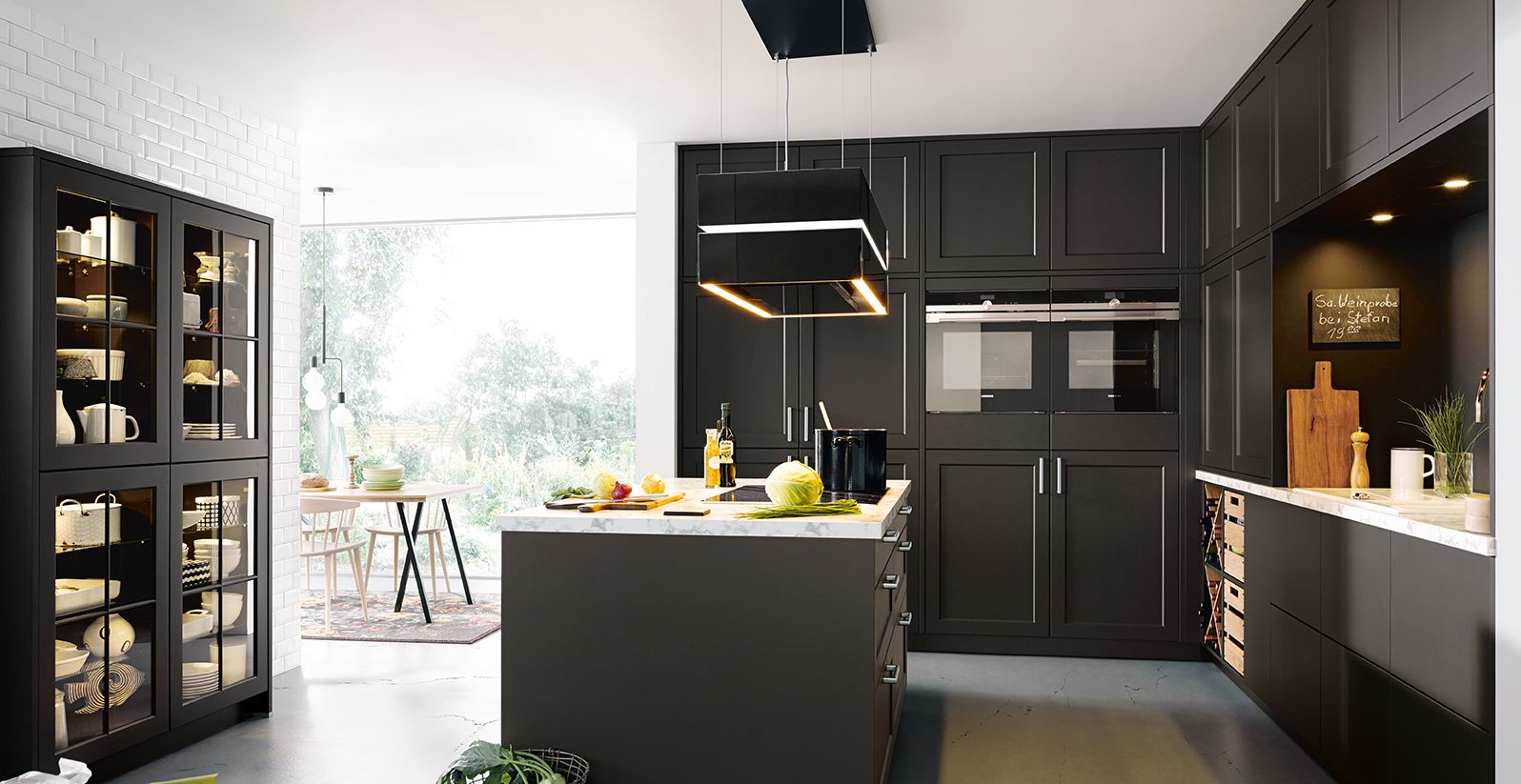 Shown here is Schuller Vienna Lava Black, a great modern country style of german kitchen for that perfect mix of german made kitchen furniture performance, effortlessly wrapped in sophisticated traditional shaker style charm.
The modern country style of the Vienna model will entice you with its singular appearance, emphasised here by the dark Lava Black fronts, which harmonise perfectly with the marbled worktops. These contrasting elements give the kitchen a distinct look that is very on trend.
The water-based Dual Cure lacquer system with UV drying makes for a rich and textured satin colour that in addition to the Lava Black shown here, is also available in
Also available in Crystal White Satin (L090), White Satin (L100S), Crystal Grey Satin (L120), Stone Grey Satin (L235), Magnolia Satin (L135S), Seashell White Satin (L095) to the likes of Terra Grey Satin (L260), Agate Grey (L275) a bold Autumn Red Satin (L305) and further bold colours such as Curry Satin (L455) and Sage Green Satin (L460) plus and many many more colour choices for the perfect designer german kitchen of your liking.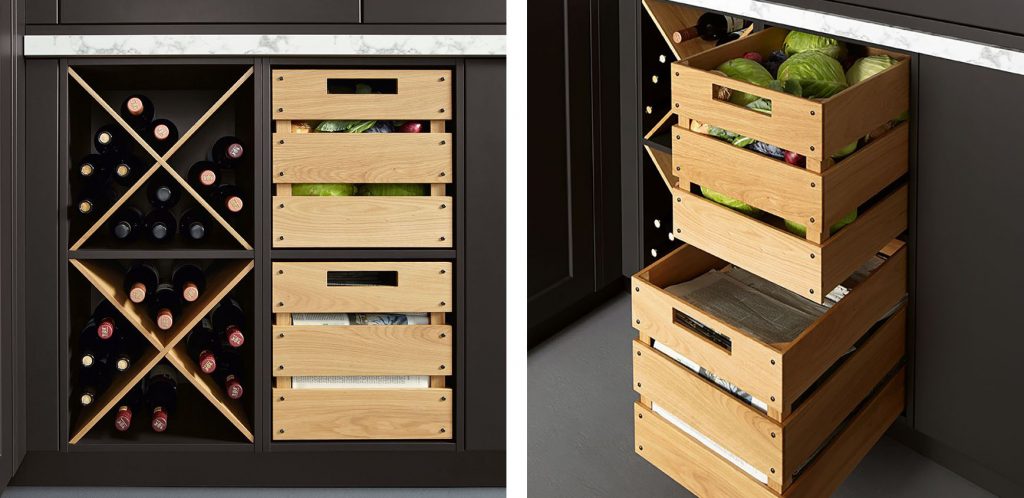 above left: The above storage is a great solution for corners or parts of the kitchen design where a traditional cupboard door may be too much of a tight squeeze. Or, alternatively if you just want to inject some open storage for a change of format. The wine rack and crate storage with Schuller supplied wooden inserts and crates offer a different colour and material to the design.
As with all of the storage solutions from Schuller, they can be highly customised to your preferences and unique needs with multiple configuration options.
above right: The pullout crate storage is shown here in greater detail.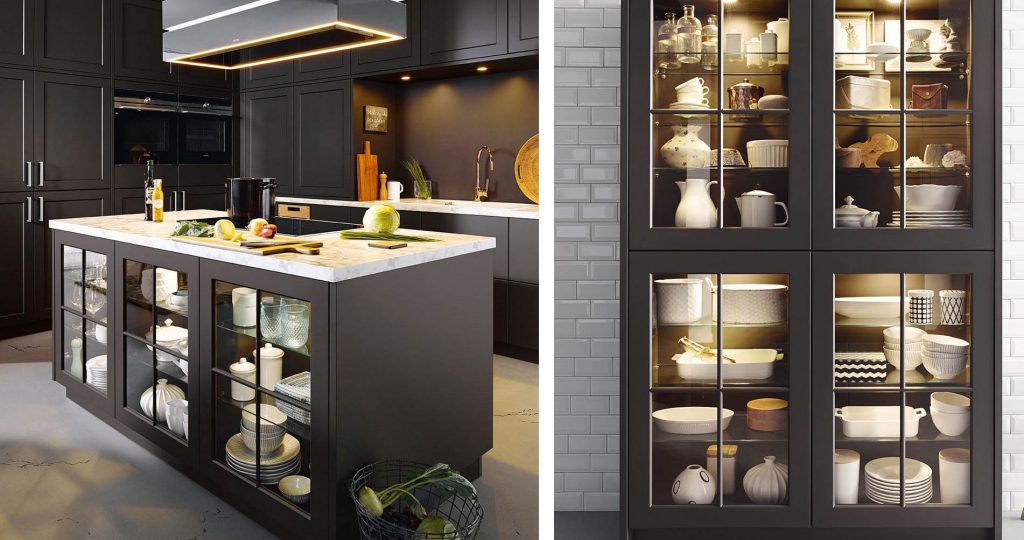 above left: With the large format kitchen island, with ample food prep room, on hand storage and an induction hob you can give your passion for cooking free rein. The overall floor-plan is geared to a spacious and usable kitchen with room to move and plenty of storage space thanks to the ceiling-high tall units.
above right: The dual display units (also in Schuller Vienna Lava Black) in this image are beautifully eye-catching and thanks to their indirect lighting and mullion glass panelled doors, your best dinerware can take centre stage.
There is the extensive range of Schuller accessories to make your kitchen bespoke to your styling needs and wants. All you need to do is let your designer know and let us create your perfect kitchen….
Schuller Vienna Lava Black Satin Shaker Door Colour Options
Durable and easy to clean: This water-based Dual Cure lacquer system with UV drying meets environmental requirements as well as high resistance and resilience. Due to the slightly textured surface, the front is easy to clean. Satin lacquer is available in the Colour Concept.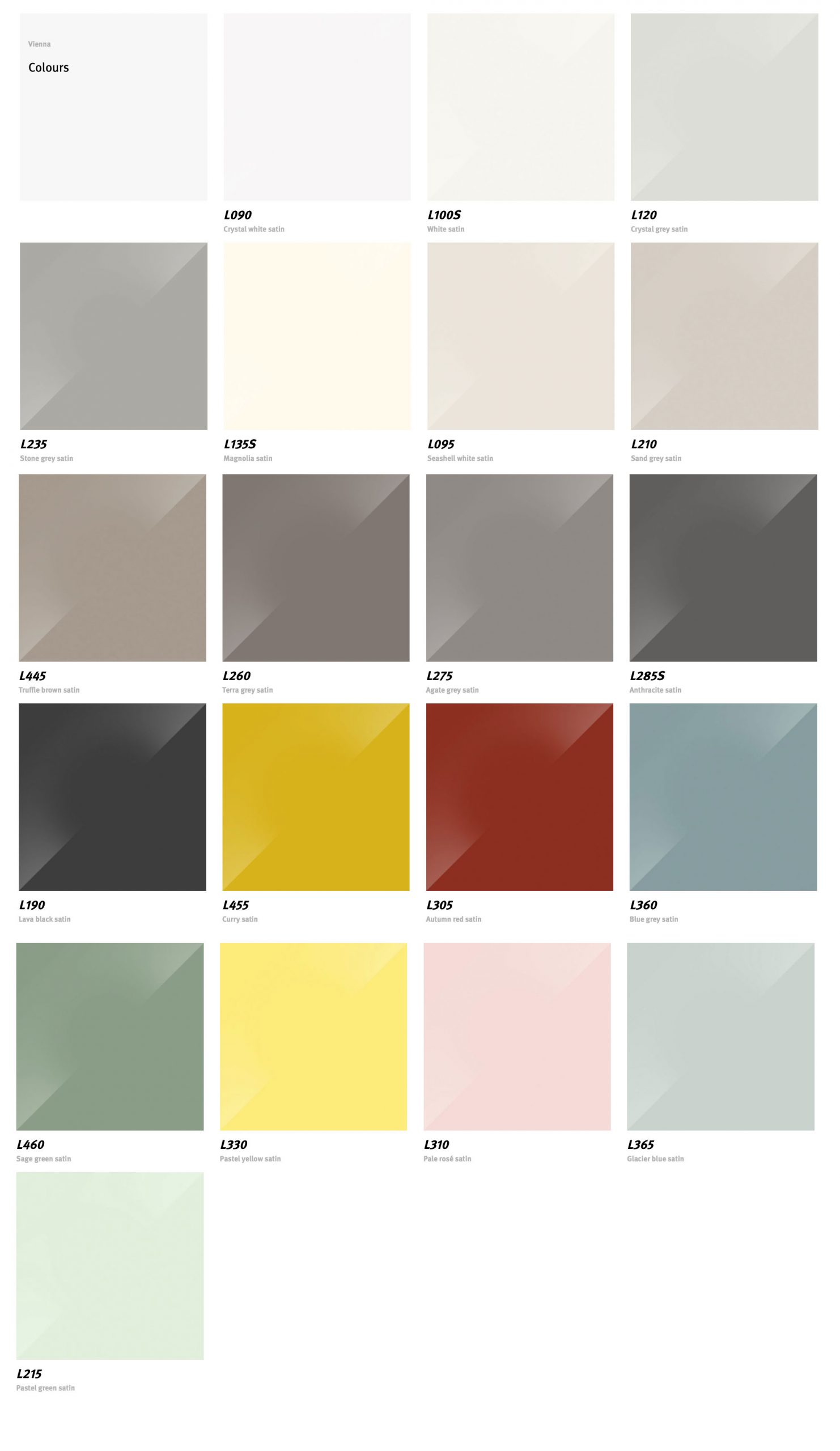 Being an AEG & Siemens Appliance Partner we are also able to offer near trade prices for AEG & Siemens appliances when purchased with your Schuller Canto Satin Shaker in Sand Grey, any any other Schuller style or Next 125 kitchen design project.
If you want to talk more about Schuller Kitchens, you can speak to a designer today.