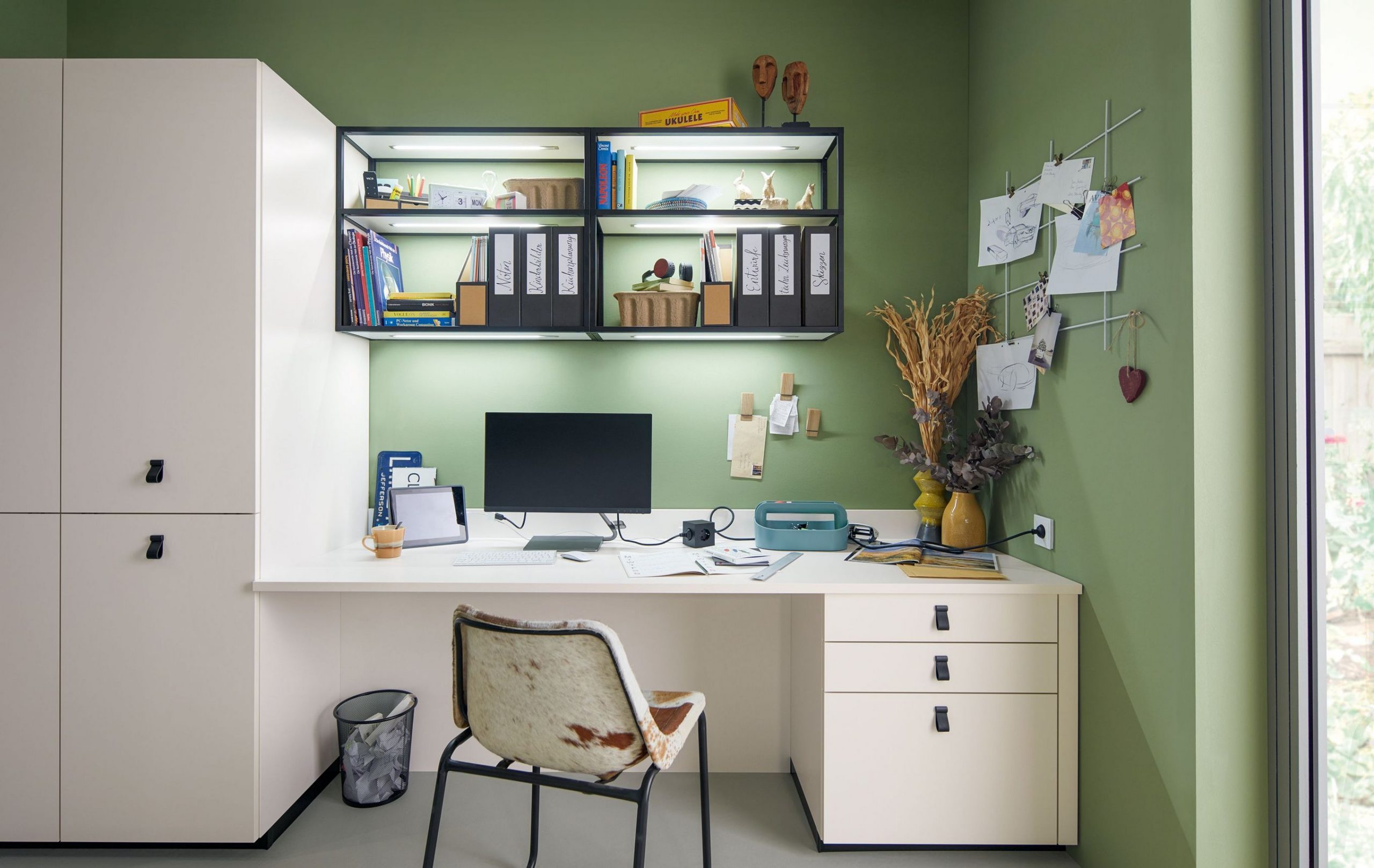 The Schuller Kitchens Home Office is probably 4 words most people would not have thought would be together in the same sentence. But alas, with Covid changing our working habits, Schuller proves yet again that its well planned, ergonomic German made furniture is just as good out of the kitchen and in your home office.
With our designers and Schuller furniture a really well thought-out home office solution can be easily designed for that much needed, perfectly integrated workspace.
Working from home requires solution-oriented thinking. Consequently, the task at hand is to optimally utilise the available space. For instance, work materials disappear into the wall units with practical folding flaps and into the base units and pullouts, which can be provided with Tip On (push to open / close) doors or even extravagant leather handles. The stylish integration of a light into the Frame Racks or wall units positioned above perfectly illuminates the work area.
So how do you create the best home office space?
To create a space that ensures a productive atmosphere you need to have separation from your normal home life. There is a reason our places of work dont have daytime TV on, DJ's playing or a bar serving all day drinks. if you want to be productive in your home office you need it to be a place you want to be but a place that offers you a quiet and distraction free space.
In planning the best home office, start by thinking about the purpose of your home office.
If you'll be working in there on a daily basis and you have a spare room you can dedicate to an office, this would be your best option to help you to focus.
if you dont have the space or you will only use the home office an hour or two per day then a room that's part home office, part homework study, part home admin centre (to organise your household bills) might lie the better option.
Home Office Location
Whilst the TV shows harp on about "location location location", it is all well and good before you buy a home but in your current home, you will need to plan the location around your current available space and taking into account, your working style and the nature of your work whilst paying attention to the needs of others in your home.
Home Office Format & Layout
This is were we can help. You tell us your home office needs from how big a desk you want and what type of storage options you need, to the more in-depth things like a kitchenette or coffee station or media centre.
With our knowledge of Schuller furniture and how we can configure it to best suit your home office needs we can give you a bespoke, home office solution perfect to your needs.