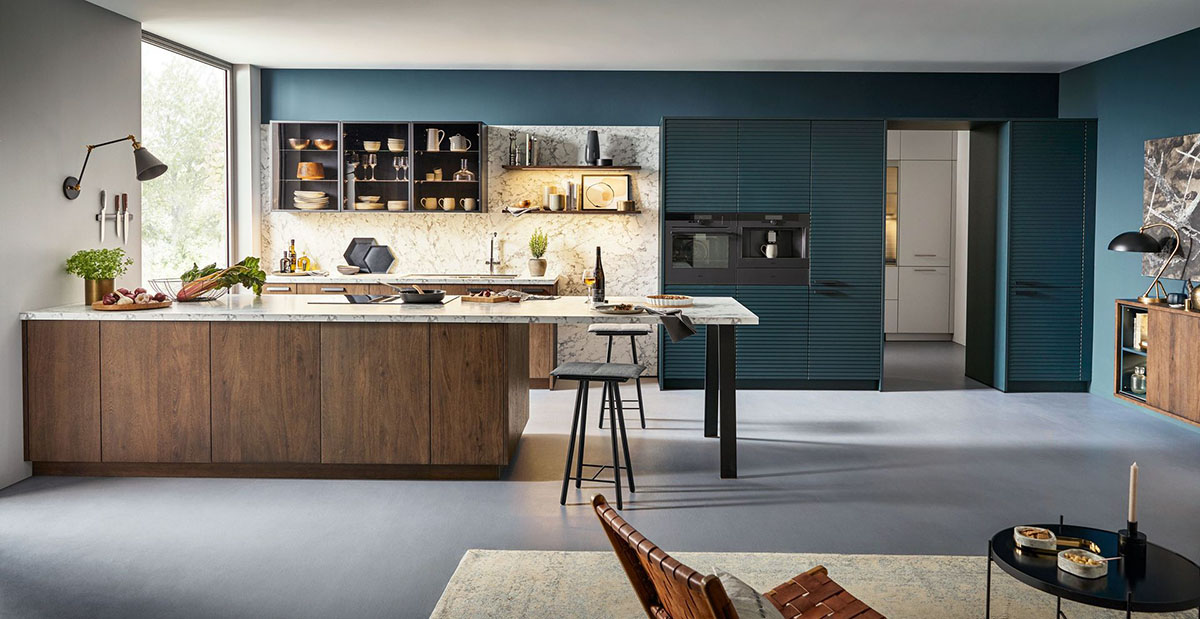 This is Schuller Rocca Maroon Knotty Oak, a delightful wood door front for injecting some natural colour tone into your new German kitchen design. Rocca is shown here mixed with Schuller Scala, in deep blue, for added contrast.
Wood fronts are natural and lasting surfaces made from solid woods and noble veneers and for added protection they are given a particularly rigid two-component lacquer by Schuller.
below: Clever storage. The deep drawer packs from Schuller not only allow for unmatched levels of access, but they can be arranged and organised to your specific requirements. You can format each drawer for any intended items you wish to store in them.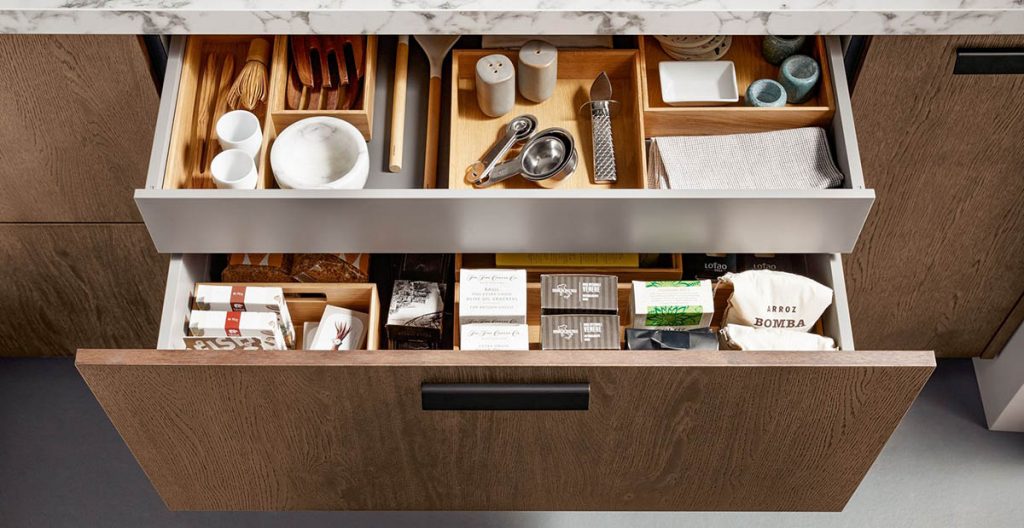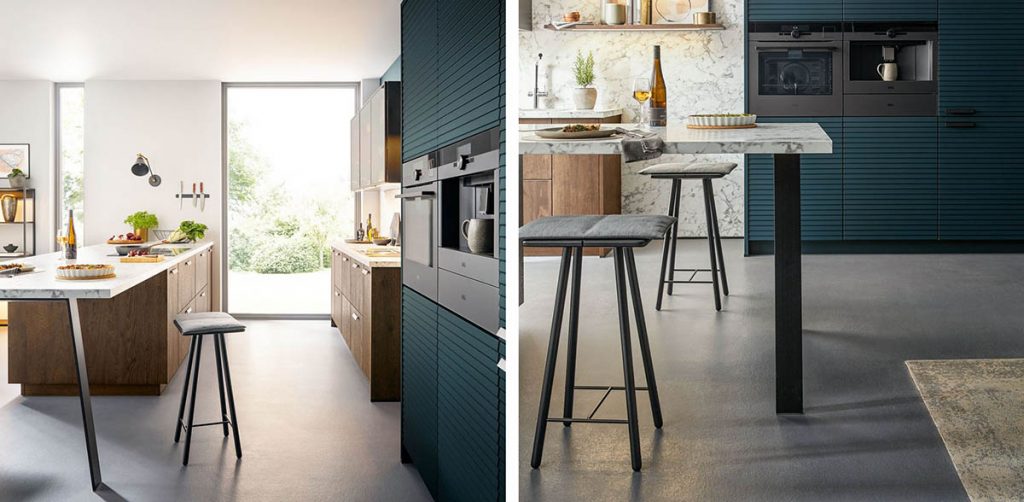 above left: Whilst the Rocca door in Maroon Knotty Oak is the primary colour choice of this modern kitchen design, as shown here you can always opt to include more colour for contrast and as shown here the Schuller Scala door in Deep Blue is not just a contrast of colour, but a contrast of structure, with its lamella, grooved slats adding extra dimension.
above right: With inspiration taken from the Next125 table from Schuller's Designer brand, clever use of the worktop as a large overhang to create a table (rather than a breakfast bar) forgoes the extra bulk of having under counter cabinets to support the worktop. The end result is cleaner and slimmer profile.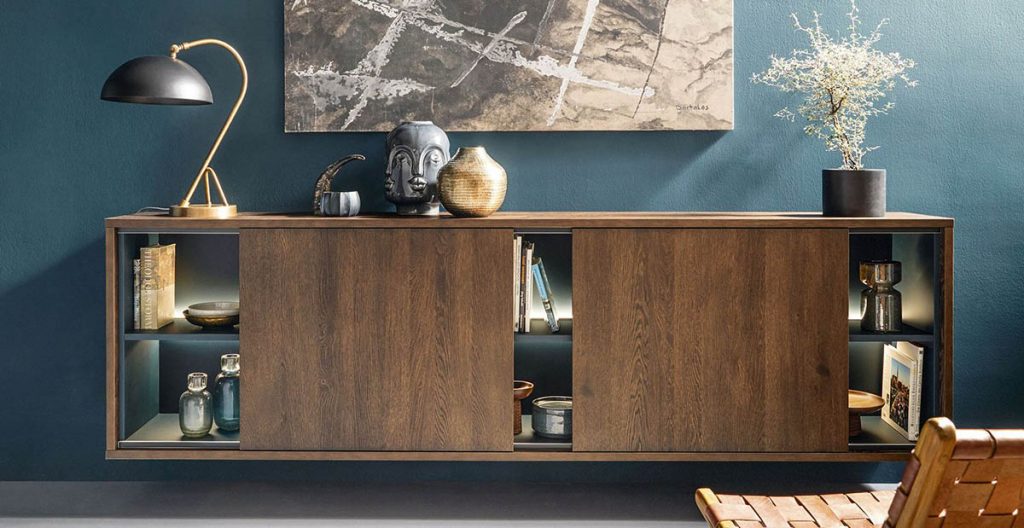 below: The utility-room which is directly adjacent to the kitchen and offers many functions, for example laundry, cleaning , storing and recycling. And even the robotic vacuum cleaner has its own, integrated "garage" ‒ this way, household tasks are highly organised and a real pleasure!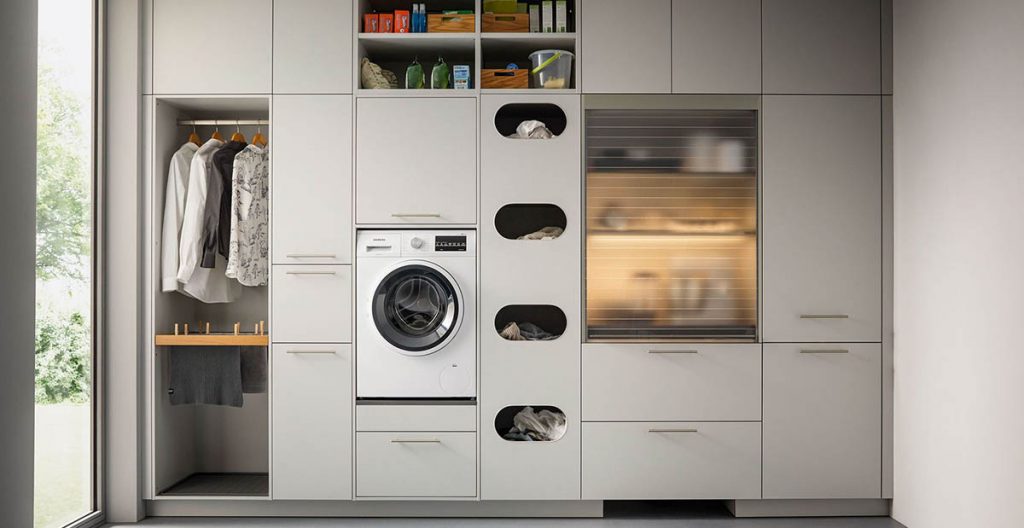 below left: The beauty with Schuller is that everything you see in the design photos are practical inspiration as you too can have anything you see, including a water treatment filter that is designed to fit neatly in a unit close to or under the sink.
below right: More clever storage ideas on display with multi-function pullouts. These pullouts can be configured to the dimensions of what you intend to store in them, from food stuffs or oversize breakfast cereal boxes to cooking sauces, condiments and spices.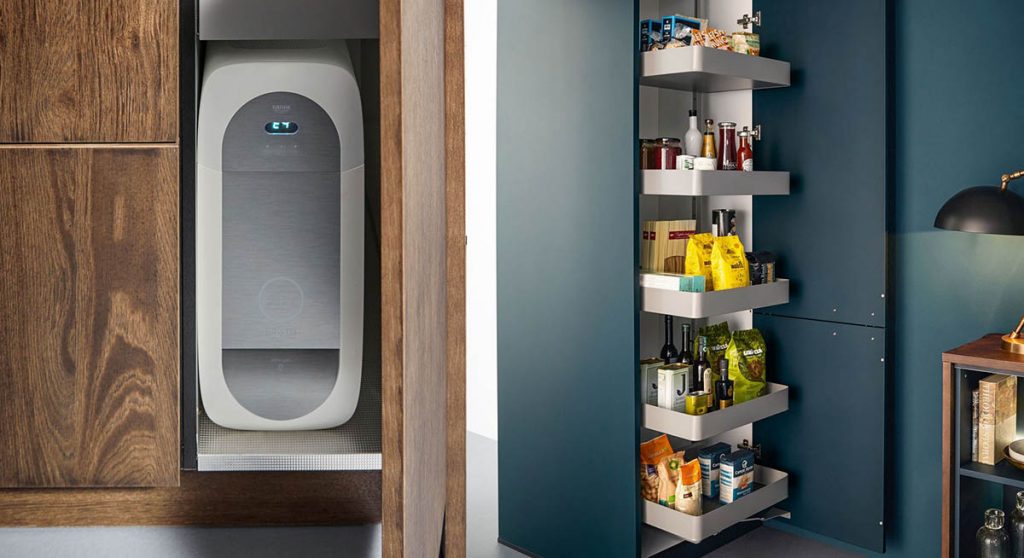 This kitchen means pleasure for all senses. The unique combination of surfaces, knotty oak decor, finely grained marble decor and, as a highlight, the striking front Scala with a deep blue lamella structure, embody uncomprimising elegance and are a real treat for the eyes. And then, there also is a number of small extra features that make the kitchen something special.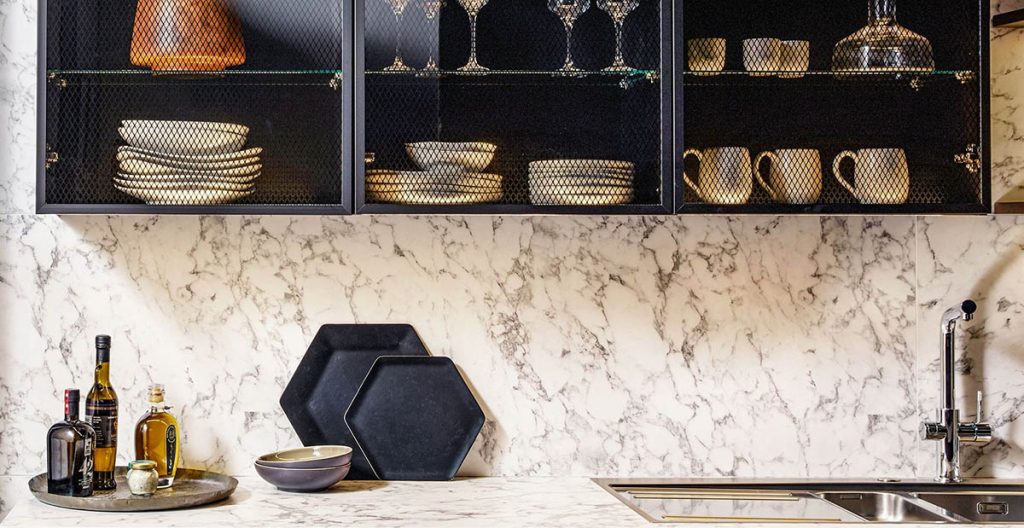 New Rocca wood finishes also include; Light Knotty Oak Blanco and Natural Knotty Oak in addition to the Maroon Knotty Oak shown here today.

Being a AEG Appliance Partner we are also able to offer near trade prices for AEG appliances when purchased with our furniture, as part of your next kitchen design project
If you want to talk more about Schuller Rocca in Maroon Knotty Oak, or indeed any other style or customer project, you can speak to our designers today!