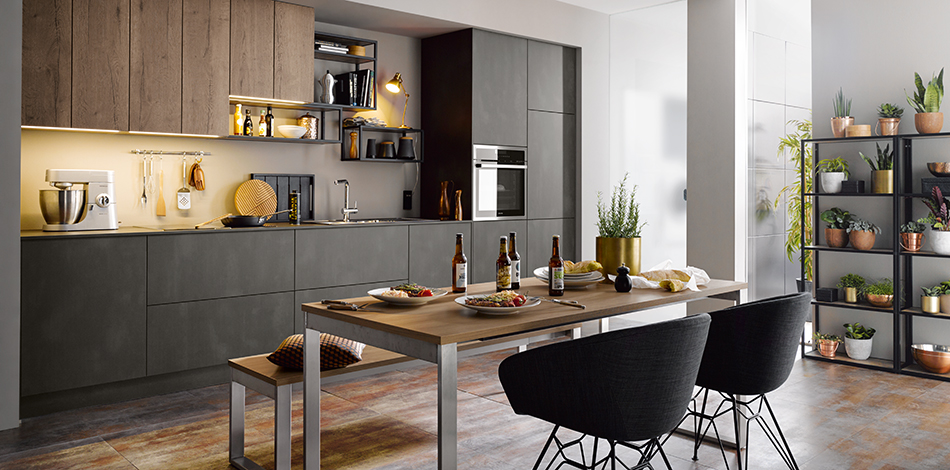 Schuller Kitchens Targa L587 Steel dark effect and K793 Old Oak is a new addition for the  2018 Schuller collection and is very much on trend for those looking for urban chic and a mix of textures and finishes that are darker and bolder.
The Old Oak texture is perfectly balanced and enhanced by the Dark Steel from the Targa Door to create a kitchen with modern industrial yet rustic charm. Great fusion.
Above: This great clever storage solution (the door front is Schuller Old Oak) is also one that aids accessibility as hard to reach contents in overhead shelves are easier to reach with this ingenious pull down, levered shelving. The hinges are robust and the action of the pullout is smooth and secure. Sadly those secret chocolate biscuits are now in easier reach of the kids, sorry.
Below: Whilst the Schuller Targa Dark Steel (L587) is a great door in itself, shown here is the K793 Old oak barrique synchronised pore effect which is a great door front used sparingly in this example kitchen design. The shelving, available from Schuller is a great way to add further dimensions to your kitchen and move away from the traditional format of just having base units and wall units. Open storage is both functional and decorative and when done correctly can really enhance your living space.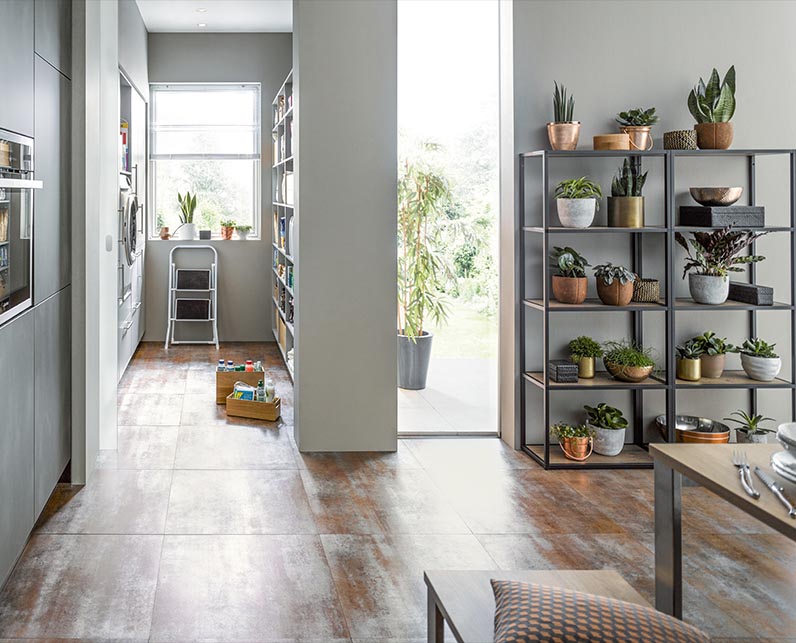 Front combination: UV lacquer L587 Steel dark effect and laminate K793 Old oak barrique synchronised pore effect
System: 78 cm
Handle: handle-less
Worktop: K585 Steel dark effect
Picture details:
– Open Plan Living Space
–  Frame Rack aluminium open shelf unit system in aluminium onyx black
–  C-Move Double
–  Utility room concept
Other Colour Options for Schuller Targa
LDK Schuller is the UK's leading supplier of German made Schuller Kitchens and a Master Siemens Partner. We have a showroom in St Helens Lancashire, and a Free Home Design Visit service covering areas such as Liverpool, Manchester, Chester and more so please get in touch to order a brochure or speak to our Design Team about your next kitchen being a Schuller one..