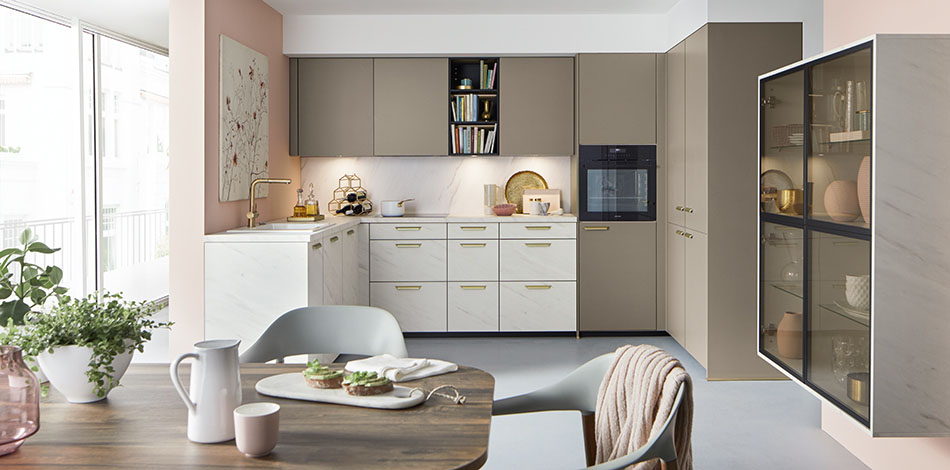 This is the very on trend Schuller Targa Marble Avorio (L532) door style which is one of two new marble effect textured door and drawer fronts from the Schuller C Range for 2020.
The other new Targa door for 2020 is the Schuller Targa Marble Scuro effect door style (L542)
Schuller Targa Marble Avorio is a high quality textured finish surface that mimics the look and feel of marble surfaces but doing so without the heavy weight and high cost of sourcing and using real marble surfaces.
Great as a standalone surface or as an accent colour choice that matches perfectly with both light and dark tones, and metallics such as bronze and copper.
Front finish: UV Lacquer L532 Marble Avorio effect and Matt Velvet Lacquer L262M Terra Grey Matt Velvet mix.
System: 84.5 cm
Handle: 478 Messingfarben
Worktop: K530 Marble Avorio effect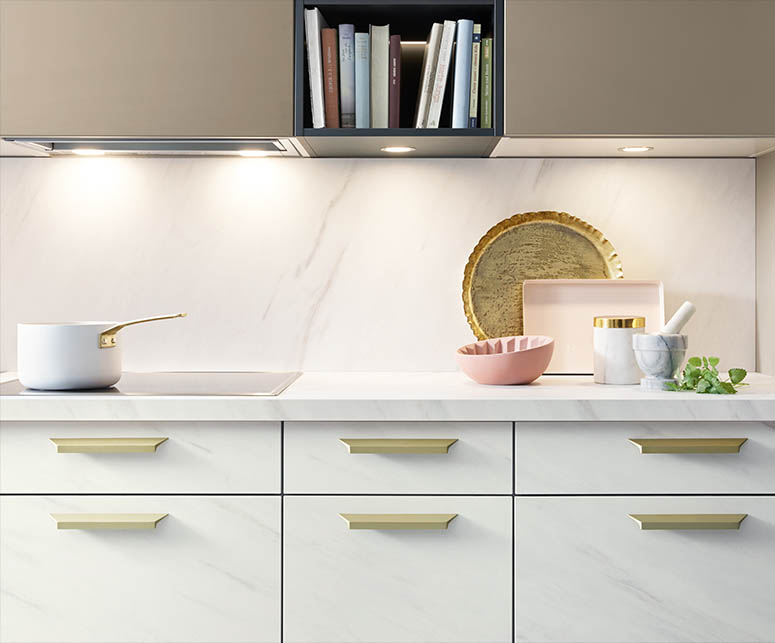 above: The use of Schuller Targa Marble Avorio (L532) for the door and drawers fronts, splash back and worktop give the design a very clean and luxurious feel and takes German kitchens in a new direction.
below: As shown here mix of Marble Avorio using the Targa door and Grey Matt Velvet with the Terra door from Schuller the overall design is very much in harmony not unlike the Yin & Yang philosophy that opposites can actually be complementary.
The floating large form glass door shelving to the right of the image below is all sourced from Schuller and can be the perfect transition from kitchen to dining and open space.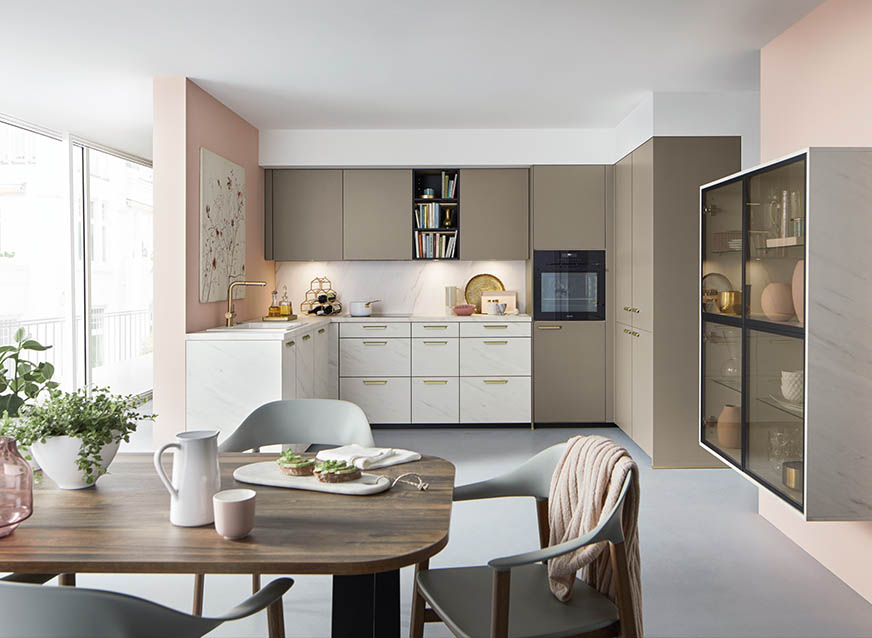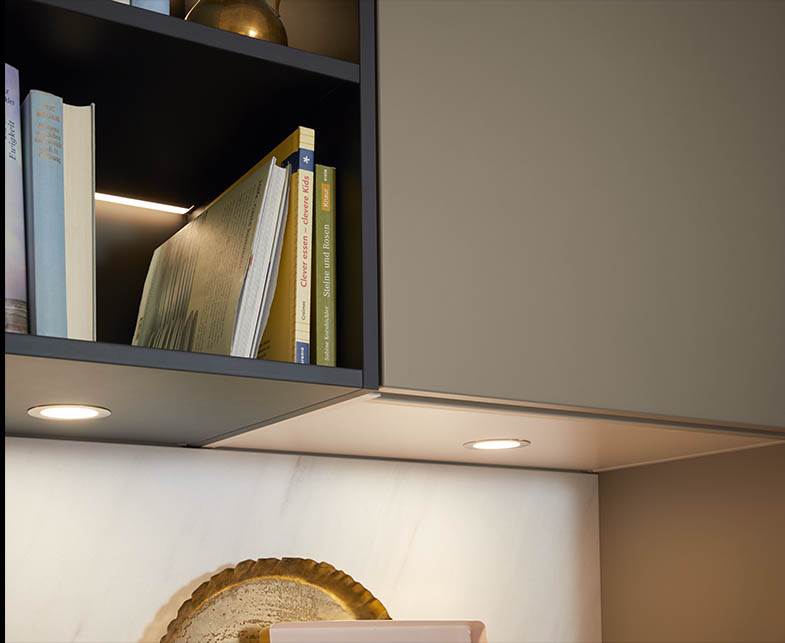 above: The use of open fronted storage and subtle lighting can really make a difference to the overall kitchen design and with LED strips inside  the shelving in addition to underneath there are numerous options to light your kitchen to stunning effect.
below: As the saying goes, 'A place for everything and everything in its place".
The clever storage drawer inserts from Schuller can be configured however you wish to keep your kitchen clutter free.  But we can still leave a drawer free of inserts so all the things that dont have a place yet, can be kept out of the way.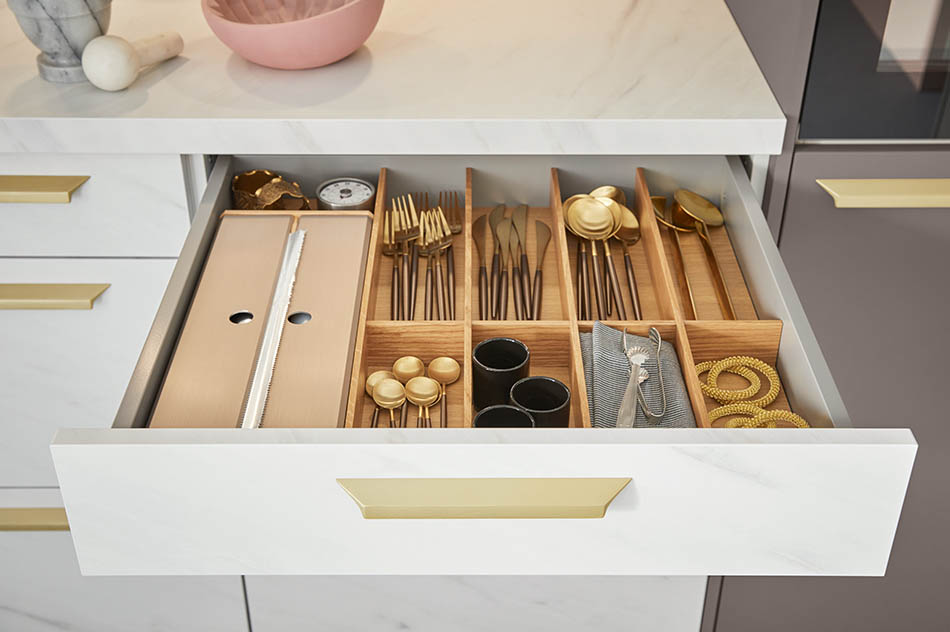 Schuller German Kitchens are renowned for their quality, styling and value for money.
Whilst our Next 125 kitchens are the flagship luxury brand of Schuller, the Targa and Terra doors as shown here from the Schuller C Collection are a perfect example of how a modern German kitchen doesnt need to break your budget.
Being a AEG Appliance Partner we are also able to offer near trade prices for AEG appliances when purchased with your Schuller or Next 125 kitchen design project.
If you want to talk more about Schuller Targa or any other style you can speak to a designer today.