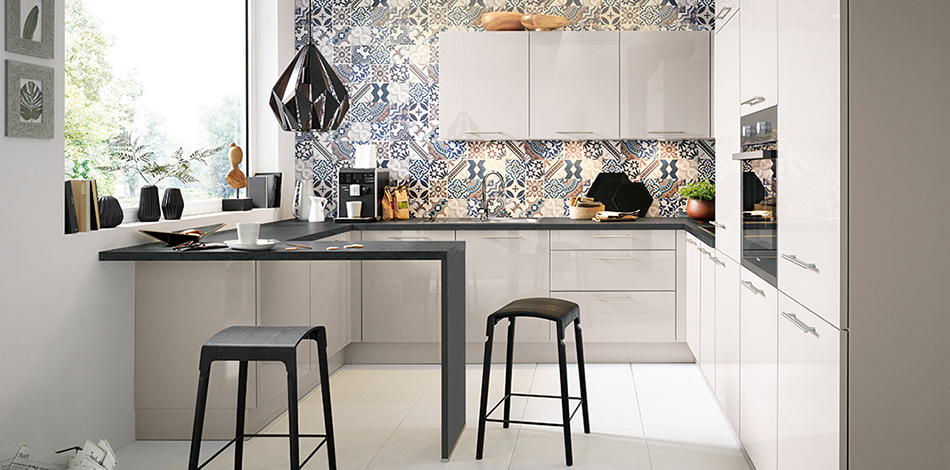 This is the very luxurious and sumptuous Schuller Uni Sand Grey High Gloss (P211)  door style available at German Kitchens NW.
The Uni door style by Schuller is also available in Crystal White, Brilliant White, Magnolia, Crystal Grey, Agate Grey and Lava Black, all in the very high quality High Gloss finish.
Front finish: Lacquered laminate P211 Sand grey high gloss
System: 71.5 cm 
Handle: 475
Worktop:K182 Onyx black textured
Additional: Melamine recess cladding with motif MM83 Tile design in blue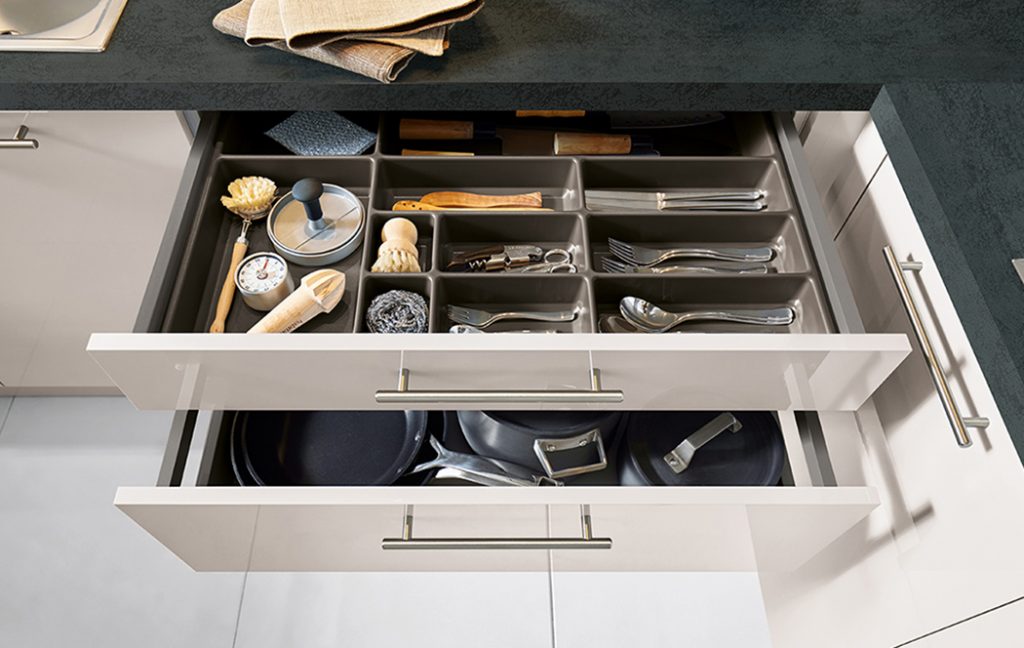 above: This photo shows the drawer pack organiser inserts. Although shown above in moulded plastic, the inserts available also include wood and metal inserts materials and numerous configurations that can be tailored to your individual requirements and design preferences.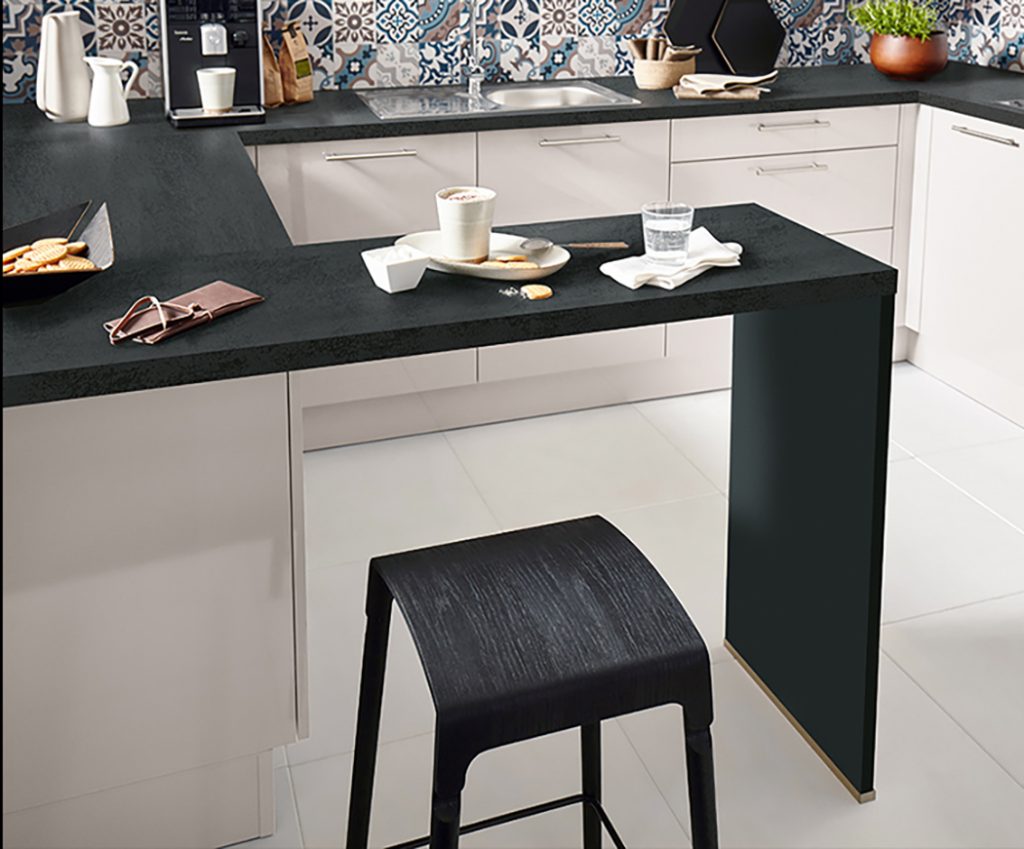 above: Shown here is another angle showcasing the amazing reflective properties of the High Gloss Uni door and how, even with a small footprint, you can still add some informal dining via the breakfast bar example shown here.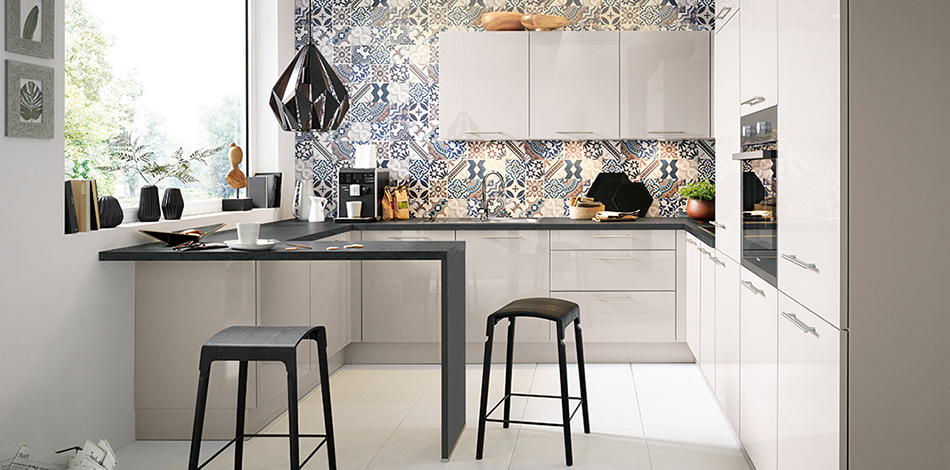 above: As you can see from the image above, the kitchen is a smaller footprint and ideal for small houses and apartments. By making the most of the clever storage on offer from Schuller, with units making way for drawer packs, you can really maximise the storage space to its fullest potential.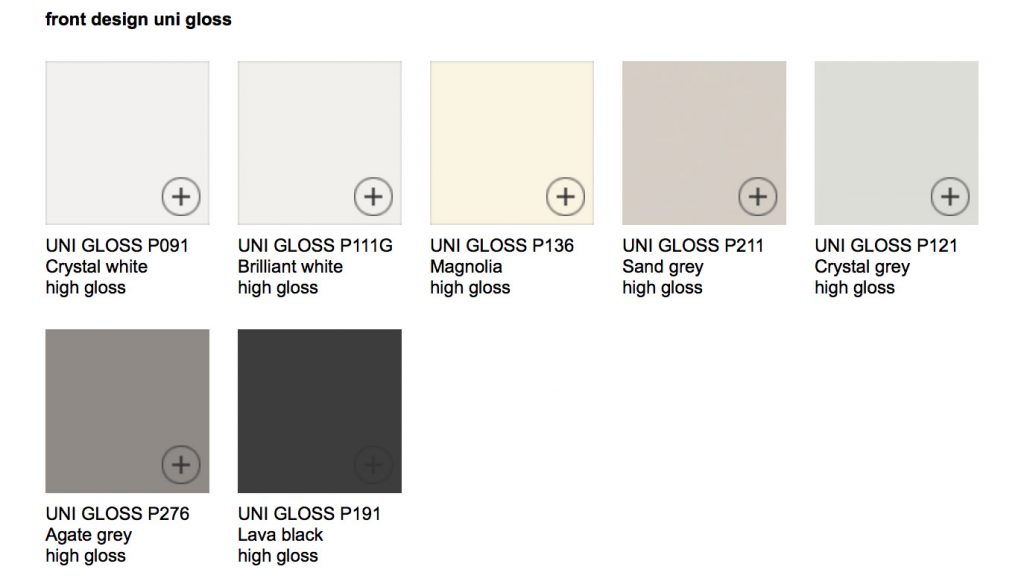 German Made – Quality Assured
As you would expect from one of the biggest german made kitchen brands in Europe, Schuller kitchens are built to the highest possible standards. This is why Schuller continues to be the choice for many homeowners and developers alike
With Schuller you get the designer german made furniture you want, without the designer kitchen price tag and which features the latest in kitchen ideas and technologies.
Being a Master Siemens Partner and an AEG Appliance Partner we are also able to offer near trade prices for Siemens and AEG appliances when purchased with our furniture, as part of your next kitchen design project.
If you want to talk more about Schuller or Next125 you can speak to a designer today.